Art is sometimes intended to spark debate, and a new play about graffiti has done just that. The play is called This Is Modern Art and it was commissioned by Steppenwolf Theatre as part of its young adult series. But while the creators say the play is meant to launch a discussion, it's also sparked a firestorm with some calling the play irresponsible and wrong-headed.
Watch the trailer for This Is Modern Art, which runs through Saturday, March 14.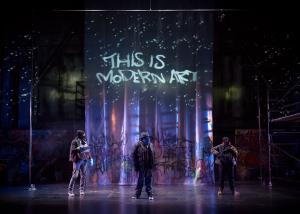 It takes place in Chicago in the not too distant past. And by city law, the main characters in This Is Modern Art are all criminals -- or soon will be.
The play is a dramatization of the events leading up to a factual occurrence: the February 2010 painting--or legally vandalization--of the Modern Wing of The Art Institute of Chicago. Kevin Coval, the founder of the poetry slam festival Louder than a Bomb co-wrote This Is Modern Art.
"This idea for this particular play came up really as soon as the real life incident itself emerged," Coval said. "And I thought, you know, this was spectacular and quite a commentary. I thought about the power and import of graffiti art and how it can be used to have this public conversation about who is art for and who gets to make it? Who is it by? Who should see it?"
The real perpetrators of the Modern Wing tagging have yet to be identified and caught. While in the play, three young men led by the character named Seven hatch the plot to be represented at The Art Institute literally as outsider artists.
"I was very nervous at first because this was based off real events and people have a lot of opinions about why this crew did what they did--what was the message?," said Jerry Mackinnon, who performs as Seven in This Is Modern Art.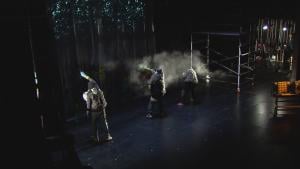 The message, says Hallie Gordon, the artistic and education director for Steppenwolf for Young Adults, is all about addressing the void of creativity and expression felt by many of Chicago's youth.
"This Is Modern Art is special because it taps into the disenfranchised artist and how our city is supporting or not supporting them in their work," Gordon said. "These kids didn't have arts in their school, and so they were looking for a canvas and they didn't know where to go. I think it's important that the students that come and see our shows see themselves reflected on the stage."
The play's dialogue, inner city setting, budding romance, and even strong language are all meant to engage a mostly teenage audience. And they do respond.
"I really enjoyed it because they were like so engaging with the audience and I really enjoyed that part. Some stuff that people can relate to, and like the characters were on point," said Keshonda Bush, who attends the Young Women's Leadership Charter School.
But while the play points out that graffiti is a felony and that others have faced jail time and costly reparations, the characters in This Is Modern Art are not punished and they appear almost triumphant at the end. It's raised questions about what young audiences at the Steppenwolf are being told.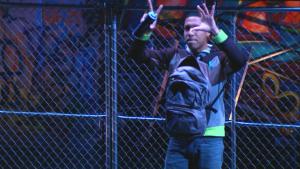 "I am not encouraging them to break the law at all. I think I am more encouraging the city to look at what the law is around graffiti," Gordon said. "To think of a way to have more permission walls. This is where the city gives someone permission to do a mural."
But some observers--especially theater critics--strongly disagree with the play's perspective. One of those is Chicago Sun-Times Theater Critic Hedy Weiss who gave the play a scathing review calling it misguided and wrong-headed.
"If defacing the new wing of The Art Institute, which is what this play centers around, is a statement of modern art and is a statement of self-expression…And I'm all for self-expression. I was an artist, I love artists. I believe in the power of art to change lives…But if the expression is to do it in a criminal way, I'm sorry that's a really irresponsible statement," Weiss said.
In response to more than one searing review, the Steppenwolf Theatre responded by saying:
"We are inspired by the lively dialogue that this exciting new Chicago play has generated among our audiences at the post-show discussions after every performance, in the arts community and on social media. Steppenwolf for Young Adults provides study guides, lesson plans, teaching artists and post-show discussions and events for every production, all of which help to contextualize the work on stage for our teen audiences."
"This is such pandering to that audience that should be told, 'yes there are rules, and yes, there are ways to become an artist and yes, you know, you don't have to be rich, there are scholarships,' but it's discipline and you have to deal with real life," Weiss said.
While the play's title seems to give the creative teams' opinion on graffiti art, the controversy generated by the production indicates that there's still no final word on whether this indeed is modern art.