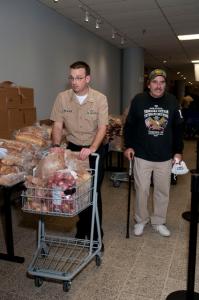 Nearly 1 million Chicago area residents get at least some of their food from a food pantry, according to the Greater Chicago Food Depository which stocks the shelves of food banks around the area. Over the last year, the Food Depository has expanded its reach to help military men and women in need, and now there are two food banks that cater exclusively to service personnel in need.
Clifton Hatchett, 63, worked as a diesel mechanic during his nearly three years in the Army. But that military service ended 41 years ago. Now retired, Hatchett receives government benefits, but he says he still needs help with his food bill.
"When you retire, it's your money, and as long as it was when you were working. So you have to subsidize your food. When you're on a fixed budget, food is expensive," Hatchett said. "So you have to come here and it subsidizes your food budget."
"Here" is the Jesse Brown Veterans Administration Medical Center on Chicago's near west side, and the long line of veterans seeking food help are taking advantage of a monthly pantry.
"Of all the people turning to food pantries, 18 percent of the households we're serving have either a current member of the armed forces or a veteran in the household. So, the need is great," said Kate Maehr, executive director of the Greater Chicago Food Depository. "We know that there are 18,000 men and women who are veterans in Cook County who live at or below the poverty line. We see veterans from across the spectrum. We see recently returned young men and women who have been in the Middle East, but we also see veterans from the Vietnam War."
One of the newest veterans seeking food help is 27-year-old Krystal Tabb who served in the Army for four years. She's currently looking for work.
"Between the finances and purchasing food, yes, the VA helps bridge those gaps for me." Tabb said.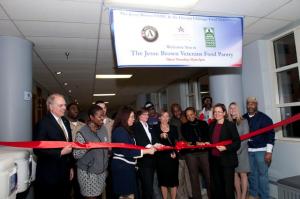 The Brown VA hospital food pantry opened on Veterans Day 2013, and since then others have been opened at other veterans' facilities across the country.
"This is the first food pantry in a veterans' hospital. It's called a pop-up food pantry," said Ann Brown, director of the Jesse Brown VA Medical Center. "It's being replicated across the country, but the innovative staff here were the ones who first started it, setting an example for the rest of the country."
Initially, the Greater Chicago Food Depository believed they would serve about 1,000 veterans during the first year of this food pantry. It turns out that almost 3,000 have come to use it.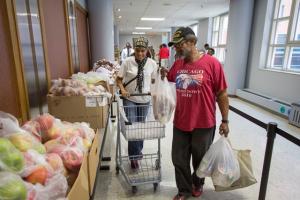 The Food Depository says so many veterans are in need that it prompted them to open a second monthly pantry at the Hines VA Hospital in west suburban Maywood. But even the civilian population has needed a lot of help from food banks this year.
"It's been a really tough year; I'll be honest with you. We continue to do a booming business, and when we look over the last 12 months, almost every month, we've seen an increase in the number of people turning to food pantries," Maehr said. "So despite the fact that there are a lot of indicators that the economy is coming back and things are getting better, the reality is it's not getting better for a population that's really struggling. Men and women and children are still having a hard time putting food on their table."