More Chicagoans than ever are leaving the Catholic church. Why is this and can the new archbishop help turn around the trend?
Read an interview with Chicago magazine Editor-in-Chief Elizabeth Fenner, author of the article Catholics at a Crossroads.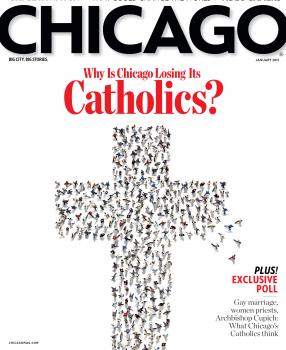 Chicago is losing Catholics at a greater rate than the rest of the nation?
Yes, basically for every 10, there are four ex-Catholics.
Who is leaving the church?
When you look at the ex-Catholics, which is a great concern for the Chicago diocese, the people leaving tend to be younger. They are making more money and have college and graduate degrees. They are also a whiter population. Half of Chicago Catholics will be Hispanic in the next two years. We are looking at a major shift here. There are already gray heads in the pews, and this will make yet another change which is even starker. The New York Times also just reported on the Catholics announcing a massive shuttering of churches. This is one-third of its churches and that is massive. In Chicago, the diocese is a major employer and they have already laid off about half of its work force in 10 years. A decade ago it employed 15,500 workers. Now, it has approximately 7,900 on the payroll. The diocese is still a huge employer locally; it is still larger than Northern Trust, for instance, but it's not a good trajectory. The diocese has also closed 45 percent of elementary schools since 1980.
What is the cause of this?
It is happening much more in northwestern and southeastern cities. American populations in general are shifting west and south. If you look at the U.S. as a whole, the Catholic population hasn't dropped much with 25 percent being Catholic in 1980, and now 24 percent. That is only 1 percentage point. But in Chicago, we are losing Catholics 8 percent faster than the nation as a whole and we are seeing a few things at work. Millennials in particular are shunning institutions. [Archbishop Blase] Cupich said in an interview I conducted with him that you see radical individualism, as he calls it, and he has hope that some Catholics will come back once they have kids. But if you look at the data, I'm not so sure that's true. One study out of Notre Dame I cited has been covering a group of Catholic children for the past 10 years. They were between the ages of 13 and 17 when he first tracked them, and 10 years later, only half said they are still Catholic. I can imagine the church will go back. Susan Roth, who is the religious chair at Loyola, says we have lost a generation. The dogma and the sexual morality of the church are topics being raised by those leaving. And this new generation is growing up watching Modern Family or they or exposed to or know same-sex couples with children their age, and the viewpoint is shifting. This is a tough sell. They don't like hypocrisy – millennials like authenticity and they feel like hypocrites. The Cafeteria Catholic ideology was the boomers' and Gen X-ers' way of dealing with Catholic beliefs that didn't square with them. "We will use birth control and just not get into that debate…" But it's tougher for the young adults of this generation to ignore these differences and not question.
What is Archbishop Cupich focusing on?
I also asked Cupich that – there is so much to look at here. One is financial. The deficit this past fiscal year is $42 million. The projected deficit for 2015 is $16 million. It is significantly less but still a big problem. The church is spending far more than they are making. They are stretched and laying off workers, and not spending. [They are] facing fiscal challenges and sexual abuse scandals. In the poll conducted, the sexual abuse was number one for both Catholics and ex-Catholics to focus on first.
Cupich said he is focusing on getting to know people first. He has really been doing that and getting out to the neighborhoods. He chose St. Agnes to visit which was huge because of the Father McCormick scandal, he is notorious for the issues that went on there unchecked. That sent a clear message. I think it may be too soon to know but if Cupich makes real changes by backing up what he says, it could have a great effect. If he stops the "combative" image of the church.  The New York Times attributed that description to Cardinal George for lobbying Springfield to not pass gay marriage. That was an effort that could have been spent doing other things some could argue.
How is the Catholic population shifting in Chicago in terms of parish life?
What is interesting is how decentralized the church is. Cupich isn't getting marching orders from Francis and there is a fair amount of freedom at the parish level. The super orthodox are finding parishes that can cater to them and liberals are finding liberal parishes with openly gay and lesbian ministries. Father [Michael] Pfleger is an example of that and gets away with a lot because typically pastors do have a lot of latitude. George was sort of trying to stamp it out but there are a lot of things Cupich can alter. Not doctrine, but making clear he will not stomp on pastors who want to reach and minister to say divorced and remarried Catholics. We know from looking at statistics that ex-Catholics are people who have been divorced. When you look at the statistics and the signals given, the church really is all about signals that are sent and trying to interpret them. He may not suspend priests for a welcoming tone and action, and that would be helpful. I think he could do a lot and I think he is an ideological soulmate of Pope Francis. They sound very similar when speaking about Catholic ideology.
What is at stake in Chicago for Catholics?
Really, it is kind of amazing how the Catholic Church has grown a shadow – they have the biggest Catholic school system. In Chicago, it's the third largest diocese but largest school system in the nation. Catholic Charities is massive and Chicago has 17 Catholic hospitals. They do it without regard for who they are helping. They see a need and are filling that need without strictly serving the Catholic population, and that is crucial. But that is also something that gets pulled back, and if it gets pulled back even further, it will have serious consequences in the city.
Where most visibly?
It could be most visible in the schools. We certainly have seen it in the attendance numbers with a 55 percent drop in children enrolled. Number of schools closed has been 45 percent. There are still a bunch of schools that are not as full as they should be. In some of these neighborhoods, they are the only semi-affordable choice available. There are certainly charter schools but they don't have the same reputation.
Interview has been condensed and edited.