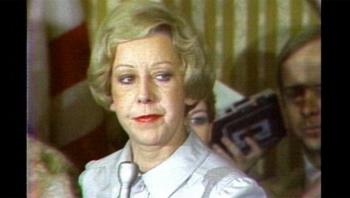 Former Chicago Mayor Jane Byrne died Friday morning at age 81. Byrne served from 1979 to 1983, and was Chicago's first and only female mayor.
Byrne is most notable for her 1979 upset of the Machine, when she defeated incumbent Mayor Michael Bilandic in the Democratic mayoral primary. She went on to victory in the April general election.
Byrne was the first mayor that Elizabeth Brackett, long-time Chicago Tonight correspondent, covered.
"After Mayor Bilandic shut off all the L stops on the south side after a snowstorm, you knew that something big was on the horizon," Brackett said. "But still, her win was very surprising." Brackett described Byrne as "feisty" and a "fighter," with long-lasting accomplishments, such as Taste of Chicago.
"She moved into Cabrini Green, which had a big impact on how people looked at public housing," Brackett said. "She brought more openness to the system."
Brackett said she was fun to cover because of how unpredictable she could be, calling reporters in the middle of the night to ask about coverage. But the political reporter who probably got the most access to Byrne was her own husband, Jay McMullen of the Chicago Daily News and Chicago Sun-Times. They married in 1978, and he died in 1992.
"There will never be another Jane Byrne, just as there will never be another Harold Washington," Brackett said. "But I would certainly hope we will have another female mayor."
Byrne is preceded in death by her first husband, Lt. William P. Byrne, and her second husband, McMullen. She is survived by her daughter, Kathy Byrne, and her 17-year-old grandson.
---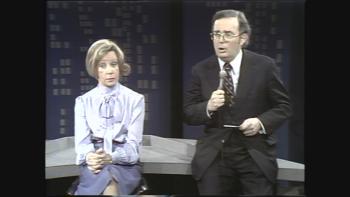 Bob Crawford covered Chicago politics for WBBM for more than 40 years. In that time, he reported on six mayoral administrations, including Jane Byrne's.
According to Crawford, many people will say the same thing about Jane Byrne's mayoral administration: It was marked by confusion, an inability to keep staff on board, and conflicts with political rivals.
"It was one controversy after another," Crawford said. "Some were of her own making, others were generated by rivals. The Daley family had no intention of her serving more than one term."
Crawford said the Daley family thinks the Chicago mayoral position is theirs by divine right—when others hold the position, it's an accident and shouldn't last long. They said her tenure was just an accident caused by a snowstorm, referring to the Chicago Blizzard of 1979, which many say Byrne capitalized on in her election campaign.
"To her credit, she had good ideas," Crawford said. "Taste of Chicago originated with her. Renovating Navy Pier and creating Museum Campus started under Jane."
The issue, according to Crawford, was with follow up. Byrne had good ideas, but the follow up was weak. Mayor Richard M. Daley would later get credit for the latter two accomplishments, but the ideas originated with Byrne. That issue was compounded by the many news conferences and Q&A sessions she held with reporters, he said.
"She had a habit of thinking out loud on her feet," Crawford said. "She'd throw an idea out, and reporters wouldn't realize it was just an idea and wasn't actually policy. Then they'd have to go back and change their stories."
But Crawford also said Byrne's status as a trailblazer caused her to be held to a higher standard, with unfair, unreal expectations. Additionally, due to the nature of "machine" politics, her position in the first Daley administration hadn't prepared her for the position.
"Richard J. Daley, as the boss of the party and whose word was the last word, never trained a successor," Crawford said. "He never picked one and acted like he'd live forever."
Crawford said Byrne didn't have the opportunity to learn how to manage a city from Daley.
"How did [Daley] hold it all together?" he asked. "He never told the secrets, so she didn't have a road map to follow. She served in his administration, but the cabinet members where 'Yes men.' They didn't really run their departments. They were told the policies and carried them out."
People thought she was prepared, but she really wasn't, according to Crawford.
"She was not a favorite to win," he said. "Regardless of what her chief strategist Don Rose said, her own husband [Jay McMullen] said she didn't expect to win. And when she did, she didn't have plan for running the city of Chicago."
But despite the confusion she might have caused reporters with her changing ideas and policies, Crawford said he did like her, and they got along fairly well. Unlike many politicians in the "machine," she wasn't mean-spirited and wanted to do well for the city of Chicago.
View a timeline of Byrne's career.
--Timeline by Taurean Small