Chicago's first female mayor was laid to rest today. Family members, friends, dignitaries, and other mourners gathered to pay respects to Jane Byrne this morning at St. Vincent de Paul Church on the north side. The service recounted her time as mayor and how she somewhat accidentally fell into a career in politics.
Byrne's daughter Kathy eulogized that her mother Jane had prepared for a life as an upper middle class North Shore Irish housewife – until she became widowed at a very young age. She learned her first lesson in hard knocks when her Saks store account was turned down after her husband died, because policy was that women couldn't carry credit. Kathy says her mother fought that and won.
Later, Byrne went on to volunteer for JFK's presidential campaign, then on to a job in Richard J. Daley's City Hall, and then the historic run for mayor where she took on then Mayor Michael Bilandic and, to almost everyone's surprise, won.
"To challenge the Democratic organization at the time she did was an incredible feat, and she was incredibly fearless," said Democratic political strategist David Axelrod, who covered Byrne as a Chicago Tribune reporter. "They didn't take her seriously and she proved them wrong."
"She loved her time as mayor," said daughter Kathy. "She loved and knew this city, and knew its people as no one ever has."
Watch Kathy's eulogy in this web extra video.
Current Chicago Mayor Rahm Emanuel says her impact is still felt on the city today.
"She was the first mayor to formally recognize our gay community, and march in the pride parade that makes us all proud today," said Emanuel. "She was also the first mayor to sign an ordinance to get all our handguns off city streets, she envisioned our magnificent Museum Campus, she started Taste of Chicago, and she began the revitalization of Navy Pier."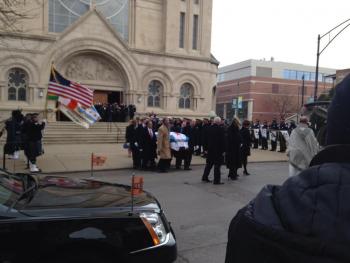 The service was attended by public officials, including a former political foe turned political turned ally like 16th Ward Alderman Ed Burke. Current female politicians like Attorney General Lisa Madigan and City Clerk Susana Mendoza were also there and told reporters that Byrne paved the way for them.
The mass was presided over by Monsignor Velo, who said the last several months were a bright spot in the winter of Byrne's life. In July, the city dedicated the Water Tower plaza after her. Soon after, the state renamed the circle interchange, the Jane Byrne Interchange. Byrne's daughter Kathy said her mother was thrilled at the recognition; that it made her last few months of life her most enjoyable.
               
Byrne's casket was draped with the Chicago flag; it exited to a chorus of bagpipers playing Amazing Grace. The funeral procession took her past City Hall and her childhood home on the northwest side before arriving at her final resting place in Evanston.