From the now halted construction of the Chicago Spire to the renovated Navy Pier, a moment of reflection may be needed before the City of Chicago undertakes more massive projects. The recently released drafts for the Lucas Museum is another example of how forward-looking construction could meld or clash with the iconic Chicago skyline and enduring architecture the city has become known for. Chicago Tribune Architecture Critic Blair Kamin discusses these projects and more.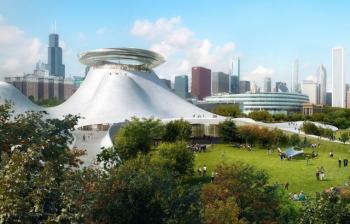 Lucas Museum Doppelganger
The initial design for the Lucas Museum has appalled some and impressed others. But no matter how you feel about the design, the renderings have conjured a variety of nicknames. Ald. Brendan Reilly (42nd) took to Twitter and said the design "kinda looks like Jabba the Hutt's desert spaceship." Some have compared the museum design to the shape of Jabba himself. Other comparisons include an upside-down ice cream cone, mashed potatoes, a pile of salt in preparation for a tough Chicago winter, an Apple computer modem, and one anonymous broadcaster even referred to it as the "Mucus Museum."
While the initial design is new-age and futuristic from a talented architect, it has also shown the expanse of Lucas' vision and a string of already broken promises relating to parking and reserved parkland. The city's response to this botched rollout? Nothing of late. So, as the city eagerly awaits a response from the Mayor, media, museum critics and residents have created their own form of discussion about the project.
View renderings of the Lucas Museum.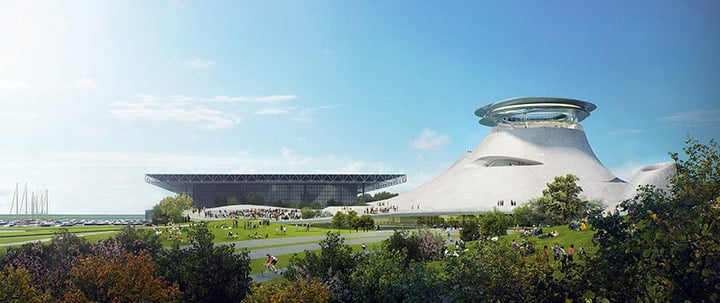 North View
Earth, stone and sky merge seamlessly in the innovative design of the Lucas Museum.

Wide-Angle View
Situated between McCormick Place and Soldier Field, the Lucas Museum of Narrative Art will expand public access to green space on Burnham Harbor.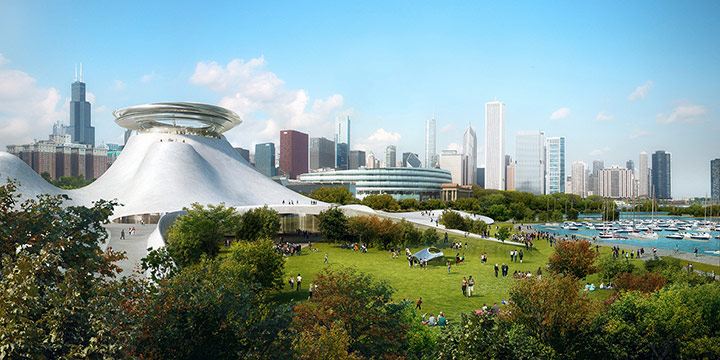 South View
Rising up from the land and crescendoing to a "floating" disc, the tallest points of the Lucas Museum will feature an observation deck, providing visitors with stunning views of both Chicago and Lake Michigan.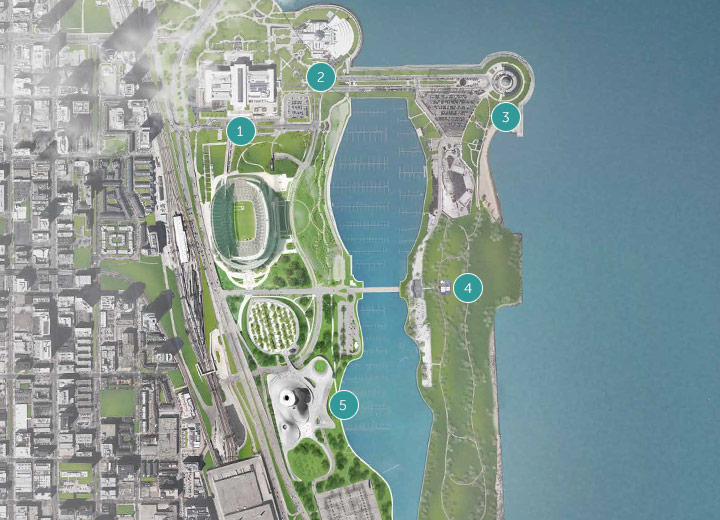 1 - Field Museum
2 - Shedd Aquarium
3 - Adler Planetarium
4 - Northerly Island
5 - Lucas Museum of Narrative Art
-- Conceptual Renderings © MAD Architects
View a map of the proposed location.
-- Map created by Kristen Thometz