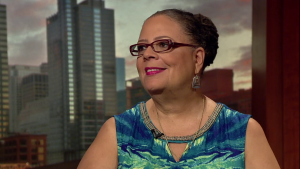 Chicago Teachers Union President Karen Lewis will not run in the upcoming mayoral election, according to a statement released Monday afternoon.
"Karen Lewis has decided to not pursue a mayoral bid," Jhatayn "Jay" Travis, coordinator of the Karen Lewis Exploratory Committee, said in a statement. "Yet she charges us to continue fighting for strong schools, safe neighborhoods, and good jobs in every community."
Last week, Lewis was hospitalized and had emergency surgery for what CTU officials called a serious illness. Lewis' withdrawal from the race leaves Ald. Bob Fioretti as Mayor Rahm Emanuel's only challenger in the February election.