Chicago Tribune Pulitzer prize-winning architecture critic Blair Kamin talks about Northeastern Illinois University's El Centro and Ludwig Mies van der Rohe's "God Box" located at the Illinois Institute of Technology. Northeastern Illinois University hosted a grand opening for its new El Centro location in Avondale on Sept. 30. The 66,000 square-foot building sits along the Kennedy Expressway and features the school's colors: blue and gold. IIT's "God Box," which is officially called the Robert F. Carr Memorial Chapel of St. Savior, was built in 1952, and it is the only building designed by Mies for religious services. 
---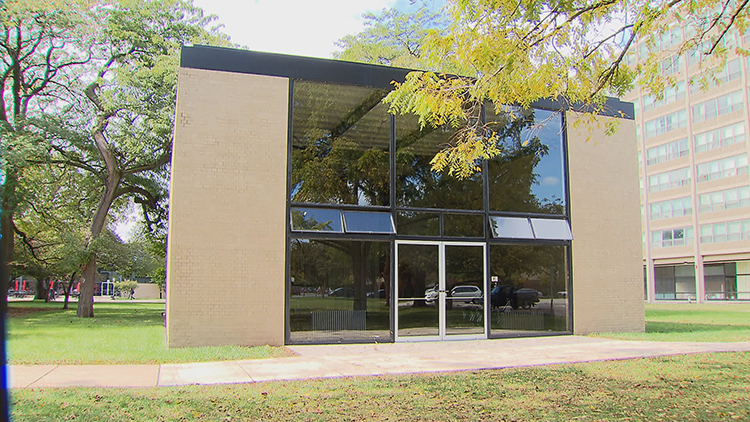 Read interviews with Lynne Meyer, director of spiritual life and service learning at the Illinois Institute of Technology, and Juan Moreno, of the architecture firm responsible for El Centro at Northeastern Illinois University.
Lynne Meyer is the director of Spiritual Life and Service Learning at the Illinois Institute of Technology, a position she's held for the past six years.
Q: What are your general thoughts on the building?
They're complicated. I love the space. It's a wonderful, unique, interfaith-friendly space. It doesn't often get enough credit because it is so simple. It's easily overlooked, and that's a shame.
Q: What are your thoughts about its nickname, "The God Box?"
I see it as a very loving nickname. At least in my tenure here, it's been a very loving name. It's affectionate.
It is a simple space. It is unlike other churches. But the fact that we have a "God Box," I see it as a compliment. It's a space that continues to be important for our students. It's not just, "that building over there." There's an active pursuit of spirituality in that space.
Q: What significant differences have you noticed since the restoration?
The first and most important was the roof. Getting that roof fixed had to be the first thing that we did, and it makes all the difference in the world.
It looks beautiful, but it doesn't always survive Chicago winters well. Getting that remedied allowed us to then to focus on the structural elements that others maybe wouldn't see so much, such as cleaning up the brick. Decades of a leaking roof had left its mark.
It's a much more beautiful space since the restoration, in a subtle way. If you had walked past in on accident, you may not have noticed. But as someone who has been there all the time, it's back to its glory.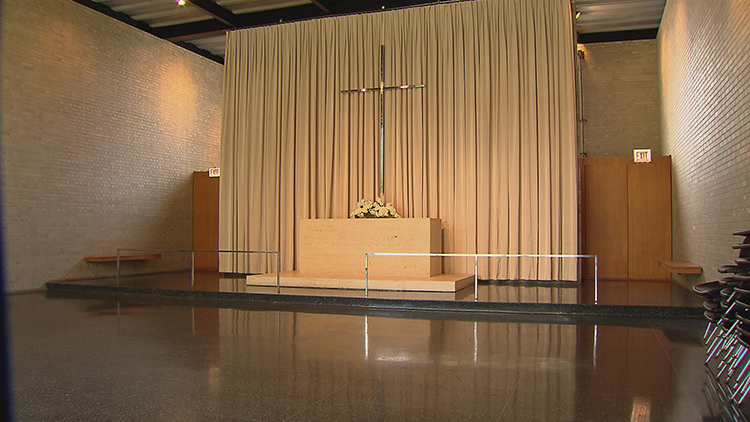 Q: Do you think versatility is important with this type of campus building?
Absolutely. In a way that Mies could not have anticipated when he was designing it, the simplicity has made this a truly interfaith-friendly space.
When we did the rededication, I included some remarks about the history of the chapel. In the late '40s, when people thought about religious diversity, they had a limited perspective: Catholic, Protestant, or Jewish. That's as far as most people could have envisioned. But then the U.S. underwent a period of major transformation after the Immigration Act of 1965. It opened up the doors to a much greater number of religions being represented here.
We have a greater diversity of religious groups on campus today than Mies ever would have envisioned. Any group that wants to can use the chapel. I love that about that space. It's perfect for our needs.
Juan Moreno is the President/Founder of JGMA, the architecture firm behind the El Centro building on Northeastern Illinois University's satellite campus.
Q: How do you hope the community takes advantage of the building?
I think that the best scenario is that the community realizes it's not just for students. It's a community building as much as it's a higher education facility.
It's such a fantastic place beyond the architecture. It's a place that can provide for the community, such as giving Internet access to those that don't [have access] or providing computer access for adults.
Even just being an academic surrounding, I think it's something that's going to be healthy for the community.
Q: How was the working relationship with Northeastern Illinois University?
I think it's one of those great instances where the client understands the great power of architecture that exists, and allows architecture to be architecture. They bought into this vision right away about what that building could be. Everyone got on board at every level.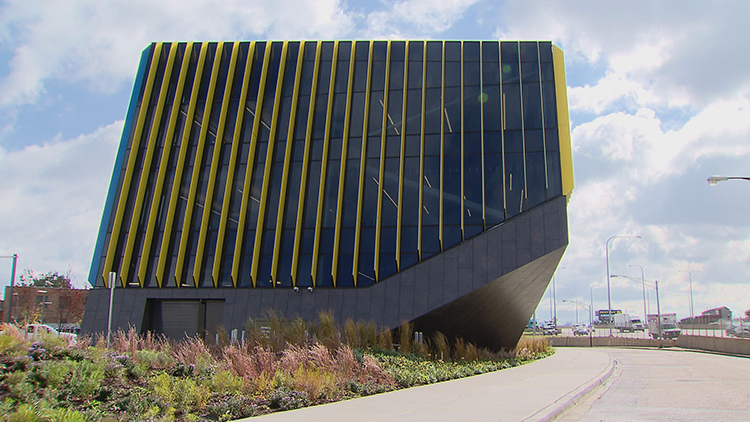 Q: How did the surrounding area inspire you?
I think we all know Chicago is a great architecture city—everyone knows.
What's interesting is that if you take the journey from O'Hare into the city, there are many notable buildings along the way. When the university buys a piece of land adjacent to the expressway, it's a chance to have a building become part of the language of a great city. It's a chance for architecture to have a dialogue along the expressway, instead of another billboard. It's a chance for architecture to have a much more prominent place along the expressway.
Q: Were there any considerations about future surrounding structures?
Even when you look at the building now, it starts to anticipate what could be. It was always part of this planned development. You need other facilities out there. It is a satellite campus. You need other amenities for the kids that are going to be there.
Interviews have been condensed and edited.