Bears star Brandon Marshall speaks out about Roger Goodell, domestic violence, and his past troubles, which have been brought to light in a new complaint against the NFL. Paris Schutz has the latest.
---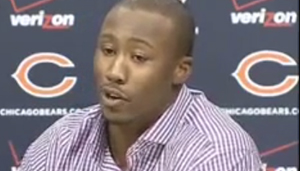 Chicago Bears star receiver Brandon Marshall addressed the media for nearly 40 minutes this afternoon, and never once touched on the topic of football. Marshall offered a candid response to old domestic abuse allegations that were brought up yesterday. And he blasted the current NFL culture that he believes punishes accused players before "due process" has played out. 
This comes on the heels of the indefinite suspension of Baltimore Ravens running back Ray Rice following the release of a video showing Rice punching his then-fiancée while inside an Atlantic City hotel elevator. Rice isn't alone in the recent string of domestic incidents. Arizona Cardinals star Jonathan Dwyer was deactivated by the team after being arrested in a domestic violence investigation on Wednesday. And Minnesota Vikings' Adrian Peterson was deactivated after child abuse charges surfaced.
Marshall looked to address the media's involvement during his press conference, stemming from his recent rant against ESPN. Marshall publicly demanded an apology from the station after his past profile was recently re-aired. ESPN's documentary program "E:60" focused on Marshall's journey as a football star, but he believes re-airing it amidst NFL's current events misrepresented him and resurfaced his domestic controversies.
The star spoke candidly and praised the NFL's influence and impact on players' and their families' lives. He came to the defense of NFL Commissioner Roger Goodell at several points during the conference and defended his efforts to encourage good conduct among players. Goodell came under fire for his handling of Rice's contract following his domestic abuse case.