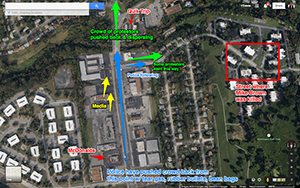 The Black Youth Project at the University of Chicago released a report Friday, Aug. 15 detailing the lack of trust in the police and legal system. The study looks at data from national surveys about young people of color and their lack of trust in police and the legal system. The report was compiled because of the recent happenings in Ferguson, Mo.
Monday, Aug. 18 marked the eighth day of protests condemning the shooting of an unarmed teenager, Michael Brown, on Saturday, Aug. 9 in Ferguson. Brown's shooting in the middle of a street by officer Darren Wilson also sparked riots and looting in the St. Louis suburb. Missouri Governor Jay Nixon ordered the National Guard into Ferguson early Monday, Aug. 18 just hours after police said violence had escalated.
Although highlighted in the events in Ferguson now, tension between the African American community and police forces is neither recent nor limited to Missouri. The report detailed other recent cases of dissension between the two parties.
"Along with Brown, the cases of Trayvon Martin and Jordan Davis in Florida and, more recently, Eric Garner in New York and Ezell Ford in Los Angeles, all tell stories of how unarmed Black men became victims of police forces charged with serving and protecting their communities and are then denied justice by the legal system." 
The report examined data from different national public opinion surveys across the country. The report's focus was on public perception of the police and the United State's legal system. In their findings, fewer African Americans expressed faith in protection by officers compared to white, Latino and Asian Americans surveyed. More than half of the black population surveyed also expressed being victim to or knowing someone who experienced violence and/or harassment at the hands of police.  
The report also identified a widespread distrust in the legal system among young people. Consistently though, a significant amount of African American youth surveyed rejected the idea that the legal system treats and protects all groups fairly. 
--Map courtesy of Travis Hughes