Carol Marin joins us live from the State Fairgrounds in Springfield.
---
The first State Fair was held in 1853 in Springfield on 20 acres of land. The fair was hosted by Springfield again in 1854, but after that year it was hosted in different towns throughout the state.
By 1892, the fair had been held at least once in the following towns: Alton, Centralia, Chicago, Decatur, DuQuoin, Freeport, Jacksonville, Olney, Ottawa, Peoria, Quincy and Springfield.  Chicago had the opportunity to hold the fair eight times.
There were only two years since the start of the fair that it was not held; in 1862 it wasn't held because of the Civil War, and in 1893 because Chicago hosted the World's Columbian Exposition. 
Springfield became the fair's permanent host in 1894, and the fair lasted six days that year. Springfield beat out Aurora, Bloomington, Chicago, Decatur and Peoria to become the annual host of the fair, which now runs 10 days.
General events during the 10-day Illinois State Fair include a hypnotist, chainsaw carving shows, butter cow exhibits, Irish dancing shows, a BB gun range and a Kids Korner with face painting, storytelling and puppets.  Each day of the fair has a theme, which includes themed events that may cost an additional fee.  Every night at 8:00 pm there will be a concert on the Grandstand Stage.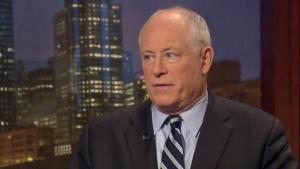 Wednesday, Aug. 13
Gov. Pat Quinn visited the fair on Wednesday for Governor's day, which hosted the current and past Illinois governors. Featured events included goat, swine, sheep, and dairy shows as well as truck and tractor pulls.  The nighttime concert featured Hunter Hayes, Sam Hunt, and Dan + Shay.
Watch a video from Democrat Day at the Illinois State Fair.
Thursday, Aug. 14
Republican Day will feature special Illinois Republican guests, and past activities have included rallies and parades. There will continue to be goat, swine, sheep and dairy shows as well as a society horse show. The evening concert will be pop groups Emblem3, MKTO and Midnight Red.
Friday, Aug. 15
Many of the activities on Friday will be centered around the youngest visitors, as the theme is Future for Kids Day. Activities will include a diaper decorating competition, a ponytail contest, and a smile contest. There will also be a society horse show and a compact figure 8 boat show. The evening entertainment will be the 1970s jazz/rock band Steely Dan.
Saturday, Aug.16
Members of more than 45 park districts in the state will have booths and educate visitors on conservation during the Park District Conservation themed day. Other events will include a Bossy Fashion Frolic, a baton twirling contest, and auto races. The Saturday night concert will be with Jake Owen, Parmalee and Cadillac III.
Sunday, Aug. 17
For the last day, the admissions price will be lowered to $3 per person in an effort to encourage more families to stop by.  In addition to general events of the fair, the featured events will include a draft horse pull, a chili cook-off, a deadlift competition, and auto races. The concert on the final night will be Magic! and Robin Thicke.