They're called Class A and Class B biosolids and take weeks to years to make. They're great for the ground, and the Metropolitan Water Reclamation District of Greater Chicago gives away tons of the material for free on a regular basis. The process is done on the property of the Stickney Plant, which is the world's largest water treatment facility, handling billions of gallons of water daily.
The MWRDGC's dream is that new EPA guidelines will make biosolids available for the general home gardener, but they still need to figure out exactly how to market it. In a time when contaminated water supplies and communicable diseases are terrifying the larger populace, the scientists at the MWRDGC have the research and experience to prove they have a safe product. But it's rough convincing the public because nobody believes their neighbor's feces doesn't stink.
---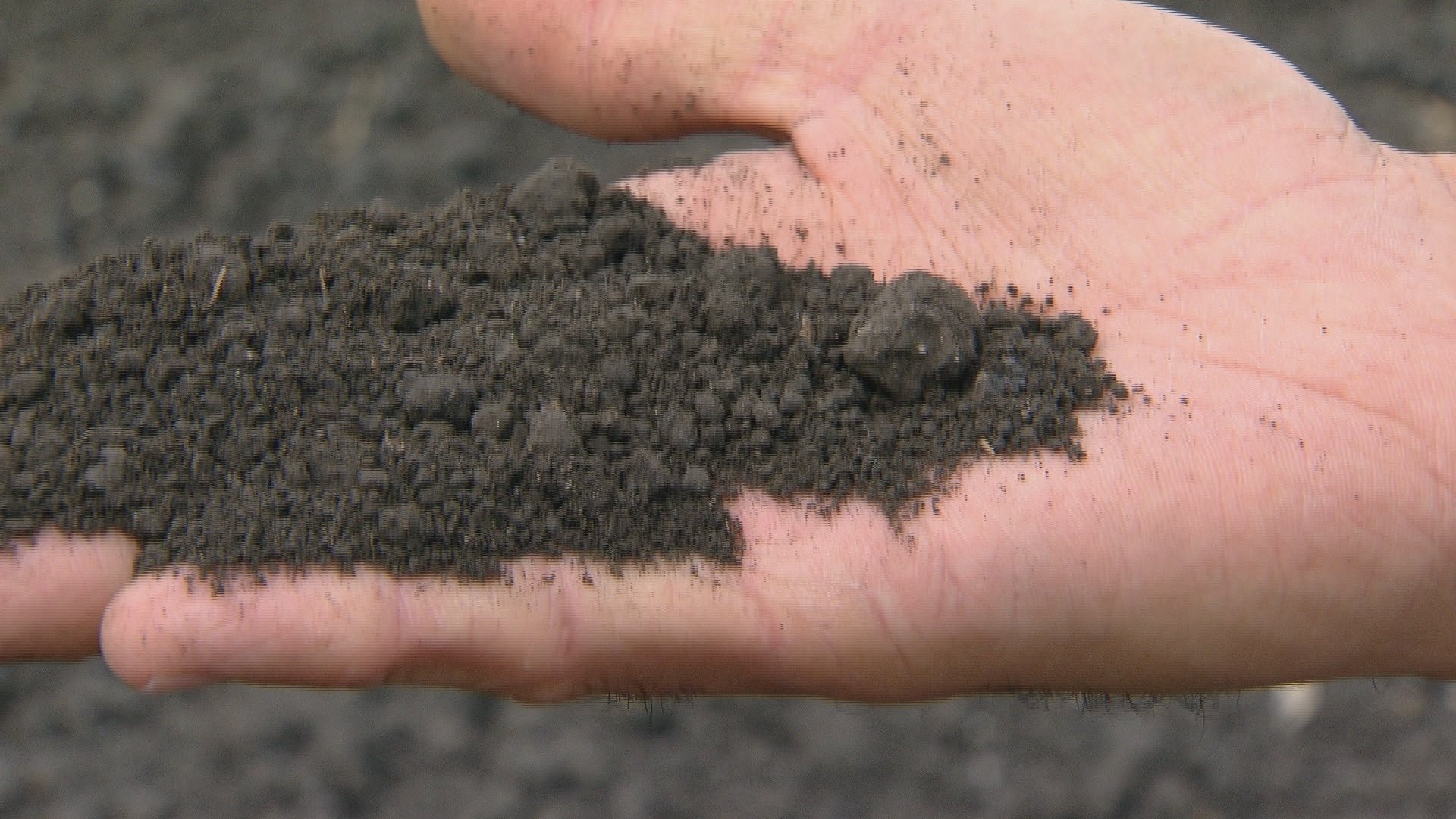 The soil you see pictured to the right looks like topsoil and actually resembles topsoil, but it's a lot richer than topsoil.  It is Class A biosolids and contains more minerals than regular soil. That's why plants like the Metropolitan Water Reclamation District (MWRD) send it to golf courses, school districts, and parks for fertilizing turf.
But Class A biosolids have a very distinctive provenance. They come from sludge, commonly known as human waste, a fact that discourages many consumers.
"When we tell people here, 'you want to use biosolids' they think of sludge or think of something that comes from the toilets," Dr. Lakhwinder Hundal, Supervising Environmental Soil Scientist at MWRD said. "So that's the fight we always try to overcome."
It takes the plant on average two years to produce what comes from your toilets into biosolids. The two-year journey from sludge to a highly effective fertilizer takes place in Cicero, Illinois at the Stickney plant of the MWRD. The plant makes Illinois home to the largest waste water treatment facility in the world.
"We typically average around 750 million gallons a day of treatment. During storm conditions, we can pump 1.44 billion." Reed Dring, Operations Manager of Stickney Plant said. "This plant serves the city from the lake to the county line, from Fullerton down to 87th Street."
Most residents aren't aware the waste that they generate day-to-day is going to beneficial uses.
Enclosed centrifuges separate the water from the solids. The solids, still mostly water, are carried on conveyor belts and moved into various processing stages. One destination is a large underground storage tanks called digesters. 
The residuals from the water treatment process are then put in big reactors where they are maintained at a temperature of 95 degrees. The waste produces methane through the biodegrade process which the plant utilizes to heat the digestion system and fire boilers.
"It's really a recycling success story," Dr. Thomas Granato, Director of Monitoring and Research said.
The end process yields a far greater utility that's great for sustainability.
"The biosolids that result are largely organic materials that are high in nutrients and other constituents that are required by plants for growth." Dr. Granato said.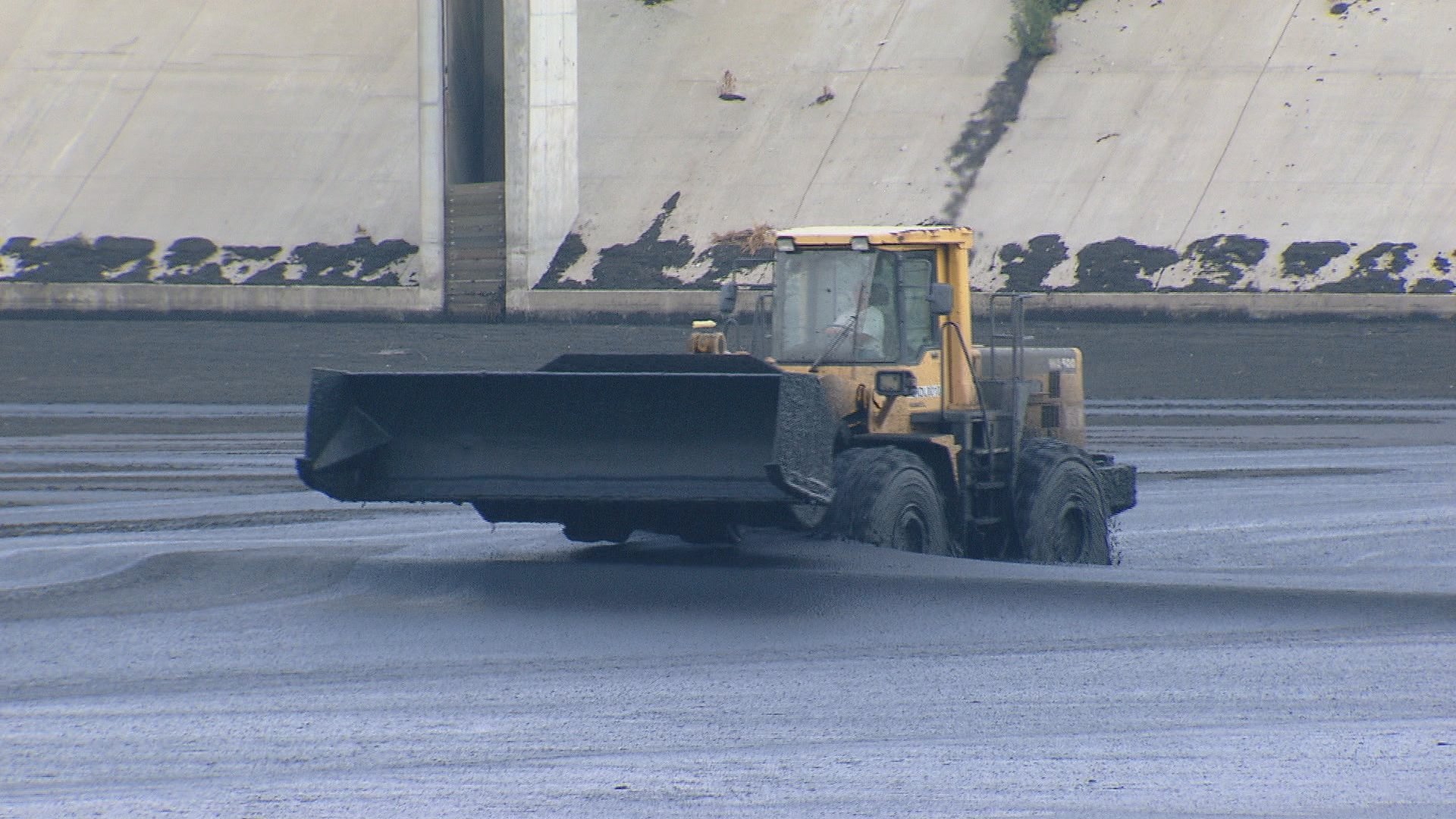 On a private road along the Ship and Sanitary Canal there is heavy truck traffic. That truck processes biosolids to be sent out to farmland.
The next step in the biosolid process occurs when gravity and the sun do their work. The material is aerated to ensure oxygen moves the biochemical process forward.
"We have two types of facilities here: drying pads and lagoons," Dr. Hundal said. "We start from digester draw, store it in lagoons for 18 months plus and then bring it to drying pads to dry it to 60 percent solids plus content."
At the Chicago Park District's Ping Tom Memorial Park, biosolids have helped the soil stay healthy. And they're being used in one of the city's newest parks on the downtown lakefront.
"At this point, Maggie Daley Park is being constructed with Class A biosolids. We do not charge anything, we actually delivered free of cost." Dr. Hundal said.
The MWRD has a long history of producing using biosolids for more than 50 years.
"The district owns 15,000 acres in Fulton County about 185 miles southwest of Chicago, and we have used over million tons of biosolids down there to reclaim strip mine land, strip mine for coal back into agricultural land." Dr. Granato said.
Using human waste to enrich soil has a long history, and not all of it nefarious.
"Both in Germany and England there have been what used to be called sludge farms that were set up probably 140 years ago." Dr. Granato said.
Outside of Paris, the home of painters Eduard Manet and Gustave Caillebotte was the site of a huge sludge farm that provided the city with high quality produce for nearly a century. And Chicago's own Pullman neighborhood at one time had a successful sludge farm. But industrial waste material in the sewage stream proved to be the undoing of the practice. The Metropolitan Water Reclamation District says it has a handle on that problem.
"All the local industries are issued discharge permits by the District that enumerates limitations of the discharge of metals." Granato said.
State law currently forbids the District from distributing the biosolids for home use. Illinois residents can buy Milorganite, a biosolid product from Wisconsin, which tested highly for heavy metals in the 1980s but since has been cleaned up, according to the manufacturer.
"Milorganite is made by heat drying, which means it's more expensive to make it because heat drying is not cheap," Dr. Hundal said. "So our product is a low cost way to make Class A."
The Illinois EPA is currently working with the Water Reclamation District to make recommendations to change state law to allow home use in 2015. If you want to know more about biosolids, contact the Metropolitan Water Reclamation District or ask a local park district superintendent if they're using biosolids.