As part of the Chicago Community Trust's #OnThetable2014, Chicago Tonight's Eddie Arruza hosted a dinner with nine area residents where they shared their thoughts, concerns, opinions and hopes for the region's future. Read his blog of the event and watch some videos of what participants had to say.
---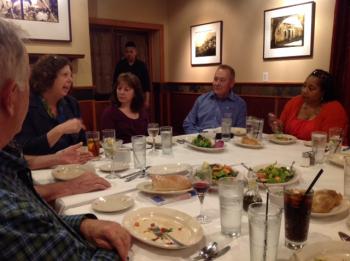 It's safe to say that sitting down to a nice Italian dinner with a group of nine strangers is an uncommon experience in most people's lives. And when the members of that group come from very different walks of life, sharply contrasting communities and even different countries, the conversation at that table is going to be interesting if not captivating. The nine people at my table at Francesca's Fiore Restaurant in Forest Park may have been strangers at first, but by the end of our nearly three hour dinner we all had insights into each other's passions, concerns and hopes for the region we call home. 
One of the first to arrive was Mary D. Joseph who drove more than 40 miles from Matteson, Illinois to make sure she was at the table. Ironically, the diner who lives closest to the restaurant, Forest Park resident and realtor Stephen Chertok, was the last to arrive, something we kidded him about. But everyone was on time and as the food started coming, the conversation took off.
Chicago resident Janina Staniszewski, a native of Poland and mother of two came with a long written list of topics she wanted to address, and it seemed she wanted to address them all in one breath. Education in Chicago topped her list and more than once she emphasized that education creates empowerment. She is a passionate advocate of school choice and vouchers.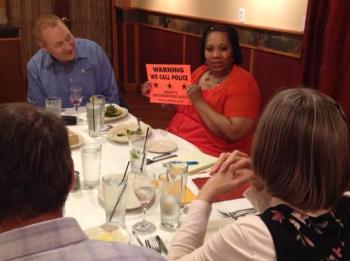 Shirley Oliver lives in the heart of Chicago's beleaguered Englewood community where she runs a daycare out of her home. She brought a "We Call Police" sign that she proudly displays in her front window. She says there was a time when she saw many more of those signs around her neighborhood but there are fewer of them these days. It's a sign, she says, of a fractured community that is not doing enough to combat crime.
J. Thomas Johnson, the former director of the Illinois Department of Revenue, was also at the table. He bemoaned Illinois's loss of stature in the nation since the start of this new century. There was a time, he pointed out, when Illinois was one of the most respected states in the country but political corruption and fiscal mismanagement have brought the state down, he says.
And sitting next to me was the Chicago area's first female newspaper delivery girl. At least that's what Katherine Konopasek claimed. She has a different claim to fame these days as principal of Stevenson Elementary School on the city's southwest side. She made sure to point out that it is not to be confused with the well funded high school in Lincolnshire with its vast resources. Her school has made great strides in recent years in test results and even improving the school building, she said, but she feels that the current administration on the fifth floor of Chicago's City Hall needs to show more respect for the city's public school principals.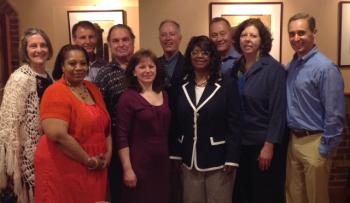 A few moments of lively disagreement occurred when Janina Staniszewski blasted Obamacare as "socialist," while her dinner partner, Oak Park resident Carol Josefowski, said it allowed her to get health insurance for the first time in nearly a decade. And the energetic Lanny Lutz, an actor/cab driver/fine wine merchant pointed out that he's lived in Paris and Istanbul but Chicago is the best place he's ever landed, despite what he calls the worst political corruption he's witnessed.
The conversation could have lasted well past 10:00 pm but by then the tiramisu had vanished and the "class picture" had been taken, and 10 people who had all met for the first time departed a little more knowledgeable about what their neighbors from all around the Chicago region had on their minds.
--Kristen Thometz contributed to this report.