As part of the Chicago Community Trust's On The Table, Chicago Tonight's Elizabeth Brackett hosted a dinner with eight area residents where they shared their thoughts, concerns, opinions, and hopes for the region's future. Read her blog about the event and watch a video of what participants had to say.
---
Our table for nine filled quickly in the lively and loud Café Ba-Ba-Reeba on Halsted Street in Lincoln Park.  A little negotiation got the music turned down, though we did leave the Bulls game on but – no sound. 
Our group came from across the city and even included a suburbanite, Richard Rosenberg from Palatine. Rich attended the On the Table dinner last year and wanted to know what had come out of last year's discussions. We talked about how the themes of collaboration, commitment, and civic participation that emerged from last year's dinners sparked this year's call for philanthropy to carry out those themes.
 All eight guests had terrific stories to tell about their own involvement in philanthropy. You could hear the excitement in north sider Kinga Stepian's voice when she talked about her volunteer work with The Night Ministry, which deals with poor and often homeless people on the North Side. Nigerian American investment manager, Nneka Erondu was passionate about the hours she gives to the Young Women's Leadership Charter School. While northwest sider Marlene Rivera found her desire to volunteer filled by working with Organizing for Action, which is the national organization that grew out of President Barack Obama's campaign and presidency.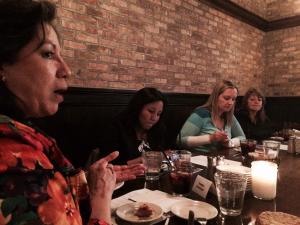 After I reported that Moody's had just lowered Chicago's bond rating to junk status, there were many comments about the urgent need for philanthropy. The concern was voiced that the dire fiscal straits of  the city and the state has already led to cutting back on many social programs, and the drop to junk status will only make things worse. Public health nurse, Monica Dillon was particularly concerned about the cuts to the city's mental health care facilities. She created an indigent pharmaceutical program to fill the urgent need for access to medications in her community.
In general, the politicians didn't get much credit for the way the city and state's fiscal crisis is being handled. Retired manager, Sylvia Reed suggested that all the money the politicians raise for their campaign funds be turned over to the cash-strapped city and state. There was unanimous agreement, but not much hope that it would happen.  
Both Gayle Plantz, a landscape architect, and Rich Rosenberg, a financial adviser, were high on the idea of community gardens as a way to involve the community in meaningful volunteer work that also provides much needed produce for food pantries.  
Consultant Gladys Santiago has given a lot of thought to funding philanthropy through social enterprise endeavors. Her creative ideas for tapping new markets, both public and private, for philanthropic fundraising got the group's attention.
Kinga Stepian wrapped up the evening by saying listening to everyone's passion about their philanthropic work made her realize that seemingly insurmountable social problems could be overcome when each person does just a little to promote change.  
The evening ended much better than the Bulls game and the whole table even volunteered to help out on the phones at the next WTTW pledge drive!
On The Table guests share their thoughts on the dinner conversation in this web extra video.