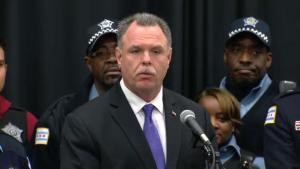 On the heels of an especially violent weekend in Chicago, Police Supt. Garry McCarthy is reiterating his call for gun legislation that he says he needs to prevent gun violence.
It was a warm weekend, and while McCarthy says weather doesn't cause crime or prevent it, it does create the circumstances for crime to happen. So, he focuses on the gang violence, which he says is responsible for most of the shootings. And, he says warring gang factions are responsible for much of the violence that happened over the weekend which left four people dead and 34 wounded in 27 shooting incidents since Friday afternoon.
The superintendent said that, so far in 2014, his office has seized more than 1,500 firearms -- 40 percent of which are from Cook County.
One gun control measure he's advocating is requiring owners to report the theft, loss, or transfer of a firearm.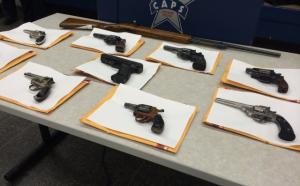 "It's too easy for dangerous criminals to get an illegal gun, and far too few who are caught with an illegal firearm, serve a sentence that fits the severity of that crime," said McCarthy. "There are several examples in the last week alone. Chicago Lawn officers on patrol saw a group loitering in an area with high gang activity. They approached and one individual fled, tossing a loaded semi-automatic pistol into a yard. The officers were able to apprehend the offender, a convicted felon and gang member on parole, and recover the firearm which had a defaced serial number. We've implemented new police tactics; we're taking on new prevention measures to stop the next shooting from happening, like our custom notification program. We're working with our partners in the community, but we continue to be challenged by lax state and federal gun laws."
Watch McCarthy's full news conference below:
McCarthy pointed out that there are 17 examples like the one he mentioned where either victims or offenders of gun violence wouldn't have been in that position if the state had mandatory minimum sentencing laws.
As far as other strategies out there, almost all county sheriffs in Illinois and a number of police chiefs, including Sheriff Tom Dart and Supt. McCarthy, are members of the group, Fight Crime, Invest in Kids. The organization advocates working with families and children before they're old enough to turn to guns and violence.
"Police work treats the symptoms, not the causes of violence. Ask any police chief and that's what they'll tell you. Violence plagues too many of our communities, but we take the long view. If we know that there's one strategy that can really break the cycle of violence, that's often carried over into multiple generations, it's coaching good parents, getting them the support they need to prevent child abuse and neglect. That's one program," said Tim Carpenter, state director of Fight Crime, Invest in Kids. "Education also really needs to be a major focal point. We know 7 out of 10 inmates in state prisons across the country don't have a high school diploma. Here in Illinois, half of our state prisoners don't have a high school diploma. That same rate applies to Cook County Jail, our overcrowded Cook County Jail. So, something's wrong. They don't have a high school diploma; that makes them not employable in a lot of ways."
In a letter to the governor and leadership in the Illinois General Assembly, Fight Crime, Invest in Kids asks the state to restore the 8 percent of funding for preschool that's been cut over the last five years, along with maintaining funding for teen after-school programs and community-based juvenile justice programs.
As far as mandatory minimum sentencing and rates of gun violence, McCarthy says in cities where the laws exist, illegal gun seizures, homicides and incarceration rates are down.
But, Todd Belcore, the lead attorney in the Community Justice Unit at the Shriver Center on Poverty Law, explains that there are 29 studies that say there's no credible evidence that mandatory minimums reduce crime.
"History has shown conclusively that mandatory minimums like the ones suggested in SB 1342 would hurt the very communities they are designed to help -communities of color-by stripping judges of their ability to weigh each case on the merits and force innocent gun holders who live in rougher neighborhoods who have a gun for protection to be treated the same as those who intend to hurt someone," said Belcore in a statement. "Communities know this will result in more people of color being locked up, and for longer, and have made their opposition to the bill, and the idea generally, known by voicing their opposition in Springfield and in every other forum available. To continue to push the legislation shows a disregard for the communities' voice and ignores the solutions offered by the communities affected most by gun violence -jobs, education, mentorship and targeted policing."
SB 1342, that would have instituted the law, is still lingering in the Senate, so it's technically not dead. But it would take some political will to get it moving again, according to Belcore.