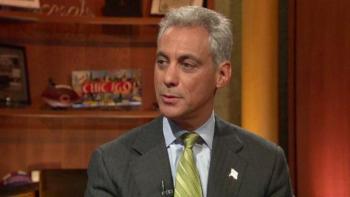 A bill that enacts Mayor Rahm Emanuel's pension overhaul cleared its first hurdle, moving out of House committee with a 6-4 vote today.
The proposed plan is aimed at revamping two of the four city pension systems; the municipal employee and laborer's retirement.
Bill sponsor and House Speaker Michael Madigan spoke on behalf of the legislation needed to get the City of Chicago's pension liability under control.
"These are clearly local pension systems that are in distress," Madigan said.
The bill would require employees to pay an additional 2.5 percent of salary toward retirement savings. It would also change how cost-of-living increases are determined. Currently, the city provides 3 percent compounded annually. The bill would change that to the city providing increases at the lower of 3 percent or half the level of inflation.
Public employees currently pay 8.5 percent toward retirement savings. 
The city would also be required to impose a property tax hike of $50 million a year over the span of five years. According to reports, the city will collect $750 million from increased property taxes by the year 2020.
But some labor unions and a number of local think tanks are against this reform.
"They are making the same promises they made in the past," said Pat Camden, spokesman for the Fraternal Order of Police.
Carol Marin chats with Chicago Sun-Times Springfield Bureau Chief Dave McKinney about movement in the state capital. We are also joined by Anders Lindall, spokesman for AFSCME Council 31, Diana Rickert, Director of Media Relations for the Illinois Policy Institute, and Amanda Kass, Budget Director and Pensions Specialist at think tank, Center for Tax and Budget Accountability.