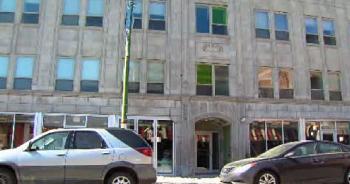 Fifty-one Chicago residents who were homeless or at-risk of being homeless now have a new place to call home. A new facility called Buffett Place has opened in the Lakeview neighborhood and its newest residents began moving in within the last few weeks.
For 54-year old Robert Rohdenburg, the reality is still setting in that this apartment is his new home.
"I was mainly interested in light and the view," he said. "It probably wouldn't feel right until I'm here alone, sleeping, getting up in the morning, eating, cooking things, so it's still coming together whether it's real or not. It's been a while coming, and my life's been kind of disrupted since June."
Homeless for the last nine years, Rohdenburg has been in and out of other single-room occupancy housing units, or SROs.
He was among the last to move out of the Chateau Hotel near Wrigleyville when it finally closed last June.
"They're not new, they're not energy-efficient, and they're not eco-friendly," he said. "None of them had social services on site."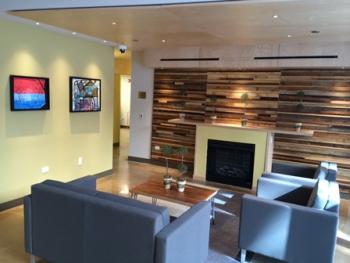 But today, Rohdenburg, who suffers from depression and anxiety, has access to on-site case management and social services from his new home at Buffett Place in the Lakeview neighborhood.
"Getting new glasses is high priority, reapplying for a LINK card is a high priority, getting a voter's registration card," he said.
After signing his name on the line, he's an official resident.
Buffett Place is a unique housing model for people with disabilities or mental illness who are at risk of homelessness.
The building was once the Diplomat Hotel, another SRO that had fallen into disrepair from neglect and mismanagement.
The building was slated for sale, to become market-rate housing in the gentrified Lakeview neighborhood.
Instead, the nonprofit service provider Thresholds collaborated with private real estate company Brinshore Development and the City of Chicago to create what Thresholds Executive Director Mark Ishaug hopes will become a model housing facility.
"I really think that in some ways this is going to be a new beginning for so many of our residents," said Ishaug. "People are going to have an opportunity to get healthy, to find jobs, to get connected to school. And for many people they're going to be reconnected to their family for the first time in a long time. It all starts with housing."
Two hundred people applied for one of the building's 51 units.
Jesus Campuzano, new resident of Buffett Place, describes how it feels to have a home to call his own in the following web extra video:
Just next door, an 1,800 square foot flower shop called Urban Meadows is operated by Thresholds members.
"In the United States, including Chicago, people with mental illnesses die 25 years younger than the rest of the population. This is a national tragedy," said Ishaug. "And partly this is because there has not been an investment locally or nationally in behavioral health, in mental health funding and mental health services. And we have to change that story, and that's what Thresholds is all about."
Buffett Place is supplemented with $10.7 million in tax credits; total development costs topped $13 million. And private donors, most notably Pamela Buffett, helped to cover the cost of move-in for residents, as well as offset the costs of the social services that Thresholds provides.
As happy as Rohdenburg is to be at Buffett Place, he advocates that more can be done.
"It's restarting my life and it's a good start for the community, but as an affordable housing advocate for ONE Northside, that close to 2,300 affordable housing units in SROs have been eliminated in the last 2.5 years…we should not expect nonprofit agencies and CHA to solve all the problems," he said.
Julie Dworkin, at the Chicago Coalition for the Homeless, explains that those residents -- like Rohdenburg until now -- have been displaced, becoming homeless as those other SROs close down.
"The city doesn't have a comprehensive policy on preserving SROs, so if you just let the market takes its course, these owners have a hard time. Their costs are going up, their property taxes are going up, their heating bills are going up," she said. "But it's very difficult for them to raise the rent on the folks in the building because they can't afford to pay more, so things start to deteriorate and there's really no resources for them."
Dworkin says the city should come up with a preservation policy to avoid losing more SROs.
Meanwhile, Buffett Place preserves more than just the former Diplomat's rooms. Other pieces of the hotel still remain. For example, the signage in what will become a courtyard garden, and recycled wood slats now shape the fireplace and tabletops.
"Using the wood, using the materials from this building to build a new future, you know, connects our past with our future, and it's beautiful," said Ishaug.
To be eligible for residency at Buffett Place, applicants must demonstrate that they have a disability and an income less than 60 percent of the average median income. Residents pay 30 percent of their income -- which includes social security, disability or employment -- for rent. Thresholds staff says that market rate for the units would normally be $900 a month.