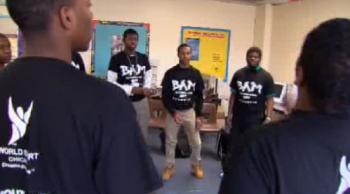 On Thursday, President Obama announced a new initiative aimed specifically at helping young men of color to improve their chronically lower rates of literacy and higher rates of unemployment and criminal trouble.
It's called My Brother's Keeper, and it creates a task force to examine what existing public and private efforts are working well by providing mentoring, support networks, or helping young men learn job skills or prepare for college.
The initiative also includes a $200 million commitment over the next five years from foundations and businesses already working to improve outcomes for this population of young men.
The money will be invested in areas like early childhood development and school readiness, parenting, 3rd-grade literacy, and interactions with the criminal justice system; as well as job opportunities and health.
During today's announcement, President Obama was introduced by a young man from Chicago who participates in the Becoming A Man program, run by the nonprofit, Youth Guidance. The president visited a BAM mentoring session last year.
Recently, researchers unveiled the impact of those sessions; plus, the addition of intensive tutoring on helping that same population of young men of color in earning better grades, and hopefully better futures.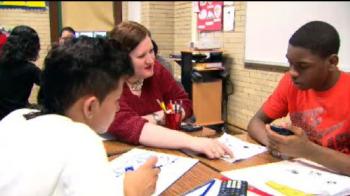 The BAM program is just half of an intervention effort showing promising results for young men who may have been in danger of dropping out.
Douglass Academy High School students in 9th-11th grade are participating in the BAM mentoring program. One particular game they play teaches communication and leadership. But, the students say it's taught them so much more.
"This has really helped me out on becoming a man, like respecting each other, and respecting my friends and my family. It can really help me in doing something with my life," said student Terrance Hunter.
"Like during football, for instance, there were times I wanted to quit. I didn't feel like doing it no more. And then, I realized I had to be determined, and the values of BAM helped me out," said student Devonta Savage-Jackson.
It's a dropout and violence prevention program, teaching accountability and self-determination, among other traits.
"These combinations of experiences gives kids a lot of mental and emotional resources to make better decisions," said BAM counselor Louis Wright. "In the absence of these things, then they do what they see on television and they do what their friends say do. But hearing your peer talk about how he resolved a simple situation, well now they've got the resources."
TJ Jordan, BAM Counselor at Foreman High School, discusses how the Becoming A Man group mentoring sessions work in the following web extra video:
It's part of a two-pronged intervention being studied by the University of Chicago's Crime and Urban Education Labs.
The other prong: intensive math tutoring provided by Boston-based foundation, Match Education.
Foreman High School 10th grader Sebastian Morocho is getting help with exponents and geometry.
"Then when they're in parenthesis, I don't know what to do sometimes," he said. "There's some times when there's parenthesis on the top, and on the bottom there's subtraction and dividing. It's kind of hard."
And tutors here say the difference in Morocho's and other students' grades is notable.
"There have been some dramatic changes in performance. For instance, we did a proficiency test at the beginning of the year, and a few months later gave them a second version of that test. The gains that the students made were incredible just across the board," said Match tutor Amy Vogelsan.
It's that combination of mentoring and tutoring that researchers believe can have a significant impact on reversing declining grades and absenteeism -- factors eventually leading to dropping out of school.
The University of Chicago's Crime and Urban Education Labs randomly selected 106 9th and 10th grade boys at Harper High School; 95 percent were black and 99 percent were eligible for free and reduced lunch. Researchers found that the intervention increased graduation rates by 14 percent, compared with students in the control group.
"Had significantly higher math test scores, significantly higher math grades, fewer absences, higher attendance rates compared to the comparison group. And the differences were significant both from a research standpoint and from a practical standpoint," said Urban Education Lab Co-Director Jonathan Guryan.
Also a faculty fellow at Northwestern's Institute for Policy Research, Guryan said that over the course of the six-month intervention, the students made up what they would've learned over three years.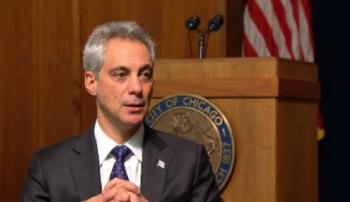 What's more, students were more engaged, showing better attendance, adding up to about two and a half more weeks of school a year.
"Kids now are excited about going to class when they used to be only thinking about dropping out or missing it," said Mayor Rahm Emanuel. "And, kids also talking about having a problem but figuring out how to work it out without turning to violence because they got a moral compass that they never had before. So that's why immensely I want to put my resources behind it."
The research got the attention of Emanuel, and it's the reason he's increased the size of the program -- aiming to reach 1,000 students.
"I want every child that needs it to get it, so let me tell you what my goal is," said Emanuel. "But doing this, you have to do it in a way you just don't add with losing quality. You have to have the right people as the mentors in BAM; you have to have the right tutoring in the Match program. Obviously, the combination of the two are exponentially greater."
The mayor credits Becoming A Man and Match with helping students to find academic confidence and moral compass -- characteristics they may have been missing otherwise.
"The first educator a child has is a parent. Everything we are doing in either BAM, Match, or other initiatives, are making up for a huge amount of a breakdown in the family," said Emanuel. "And, we can't lose sight of how important a strong parent or parents are to a child's education."
Another significant finding from the study: while much attention has been devoted to early education, this research shows that resources devoted to adolescent teens can have an impact.
"What our results suggest is that it's possible that the disappointing results past studies have found are not because it's too late to intervene once kids are in their teens or older, but rather that the interventions themselves were not designed well enough," said Guryan.
This school year, the study has increased in size to test its scalability, so that more students like Sebastian Morocho can have the same learning relationship.
"At the beginning, I didn't even know him, but now we're kind of friends," said Morocho about his tutor. "I understand him when he explains to me the work."
This research was released by the National Bureau of Economic Research, and in it, researchers say it's important to recognize the large the impact of the intervention on a per dollar spent basis when compared with other interventions that haven't shown as much success.
Researchers estimate the cost per student is about $4,400, but the test score gain per dollar spent is much larger compared to other efforts.
The MacArthur Foundation has given the U of C Crime Lab its Award for Creative and Effective Institutions; a $1 million award given to seven different nonprofits for their exceptional contributions in the organization's respective field of work.
In this case, the Crime Lab is recognized for applying a scientific approach -- the kind usually reserved for medical studies -- to studying gun crime, school dropout rates and violence reduction programs.