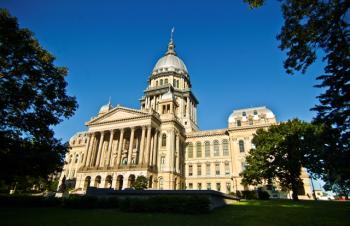 It turns out pension reform could save $15 billion less than legislative leaders initially anticipated. An actuarial analysis done by the pension systems affected by this bill say the real savings will be $145 billion, rather than the $160 billion originally advertised. That's because the analysis plugged in data from 2013. Legislative leaders acknowledged that their estimates were based on numbers from 2012.
"$160, $160 $160 is what they kept saying," said State Rep. David McSweeney (R-Barrington Hills). "The implication is we are saving $15 billion less than we thought. That's a big number."
But, really, what's in a number?
"The latest actuarial analysis is positive news for taxpayers and the health of the systems," said Republican House Minority Leader Jim Durkin (R-Western Springs), in a letter sent to his caucus late Friday and obtained by Chicago Tonight. The letter explains that the savings are less, but that the state owes less than initially thought, so the difference is negligible.
 "There are more accounting gimmicks in these numbers," said McSweeney. "If the 2013 data was so much better, why did leaders use 2012 numbers as the basis of their estimates?"
"We used the documents that were available at the time," said Steve Brown, a spokesperson for House Speaker Michael Madigan. "We got a bill passed, and signed into law, that makes significant improvements in the way pensions are going to be funded in Illinois."
A table attached to Durkin's letter explains the discrepancy in numbers. If using 2012 data, the state would have owed $380 billion without pension reform and $220 with it. With 2013 data, the state would have owed $350 billion without pension reform. Now, it owes $205 billion.
"There's a missing $15 billion in there," McSweeney said.
"Investment earnings are better," Brown said. "Therefore, if you're a critic of this bill, I'm not sure it's the moment you want to jump and make noise."
The pension systems analysis estimates yearly investment returns at 8 percent. Some ratings houses say that number is too generous of an estimate.
Sources close to the pension reform negotiations say the actual $160 vs. $145 billion number isn't important, and it is bound to fluctuate again. The important figure, they say, is 100 percent.
"These latest actuarial findings confirm 100 percent funding of the four reformed pension systems in the next 30 years," said Durkin.
The Illinois House and Senate narrowly passed the pension reform bill, which reduces yearly cost of living raises, and increases retirement age.
State Sen. Bill Brady, who is running for governor, voted for it. State Sen. Kirk Dillard, another candidate, voted against it. State Treasurer Dan Rutherford said he opposed it because he didn't believe it would hold up under judicial review. GOP candidate Bruce Rauner was opposed to the pension reform bill, and lobbied Republican lawmakers to vote against it.
A coalition of state's largest public employee unions is expected to file a lawsuit in the next week or two challenging the constitutionality of the new law.
An independent analysis of the pension reform bill is expected shortly from the Commission on Government Forecasting and Accountability, the Illinois General Assembly's version of the Congressional Budget Office.