Students from the Mikva Challenge who questioned the Republican candidates for Illinois governor during our Monday forum share their thoughts in a written survey. Read their responses below. Watch the one-hour forum here, view a slideshow, and watch web extra videos of the candidates from the post-forum news conference.
---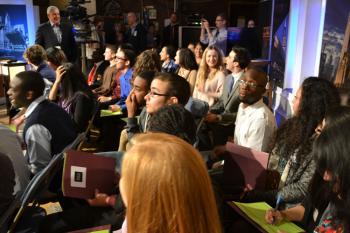 How well did the candidates answer the questions?
They seem to evade when they wanted to. I wonder if these was a real debate instead of a forum would the answers have been phrased differently. ~Jacquie, Westinghouse
Pretty average. Better than I expected. I feel some answers I didn't like because of my views and others because they did not elaborate. ~Korbin, Kenwood
Candidates did a good job answering questions but focused more on college students than high school students in their responses. Could've had more solid answers. ~Constance, Gage Park
Relatively well, though they avoided the issues related to minimum wage so that they seemed ambiguous. ~Jesus, Hancock
Successfully, but they didn't really answer how they would fix up the situation. ~Ke'Avery, Urban Prep Englewood
The candidates answered the questions very well and sometimes they were off topic but it was okay. ~Jessica, Steinmetz
They kept confusing themselves. They repeated the same subjects over and over when they had no plans. ~Geraldine, Hancock
For the most part, I thought they did, but sometimes they completely dodged the question. Dillard side-stepped my question about marijuana by talking about my high school. ~Clare, Waubonsie Valley
They redirected the questions to a more comfortable topic. ~Michael, Maine East
Mostly well, but they kind of dodged some questions. Towards my question [about parental consent], I didn't think a single one of them answered it well. They didn't take me seriously." ~Olivia, West Chicago
They generally answered the questions well, but Senator Brady always danced back to his phrase of job creation. ~Doug, West Chicago
The candidates answered some of the questions with well-supported responses; however, as politicians, they avoided directly responding to the most controversial ones. ~Sam, Northside
For the most part they did a really thorough job of answering questions. For some of them the candidates dodged the question and veered off. ~Katelyn, West Chicago Community HS
Senator Brady tried to dance over some questions but besides that it was a positive discussion. ~Janaki, West Chicago
What were some of the recurring themes and messages in the forum?
Every candidate said jobs need to be created before we can solve any other problems. ~Jacquie, Westinghouse
Definitely job creation – they managed to relate every issue back to this one. Their faith and family values also came across very clearly. ~Devyn, Northside
Were you surprised by anything any candidates said or how they behaved? Why or why not?
I was surprised by their unanimous position on the death penalty, but after their background, it makes sense. ~Andrea, Metea Valley
The candidates' quick response to being against legalization of marijuana was a shock. ~Karina, Westinghouse
When Bill Brady slipped and said minority [instead of minor] and needed saving from Phil Ponce. ~Jesus, Hancock HS
I was surprised by the fact that all three candidates were not sure of the minimum wage. ~Jose, Chicago Military Academy
No – I expected them to be conservative Republicans. The trend with Republican candidates is that they tend to have similar views. ~Erin, Kelly HS
I was surprised how nice the candidates were to each other despite the fact that they are opponents. ~Brandon, Chicago Military Academy
Not really – they came here for what they had to do. They behaved well without disrespecting each other. ~T., Steinmetz
Dillard made a lot of references to his church which alienated me. ~Michael, Maine East
I was surprised at their directness in certain situations – death penalty and marijuana, for example. However, I also noticed their discomfort on other questions, especially the chess piece one! ~Devyn, Northside
Yes – they all were not arguing with each other. ~Mohammed, Amundsen
I was surprised by how strongly they believed in their religion, but it was a positive reaction. ~Phimvano, Amundsen
I was surprised, because they sometimes cut each other off. ~Shannon, Amundsen
Yes – there was a lot of repetition. ~Lauren, Morgan Park
Bill Brady kept smirking and I found it to be rude; other than that they all seemed excited to be here. I liked that Dan Rutherford made a point of wanting to finish his answers. ~Katelyn, West Chicago
Bill Brady's attitude on issues like immigration was not sincere. ~Juan, Lake View
Poorly. They reverted to the economy every time they didn't' know what to say. ~John, North Shore Country Day
In your opinion, who was the strongest candidate? Why?
Dillard. I love his answers the most. He was clear, concise, serious, and most answers he gave were well thought out. He is a Republican but he thinks about the Democrat side also. I like that. ~Jacquie, Westinghouse
Dillard seemed the strongest, but Rutherford came in a close second. Both were confident and assertive, but I felt that Dillard knew his facts better and was more connected to his constituency. ~Andrea, Metea Valley
Dan Rutherford because he was both business-like and humorous. ~Stefon, Steinmetz
Dan Rutherford had the most substantive and thoughtful answers to our questions. He seemed to be the most informed on the issues and most qualified to be governor. ~Sam, Northside
Rutherford – he went straight to what he wanted to do. ~T., Steinmetz
I felt Rutherford was the strongest candidate. He knew what he wanted and presented his argument strongly. ~Phimvano
Kirk Dillard because he wants to change laws and make them stricter and wants to cut taxes. I'm glad he doesn't support marijuana, and he has a plan even if students don't go to college. ~Valerie, Alcott
I thought Kirk Dillard was the strongest candidate because he had the most concrete responses and they were really similar to my opinions. ~Varsha, Waubonsie Valley
Rutherford – he knew what he wanted and had specific plans on how to go about the issues. ~Alyse, Stevenson
I think Kirk Dillard was the strongest candidate. He gave elaborate answers and seemed like he was on top of his game. ~Katelyn, West Chicago
Rutherford – he had strong sentiments and ability to convey his ideas strongly and concisely. ~Janaki, West Chicago
I believe Kirk Dillard was the strongest because he elaborated on how he planned to achieve his goals. ~Neli, Stevenson
Dan Rutherford seemed the most interested in compromise and I think that is important in politics. ~Alyssa, Metea Valley
I personally thought that including ideas and the whole package, the best choice is Bill Brady because he is more willing to cross the aisle while maintaining his ideals, which is needed for Illinois. ~Lexi, Stevenson HS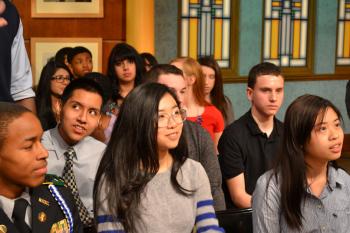 Did the forum have any impact on what you think of the candidates? In other words, do you feel any differently about any of the candidates after this forum?
I respect Brady even more now but he is too Republican for me. Dillard is the man I am committing to. ~Jacquie, Westinghouse
Yes, because it allowed me to hear their opinions face to face. I have a "better" view of the Republican party. ~Korbin, Kenwood
Not about the candidates, but about politics in general. I found the answers and their beliefs very interesting. ~Adrian, Gage Park
I feel I got to know a lot more about all the candidates, also I got a better idea of their beliefs and ideas. ~Constance, Gage Park
Yes, because now I want to do more research so I can be prepared for March. ~Valerie, Alcott
Yes, before Dillard was my most favored candidate, but in the end I favored Dan Rutherford. ~Shannon, Amundsen
Yes, I do feel differently about all the Republican candidates. I now know that I will not vote for anyone on the Republican party. ~Erin, Kelly HS
I didn't know much about them before so this was the event that helped me form an opinion of each candidate. ~Doug, West Chicago
Well, it definitely showed me that Republicans' ideals aren't so bad. Lately it seems like all of their opinions were so different from mine but they are actually reasonable. ~Brandon, Chicago Military Academy
They should learn that age is just a number and teens do have an impact politically so they should take it seriously next time. ~Olivia, West Chicago
I really don't like Bill Brady. He seems insensitive to minorities in regards to race and sexual preference. I was happily surprised to hear that Dan Rutherford identifies as an environmentalist. ~Leah, Northside
Yes, I need to do more research on the candidates and where they stand on different issues. I need to be better informed. ~Carmen, Kelly HS
The forum impacted me in a way to make me realize that the candidates believed in the opposite of what I believe. ~Jose, Chicago Military Academy
Because of Dillard's ability to offer personal information, I felt that I was able to see his personal connection to the topics and why he would like to reform some issues in Illinois. ~Neli, Stevenson HS
The forum has given me a better outlook on the candidates and influenced who I want to vote for. With a little more research I will be ready for the primaries. ~Karina, Westinghouse
Yes, I more fully understand each candidate and what they stand for and that will further make me an educated voter when I go to vote in the primary and general election. ~Lexi, Stevenson HS
Although I thought Rutherford was the strongest, he was the one I liked the least because of his opinions on immigration. ~Diana, Hancock HS