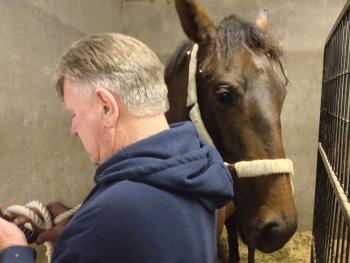 Des McInerney's day job is interesting enough.
He's an operating engineer at the Lincoln Park Zoo. While he doesn't interact directly with the animals there, they couldn't live without him.
Like the hippos, for example. They need clean water and that takes pumps, pipes, and filters. Des McInerney makes sure it all runs smoothly so the hippos have a clean water tank.
But on his days off, he has another job – one that puts him in very close contact with some very expensive animals.
He works with racehorses, but not at a racetrack. When they're bought at auction and need to fly to their new home, Des is their escort. He's called a "flying groom" or "equine attendant."
I caught up with him at O'Hare, as he prepared a shipment that was headed to Dublin, Ireland.
"We got 15," said Des. "I think it's 13 yearlings and two 2-year-olds."
The horses were all bought at a sale in Kentucky. But before they could leave the country, the USDA held them in quarantine for several hours, and Des and a USDA vet made sure that they had the right horses and that they hadn't picked up an illness since leaving the sale. The location of the quarantine is secret since some of the horses can be quite valuable.
"The father of this one is called Midagli Dior and Sheik Mohammed from Dubai bought the father of this for $65 million," said Des.
The horses arrive at O'Hare in trucks. Then, they are transferred to flight stalls, which each hold three horses.
"When I was a kid back home in Ireland, there were always ponies to ride and donkeys and stuff like that, so that's how we got into it," said Des. "And then when I got older, I got into the racehorses."
Des became a steeplechase jockey – though the jumps and other obstacles took their toll.
"Collarbones broken, ribs, now I've had two hips replaced," said Des.
As a safer alternative, Des began traveling with the horses more than 40 years ago – first on boats, then airplanes.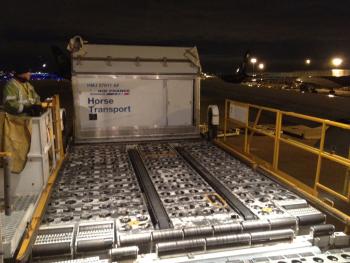 When asked what it's like for horses to fly, Des said the majority of them handle it well. But there can be problems that require specialized skill.
"I've seen some great horsemen on the ground, but when you get up 38,000 feet in the air and something goes wrong, and the horse decides he doesn't want to be on the airplane anymore, you have to know what you're doing," said Des. "Otherwise, you get hurt and the aircraft could get damaged."
The horses are not routinely sedated for the flight, though there is a mild sedative "paste" that Des can use, which he says helps relax them. And occasionally, he uses a stronger sedative to get them safely through the flight.
This year alone, Des has been to Dublin, Denmark, Hong Kong, Paris, New Zealand, Dubai and other locations. He's been to Australia more than 60 times in his life.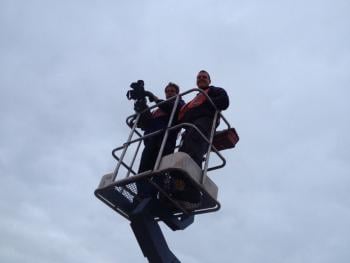 If that sounds exciting or even glamorous, consider the itinerary for the trip he is leaving on now.
"We get into Dublin tomorrow morning, and we'll off-load these, and then we're going to put 16 more back on that's going to be going from Ireland to Kentucky, so we'll be back here in Chicago tomorrow night, about 6:30," said Des.
With 15 horses, Des travels with two assistants. During the flight, they sit up in the only seats behind the cockpit. But they check on the horses often during the flight.
"Sometimes we stay with them for takeoff and landing or bad weather -- you know, any severe turbulence coming up," said Des. "But I don't like bothering them. If they are happy, I leave them alone. I just walk down and listen. They sometimes doze off and sleep, so we don't want to keep waking them up."
So the next time you're considering sending your racehorse to Dublin or Dubai, rest assured that your trusty steed won't have to travel alone.