One of the more daring highlights of the fall arts season promises to be Chicago Opera Theater's staging of the mythical romance "Orpheus and Eurydice."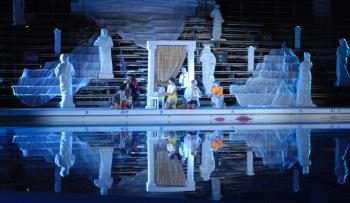 Contemporary composer Ricky Ian Gordon brings a lyrical approach to the ancient Greek myth of a man who longs to bring his beloved back from the afterlife.
The show places its cast and musicians in and around a conspicuous setting – the Eckhart Park Pool at 1330 West Chicago Avenue in Wicker Park.
This is to be the first of many "excursions" by Chicago Opera Theater, who are seeking new and unusual spaces to perform. It's part of general director Andreas Mitisek's vision to perform "opera out of the box."
"Orpheus and Eurydice" is being performed on Fridays and Sundays for the next two weekends. Tickets are free, but the pre-reservations are already gone.  A block of tickets will be available each night at 6pm on a first-come-first-serve basis.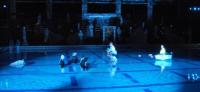 So if you're lucky you can score a poolside seat, but leave your swim trunks and towel at home.