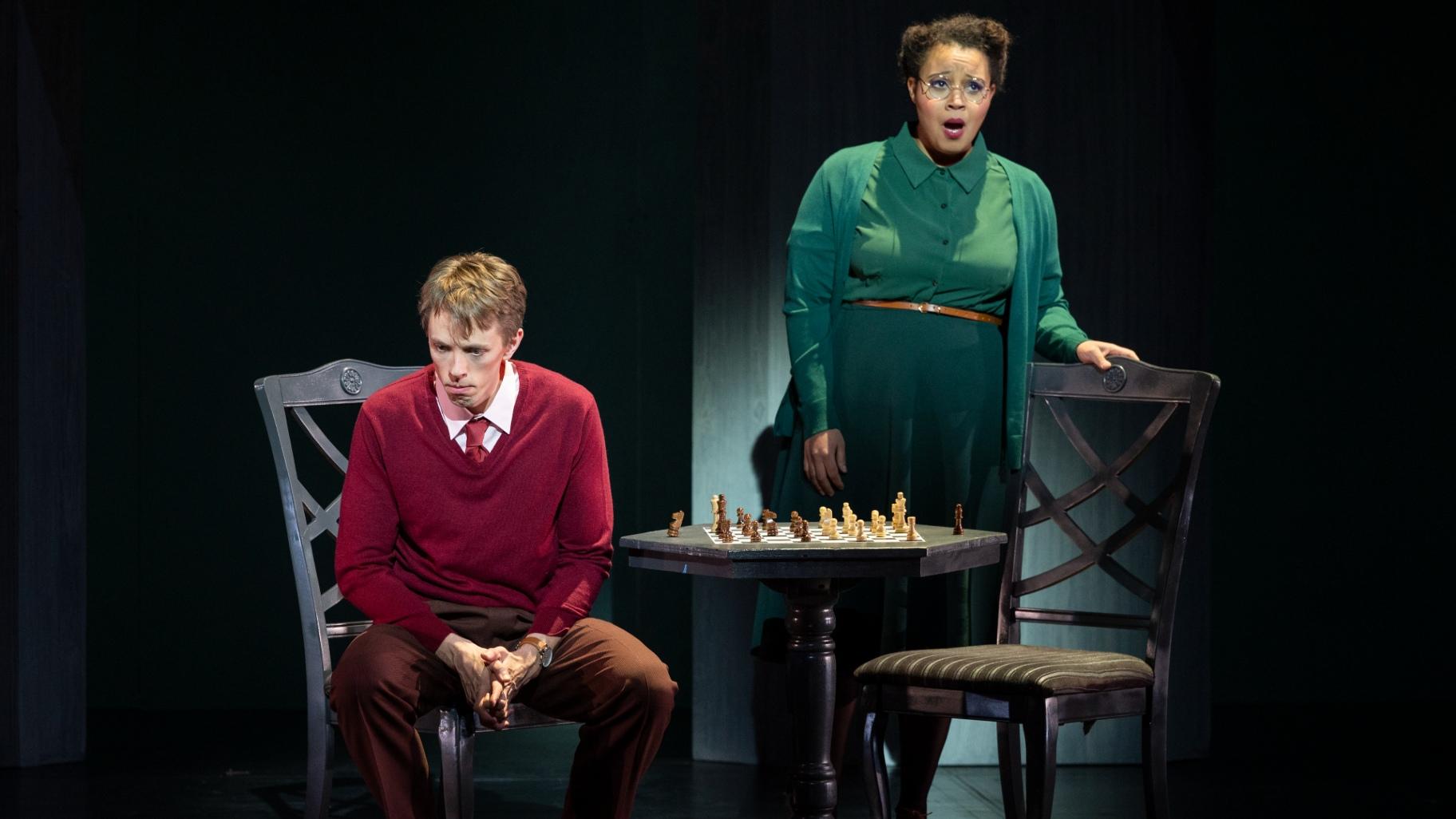 Jonathan Michie and Taylor Raven in "The Life and Death(s) of Alan Turing." (Michael Brosilow)
He was, beyond question, a genius — a brilliant English mathematician and logician, and a crucial force behind the development of computer science who is renowned for his invaluable work as a codebreaker of Nazi Germany's secret communications during World War II.
But Alan Turing also was a tragic figure, driven to an early death by chemical castration (and possibly by suicide) because of his homosexuality, which during his lifetime (1912-1954), was treated as a crime in Britain.
Now considered the remarkable brain behind the digital computer that in countless ways drives our world, Turing also was a victim of wartime suppression that kept his groundbreaking work secret for years. But it was the price he paid for his sexual orientation — which he ultimately refused to suppress — that tormented and doomed him. And this is the primary focus of the emotionally stirring opera, "The Life and Death(s) of Alan Turing," which received its world premiere by the Chicago Opera Theater (COT) for just two performances (March 23 and 25) at the Harris Theater for Music and Dance.
With decidedly modern music by Justine F. Chen and a libretto by David Simpatico, the production, directed by Peter Rothstein, featured a strong cast and an excellent orchestra conducted by COT's ever adventurous music director, Lidiya Yankovskaya. Adding to the drama was a chorus that hovered over designer Benjamin Olsen's set and served as witness to Turing's life, which was marked by both his brilliant abstract thinking and intense emotional pain.
Most crucially, at the center of this production was the powerfully acted and ideally sung performance by Jonathan Michie as Turing. A tall, gaunt baritone, Michie captured the workings of Turing's extraordinary brain that enabled him to break the Nazi Enigma code (and a great deal more). At the same time, Michie suggested Turing's personal turmoil and the formidable but catastrophic honesty that would ultimately lead to his destruction.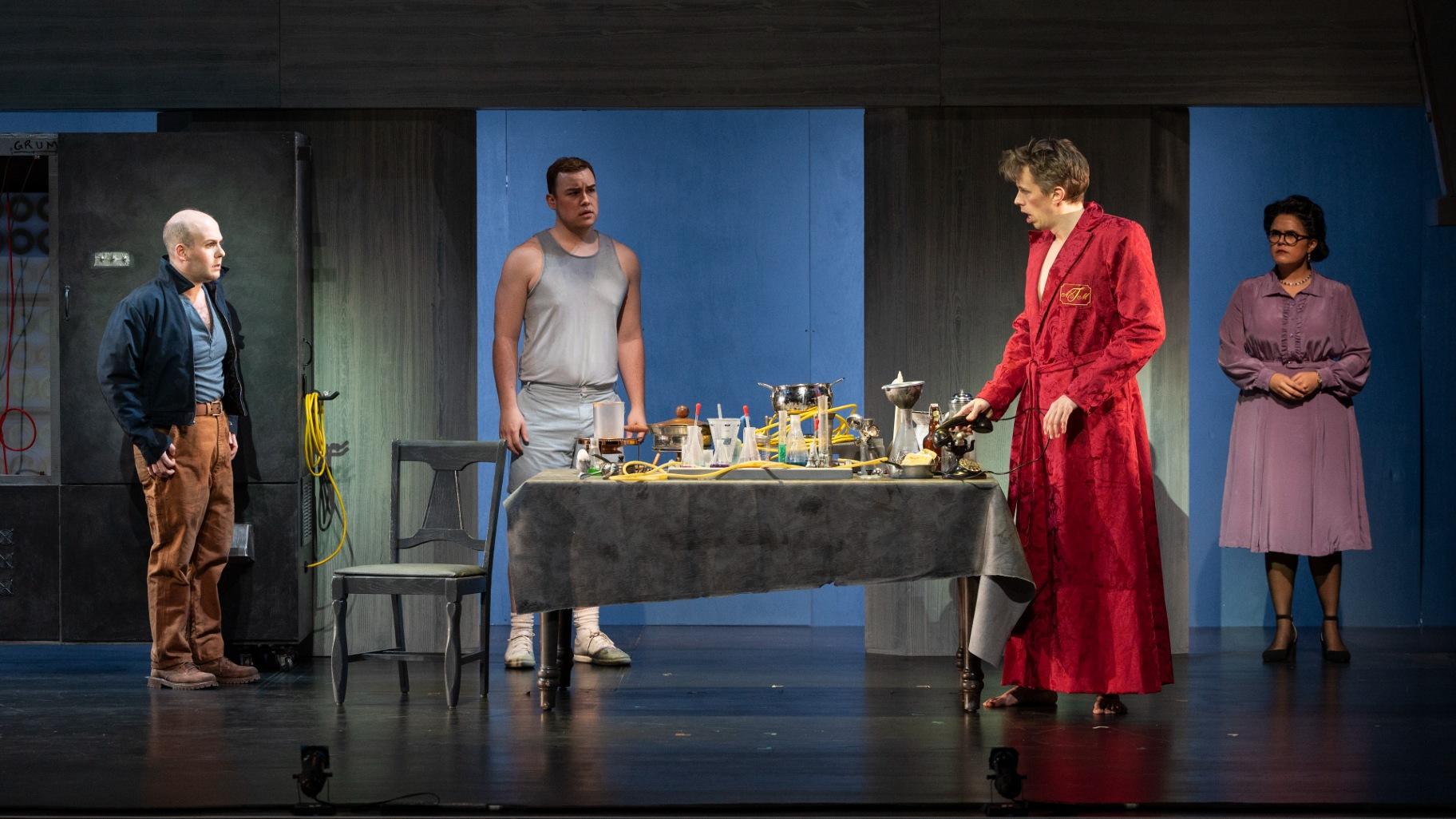 Justin Berkowitz, Joseph Leppek, Jonathan Michie and Teresa Castillo in "The Life and Death(s) of Alan Turing." (Michael Brosilow)
Among the other fine performances were those by tenor Joseph Leppek as Christopher Morcom, Turing's first love, who died at the age of 18, and mezzo-soprano Taylor Raven as cryptanalyst Joan Clarke, the only woman who played a crucial role alongside Turing at Bletchley Park, where the code-breaking project was underway. Clarke was aware of Turing's homosexuality but accepted it, and she was even very briefly engaged to him. Soprano Teresa Castillo played Turing's mother, Sara, who was clearly in denial about her son's sexuality.
The undoing of Turing came after he encountered a homeless man (played by Justin Berkowitz) with whom he had sex and who he reported as robbing him. This eventually led to Turing being charged with "gross indecency" for which he was arrested in 1952. He died two years later.
If there is one aspect of Turing's life that might have been presented with somewhat greater detail in this opera it is the full impact of his breakthrough work and the vital role it played in the cracking of Germany's complex military codes — a feat that was crucial to helping the Allies win World War II. (His role in cracking the Enigma code was, in fact, kept secret until the 1970s, and it was not until 2014 that Queen Elizabeth II pronounced him pardoned.)
Sadly, this debut of "The Life and Death(s) of Alan Turing" had just two performances. With a bit of tweaking, it deserves to be remounted both in Chicago and beyond in coming seasons.
Follow Hedy Weiss on Twitter: @HedyWeissCritic
---