Chicago Opera Theater's cast of "Quamino's Map." (Credit: Michael Brosilow)
Chicago Opera Theater (COT) has produced its latest triumph with its historically eye-opening, artfully realized world premiere of "Quamino's Map" that opened Saturday evening at the Studebaker Theater.
An exploration of a little-known and fascinating aspect of Black history, the work features an exquisite score by Errollyn Wallen (the Belize-born, British-based composer with 22 operas to her credit), an expertly crafted, character-defining libretto by Deborah Brevoort (loosely inspired by S.I. Martin's novel, "Incomparable World"), an ideal cast under the deft direction of Kimille Howard, and a superb orchestra led by conductor Jeri Lynne Johnson.
This exceptionally compact yet multifaceted and emotionally intense 90-minute work spins a complex story full of vivid characters. Above all, it is a powerful and poetic exploration of the quest for freedom on many levels. At its center is one man, a former slave in South Carolina who, in a largely unknown aspect of the Revolutionary War, was promised his freedom by the British if he agreed to fight alongside them. (He also was promised a pension that, not surprisingly, never materialized.)
See: All-Black Opera 'Quamino's Map' Leads Audiences on Unexpected Journey
The man whose fate we follow was dubbed "Black Billy" (or just "Boy") as a slave in his Charleston home. He also happened to be an accomplished fiddler. Now, in the wake of the British defeat, he managed to get passage on a ship that took him across the Atlantic and docked in London, where he was welcomed by the captain under whom he served during the war. No longer a slave, the very first thing he did was to devise a proper name for himself and he decides upon Juba Freeman, Juba for the dance popular among the slaves, and Freeman, which needs no explanation. (Freeman is played by Curtis Bannister, a splendid young tenor and excellent actor with a wide range of credits on both opera and musical theater stages).
Upon his arrival in London, Freeman also meets Amelia Alumond (the beguiling soprano Flora Hawk). Alumond is a member of an already well-established family that is part of London's Black elite — a social class that will do nothing that might jeopardize its standing. But Alumond is a young freethinker with a powerful humanitarian spirit, and much to the chagrin of her mother and older sister (who is about to marry), she actively collects and distributes alms for poor ex-slaves and others. Many of them inhabit a tawdry neighborhood that is home to sadistic prostitutes, thieves and beggars, as well as a crippled madman and ex-slave known as Dele Piebald (tenor Tyrone Chambers II, a fine character actor).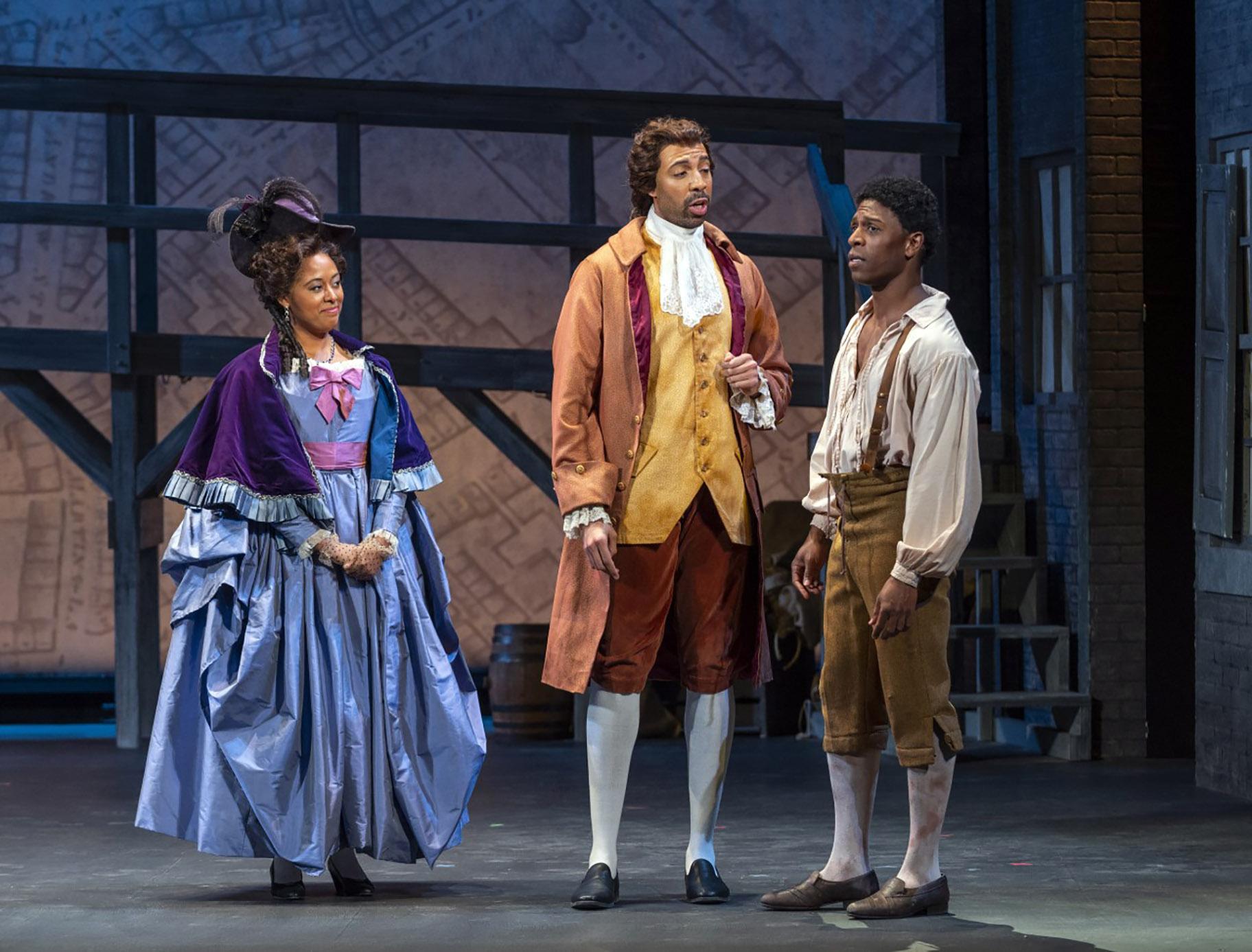 Flora Hawk, Damien Geter and Curtis Bannister star in Chicago Opera Theater's "Quamino's Map." (Credit: Michael Brosilow)
Alumond and Freeman also quickly develop a deep emotional attachment, but her family, which is about to celebrate the socially acceptable marriage of Amelia's older sister, will have none of it. Despite her own quest for freedom of a different sort she must eventually sacrifice love for respectability, and she agrees to marry the good-hearted Reverend Milton Allison (well-played by tenor Cameo Humes).
By now you might well be asking: Who is the Quamino of the title? He is another former slave with a gift for cartography who offers exceptionally wise counsel to Freeman. He is played with the utmost grace and fervent spirit by Damien Geter, a splendid bass-baritone who also happens to be a composer.
Although Quamino works at a very respectable job, he confesses to Freeman that it comes with a demeaning catch not to be revealed here. And knowing what he does about life for many freed Blacks who have settled in London, he "maps out" the best possible route for Freeman to take in his pursuit of true freedom. (In a most winning twist it turns out that music is the key.)
The many different scenes in the opera, staged on Steven Kemp's economical set (with costumes by Danielle Preston), unfold seamlessly, with every member of the cast (including Kimberly E. Jones, Joelle Lamarre, Keanon Kyles, Leah Dexter, Veena Akama-Makia, Peter Wesoloski, Sam Grosby, Corinne Costell, plus members of the chorus) providing first-rate vocal and dramatic support. The orchestra, 22 musicians strong, is absolutely superb.
Without question "Quamino's Map" is a new work that should be widely produced throughout this country and Great Britain. Interestingly, it has arrived on a Chicago stage at the very same moment that Tyla Abercrumbie's play, "Relentless," which spins the story of two sisters who are part of the rarely explored Black bourgeoise of the early 1900s in America, has received its world premiere. Both the opera and the play are bound to become repertory staples.
The Chicago Opera Theatre production of "Quamino's Map" is being performed on the stage of the handsomely restored Studebaker Theater in the historic Fine Arts Building, 410 S. Michigan Ave.
The remaining performances are April 29 at 7:30 p.m. and May 1 at 3 p.m.
For tickets visit chicagooperatheater.org/season/map.
Follow Hedy Weiss on Twitter: @HedyWeissCritic
---