A Chicago Tonight viewer captured this photograph on Grand Avenue west of Fairbanks in Chicago. It shows a Divvy truck that crashed into a parking pay box. Divvy is a new bike share program dreamed up by the Chicago Department of Transportation, which hopes to transform bike culture in the city. We tried to come up with some clever captions for this photo in our newsroom. Check them out below and vote for your favorite one here. Got a better one? Send us your captions in the comments section!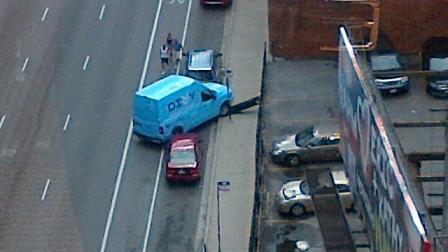 - We @DivvyBikes don't need no stupid @LAZParkingChi payboxes!
- "Hey Infrastructure Trust, here's something for ya!"
- Divvy obviously needs to work on sharing!
- Chicago's misguided effort to encourage bicycling.
- Divvy: I don't want to share! Pay Box: Stay in your lane!
- The Emanuel plan to undo the parking meter deal…one expendable Divvy truck at a time.
- How new bike racks are installed…without raising taxes.
- "It's how we parallel park in Seattle!"
- Gabe Klein avenges unpopular parking meter deal. In car.
Vote for your favorite caption here and send us your captions in the comments section below...