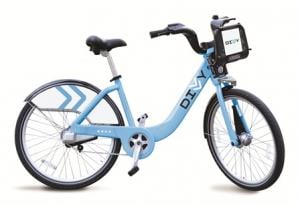 The city has a lot on the line this weekend when it launches Divvy, the new, much-anticipated bike share program dreamed up by the Chicago Department of Transportation. We talk with Gabe Klein, commissioner for the Department of Transportation, about what to expect on Chicago Tonight at 7:00 pm.
Divvy -- a reference to the "divide and share" principle -- is backed by $22 million in federal funding. Officials hope the program can transform bike culture in Chicago and make bike commuting as easy as hopping the el or hailing a cab. Some observers, however, are worried after a similar program in New York City, also run by the Montreal-based company Alta, launched; so far, New York's bike share has been plagued by technical glitches.
Divvy officially launches this Friday and, according to CDOT, 75 docking stations will be in place and ready to go by Monday; these stations are represented by red dots on the map below. The agency hopes to have 400 stations with 4,000 bikes by next spring; these stations are represented by blue dots below. As for pricing? Divvy hopes to be competitive, with yearly passes priced at $75-$125 and day passes at $7.