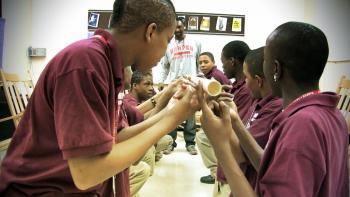 Players and executives from the White Sox and Bulls are part of a new series of PSAs to promote Becoming a Man, the school-based anti-violence program. Bulls forward Jimmy Butler, White Sox executive vice president Ken Williams, and University of Chicago Crime Lab co-director Harold Pollack join us on Chicago Tonight at 7:00 pm with more on their collaboration.
Becoming a Man--Sports Edition (BAM), a counseling and sports training program in Chicago Public Schools has been shown to drastically reduce student violence and arrests. The program, which is largely in high schools, couples regular group sessions with a trained mentor and after-school training in Olympic sports, including archery and martial arts. 
Since a study last year showed the students in the program had 44 percent fewer arrests for violent crime than their peers, BAM has attracted plenty of attention. President Obama met with BAM students when he visited Chicago in February, and invited several of them to the White House for Father's Day. Mayor Rahm Emanuel has also pledged $2 million to the program. 
The Bulls and White Sox have been working with BAM for over a year, coupling players, coaches, and executives with discussion circles, providing arena and ballpark tours, and taping messages for use in discussion sessions.
"As sports organizations, the Bulls and White Sox are fortunate to work with groups like Youth Guidance, who are in our communities working with kids every day," Bulls and White Sox chairman Jerry Reinsdorf said in a prepared statement. "Our goal as a partner is to shine a light on organizations like Youth Guidance and to encourage young people who are looking for support to reach out to them and others in the community who are addressing the issue of violence."
Watch their PSA below: