Karen Lewis
Chicago Teachers Union President Karen Lewis joins us on Chicago Tonight at 7:00 pm to talk about the fate of teachers and students under the new-look CPS. Schools CEO Barbara Byrd-Bennett discussed her five year plan yesterday. Read more here. Lewis released the following statement in response to CPS' proposed five-year action plan:
"Our schools communities do not lack inspiration, they lack revenue.  It doesn't matter what new initiatives CPS concocts from year to year if it has no way to appropriately fund them (i.e., the longer school day). Chicago has to break its addiction to tax-breaks and find ways to generate revenue for our schools," Lewis said. "This so-called five-year plan is once again done in the silo of CPS without any stakeholders at the table. It is still widely driven by testing and a complete lack of democracy.

"It is amazing that CPS's first impulse, no matter who heads it, is towards an autocratic, top-down approach that people who actually work with kids are expected to implement without the appropriate resources or tools," she continued. "When will CPS understand that having a 'plan' that never includes the voices of parents, students, CPS workers, and a realistic blueprint on how to generate revenue will continue to foster mistrust, alienation and lowered expectations, especially after the tragic closing of 50 schools?"
Want to get to know Karen Lewis a bit better? Check out the following information you may not have known about CTU's leader.
11 Things to Know About Karen Lewis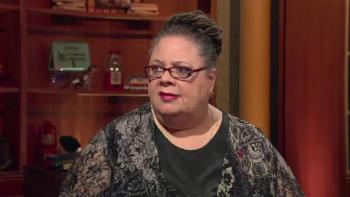 1) Karen Lewis was a Chicago Public Schools student.  She went Kozminski Elementary School and Kenwood High School.
2) Ms. Lewis' father taught her how to bat left-handed to give her an advantage when playing baseball and softball.
3) Chaka Khan was her classmate at Kenwood High School.  Mandy Patinkin was a year ahead of her.
4) Ms. Lewis attended college after her junior year of high school.
5) Her college career started at the prestigious all-girls Mount Holyoke College. She later transferred to the Ivy League's Dartmouth College.
6) At Dartmouth, she was the only African American woman in the class of 1974.
7) In 1984, she enrolled in medical school at the University of Illinois at Chicago to become a doctor but flunked out after two years. But there, she discovered a love of chemistry.
8) Ms. Lewis taught high school chemistry in the Chicago Public Schools for 22 years before becoming CTU President.
9) Ms. Lewis converted to Judaism in 1993 and is a member of a conservative synagogue.
10) Ms. Lewis celebrated her Bat Mitzvah in June, 2013, (usually accomplished at age 13), just shy of her 60th birthday.
11) Ms. Lewis comes from a family of educators.  Her father, mother and husband, John Lewis (who is now retired) all were CPS teachers.