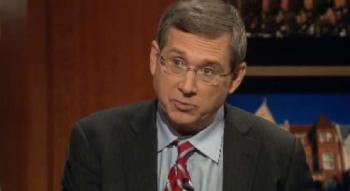 The Gangster Disciples, the city's largest gang with at least 18,000 members, should not be tolerated, says Sen. Mark Kirk (R-IL), calling for a crackdown on the gang from his nominee for U.S. attorney in Chicago.
Kirk, along with Sen. Dick Durbin (D-IL), met with nominee Zach Fardon Wednesday, a day after Kirk met with law enforcement officials to discuss what he calls retaliation for the murder of Hadiya Pendleton.
"[Pendleton's death] is a tragedy that no city should have to go through, and should not tolerate an organized gang that caused that," Kirk said in his first appearance on Chicago Tonight since his stroke last January. "The United States is fully capable with crushing a big drug gang, and I think we can have Chicago be a model for how we can take out an entire gang. And if they complain, just say this is about the death of Hadiya Pendleton."
Kirk is looking for a $30 million Senate appropriation to fund the effort.
Asked to comment about the upcoming race for governor, Kirk said he was staying out of the race completely.
"There's nothing but bad in it. I told one friend of mine who was encouraging me to run for governor: if I won, I would commit suicide, and if I lost, I would commit suicide," Kirk said. "Just think about Springfield as a complete cesspool of corruption."
Kirk also says he plans to introduce an amendment to the Senate immigration bill, currently offering a path to citizenship for undocumented immigrants after a decade of legal employment. Kirk's amendment would provide an immediate option for some combat veterans.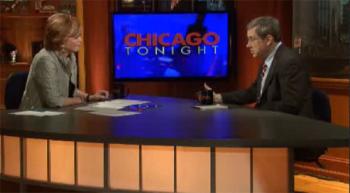 "I will be offering an amendment that says if you are in the Army, and earn a combat infantry badge, which shows you've been under fire, you are automatically a U.S. citizen, on the feeling that if you fight with us, you are one of us," he said.
But Kirk wants more border security provisions before he pledges his vote for the bill. Finding an authoritative method to confirm a 95 percent reduction in illegal border crossings would create a "solid foundation for bipartisan support," he said.  
In January of this year, Kirk spoke for the first time about his stroke. He says he saw three angels at the foot of bed, beckoning him to come with him, before he begged them off. Before his stroke, Kirk stayed away from discussing his religious life in public, but is now candid in discussing the event he says deepened his faith.
"I had a dramatic event, when I was in the ICU, kind of feeling pretty close to death. And I thought I saw a few angels there," Kirk said. "I'm sure this was largely a pharmacological event because a lot of America's pharmaceutical industry was in me at the time."
Drug-induced or not, the near-death experience inspired a new mantra --"never, ever give up"-- and a mission to reach out to others who have suffered strokes. He is sponsoring a bill with Sen. Tim Johnson (D-SD), the only other sitting senator to have suffered a stroke, to help stroke victims.  
" I know in their case there may be some psychological issues. And I've told people across the state, if you have a dad or mom that's suffered a stroke, and they're having a tough time getting out of bed, call me," Kirk said, before giving out his office number, (312) 886-3506. "And I'll get on the horn with them and get them out of bed."
Watch Chicago Tonight at 7:00 pm for Carol Marin's full interview with Kirk.