Transit experts say Chicago's transportation system is falling far behind without bus rapid transit (BRT). BRT has been implemented in cities around the world, from large metropolises like Mexico City to smaller towns like Eugene, Oregon.
But Chicago now has plans to catch up. The city says it will construct two BRT lines over the next five years.
The proposed transformation is eye-popping. The city's plan to turn Ashland Avenue from an old-fashioned vehicular thoroughfare to a 21st century bus rapid transit corridor is officially underway.
"This is the state-of-the-art BRT, that people have read about in other parts of the world, coming to Chicago," said CTA President Forrest Claypool.
And the plan will bring big changes: Gone will be multiple lanes for traffic that have made Ashland Avenue one of the busiest roadways in the city. Instead, there will be dedicated bus lanes along the center of Ashland where articulated buses will pull up to platforms identical to those along trains. Passengers will board the same way they currently do the "L," having already paid for their ride with a fare card. Transit officials say bus travel times will improve by 80 percent.
CTA animations of the proposed Ashland BRT stations and route
"Ashland Avenue was chosen because it goes all the way north-south," Claypool said. "It connects with multiple CTA train stations, Metra stations. About 10 percent of the city's population lives near Ashland Avenue. It's our busiest route at the CTA; 10 million boarding's last year alone. So it's an ideal location, and it serves 130,000 jobs on the Ashland corridor."
The first phase will run from 31st Street where Ashland intersects with the Orange Line to Cortland Avenue where the street meets up with the Metra station in Bucktown—a distance of about 6 miles.
The initial phase of the Ashland BRT route, above in green, with the full route in blue. There will be two BRT-CTA transfer stations, though the route stops nearby several train stops (red).
The route also takes in the medical district, United Center, the U of I and Malcolm X College.  But the city is saying its initial venture into Bus Rapid Transit is a test run. 
"Ashland is a great experiment," Claypool said. "It will be the real BRT. And if it works, and we have great success, and we get more cars off the road, and it generates that kind of economic activity, I would expect that it would go to the next corridor, and the next corridor throughout the city."
One of those additional corridors is already in the planning stages.  It's being called the Central Loop BRT and will run from a new transit center across the street from Union Station through the Loop to Navy Pier.
"We're looking at Washington and Madison, in and out of the Loop," said Chicago Department of Transportation Commissioner Gabe Klein. "You're going to have the same wide sidewalk you have now, then a protected bike facility…Then you have the dedicated bus lanes so the bus takes off in that dedicated lane, has traffic signal priority, so the signal changes for the bus and it basically continues to the next stop which dramatically speeds up the process."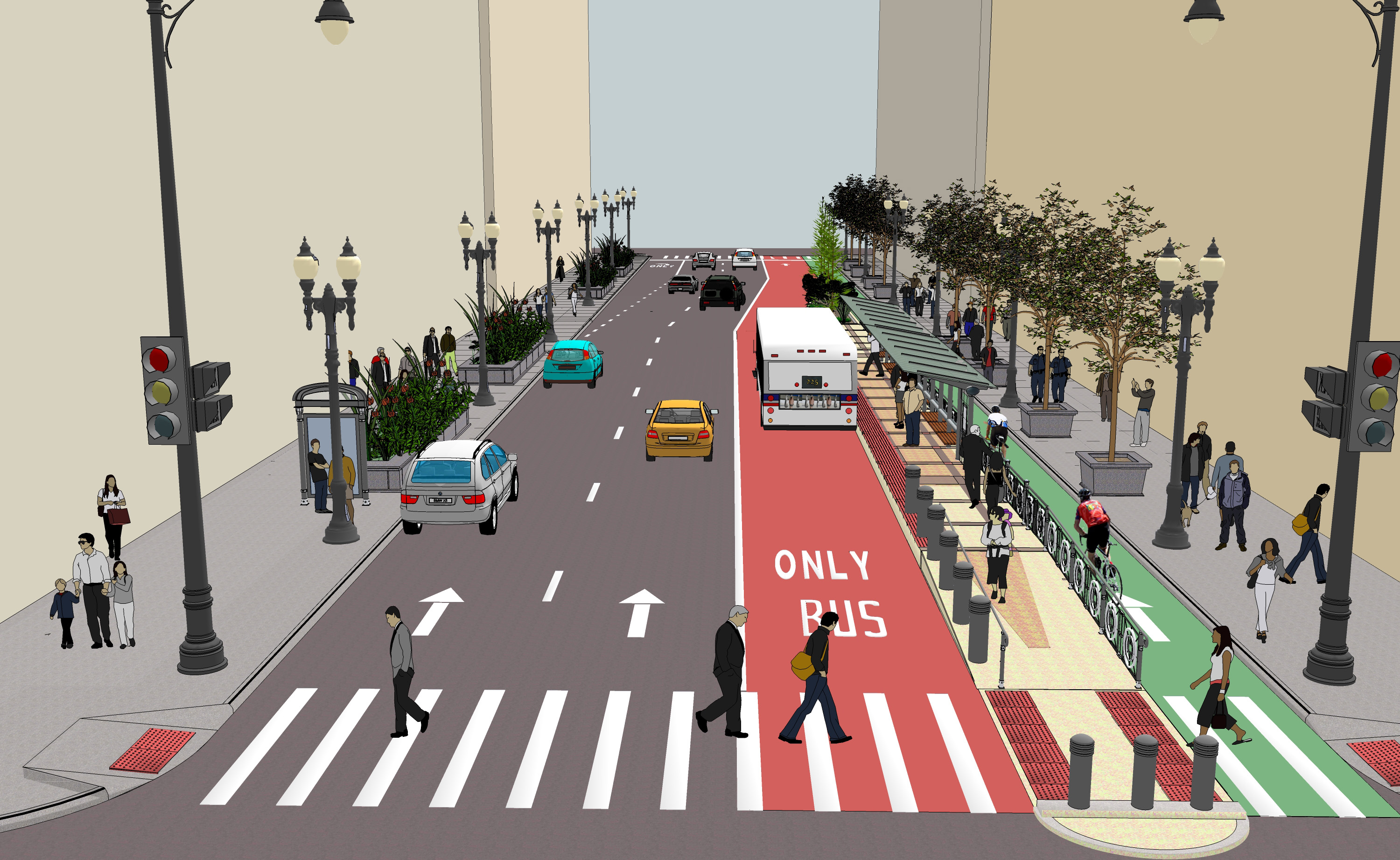 Renderings of the proposed Loop BRT station on Washington and Madison. View more renderings below.
Both the Chicago Department of Transportation and the CTA have sent officials to visit other cities around the world to see how they've implemented Bus Rapid Transit.  The system in Mexico City is close to what BRT observers call the gold standard of BRT and is now being used as a model for Chicago.
"Only about one in four people in the Chicago region can get to work by transit in under 90  minutes. And so there are obviously a lot of people who don't have access to convenient transit. One way to fill in those gaps is through bus rapid transit," said Ron Burke, executive director of the Active Transportation Alliance in Chicago. The Alliance is one of several nonprofits that supports improved public transportation.
"We are excited that the city is proposing true BRT, true bus rapid transit, in that it's going to be like a train service," Burke said. "So it's going to have the speed and convenience of an 'L' line, as proposed. We're excited about that, at a much, much lower cost than if we were actually building a new 'L' lane."
The Central Loop BRT is projected to cost $32 million and transportation officials say they have secured that money through a combination of TIF funds and a federal grant. Construction is slated to start next year. 
The Ashland Avenue BRT is estimated to cost about $10 million per mile. The first phase of it would total about $100 million with the purchase of new buses.
"We have enough money to complete the next phase, the environmental phase, which is required under the federal statutes," Claypool said. "And then be in a position to apply for and receive the Small Starts funding, which we are confident we will receive. Bus rapid transit is a high priority of President Obama's administration. It's an area where there's been growth and a lot of support federally, around the country."
But getting Chicagoans to support BRT is also on the to-do list of transit officials. Bus Rapid Transit will radically reduce vehicular traffic wherever it's implemented and parking lanes may have to be eliminated along some stretches. That's raised a lot of concerns among business owners.
"The feedback we've gotten has been very positive. The most concern we've heard are from businesses and people who patronize businesses, not to lose parking," Claypool said. "So the initial plan maximizes parking, protects parking."
If all goes well, the first phase of that BRT corridor will be up and running in 2016, and eventually the plans are to extend the route south to 95th Street and north to Irving Park Road. While transit officials have big dreams for BRT in Chicago, those dreams are unlikely to come true for many years to come.
The CTA says it will carry out what it calls "public engagement" throughout this spring and summer to both educate and get feedback on its BRT plans.