The CTA conducts two community meetings this week to hear thoughts on the pending Ashland Bus Rapid Transit (BRT) project. The $160 million express bus project will save commuters time and money, according to an assessment conducted by the CTA, but those opposed worry that construction and the loss of two lanes along Ashland Avenue will further clog the thoroughfare for cars and trucks. We talk with Ald. George Cardenas (12th) and Metropolitan Planning Council Executive Vice President Peter Skosey about the advantages and challenges facing this long-term project.
---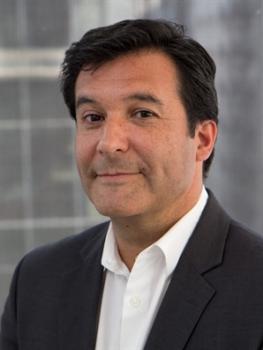 Read an interview with Skosey about the Ashland BRT:
What is the general public sentiment you are hearing from residents about the Ashland BRT?
There is definitely a lot of strong support but there are concerns about removal of left-hand turns. Some people express concern about the impact on existing traffic on Ashland, but honestly the modeling shows that may decrease by 1.8 miles per hour. Cars may be taking another route. Every other BRT we have seen, there has been negligible change in traffic. I would say initially when we met with people, there were huge concerns on curbside parking and planted medians. The alignment in the center was chosen to maintain parking and preserve planted medians in part.
Mayor Rahm Emanuel said in the fall that the Loop rapid transit would happen first before Ashland was even touched. Has this been reversed?
This hasn't been reversed at all. We had the equivalent meetings for the Loop rapid transit that we are going through now with Ashland. Engineering is about 90 percent completed for the Loop line. Once we get to 100 percent, we will begin the bidding process.
What is the timeline for the Ashland project?
The immediate timeline is that the public meetings will end tonight, then the 30-day comment and review period continues until 4:30 pm on Friday, December 20. At the end of that, there will be additional revisions based on the comments. CTA and CDOT will be addressing people's concerns on left-hand turns. Then, engineering which will take at least a year. This means going out and deciding where this will happen. Right now it is a plan in a tentative stage.
What are the main benefits of BRT?
Much faster and more reliable bus service at the fraction of the cost of light or heavy rail. For Ashland, we are projecting almost a doubling of the speed and a 50 percent increase in ridership.
What are the drawbacks?
I think the most vocal people fear that it will be chaos to take out a lane. Although, research shows that effects on traffic flow is negligible. I don't see major issues with that. I think the main point that is getting missed is the 30,000 people riding the bus. They are getting to where they need to go, and faster, with disruption to some drivers.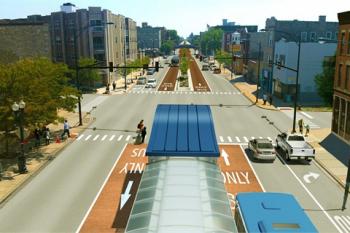 Will traffic spill over to other streets?
No doubt, people will divert to other roads. That is why the speed will not decrease. People will divert, some as far as Lake Shore Drive. If a street is blocked or congested, people will take another one.
How will businesses along Ashland be affected?
It is certainly going to be case-specific for certain businesses. Advanced Auto or the guy who sells rims will not see benefits, but other business and retailers will see more shoppers. It makes the corridor more accessible. Studies have shown that.
Where will the funds not covered by the grant come from?
The only thing that has been covered is the planning, and that was covered by an FTA (Federal Transit Administration) grant. The actual construction is projected to be $160 million for the first phase, about $10 million per mile, but there are some funding options such as a Small Starts Grant also from FTA.
Why not Western Avenue?
The CTA chose Ashland first because it is the number one bus route in terms of ridership. So we are starting at the place you have the biggest impact. From our analysis, Western Avenue would make a great follow-up.
There are a number of cities that have been cited to compare this project. Which city bus system will Chicago's be most similar to?
We just had New York MTA in town to talk about the Webster system. While they do not have center-running lanes exactly, it is a same construct and width of Ashland and is also lined with businesses. They reduced left-hand turns as well.  They saw a 20 percent increase in ridership and 10 percent increase in speed. And businesses are happy.
Is there anything else you'd like to add?
As part of the program, the CTA would be purchasing new buses. They purchase new buses annually. If the city is successful in getting the grant, the city will have new buses with doors on left sides, and even on both sides. So new buses are another result, which is good for branding. It doesn't seem like it should matter but more people will ride if it looks good.
Interview has been condensed and edited.