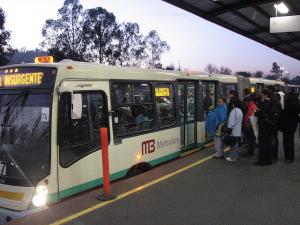 A Chicago visitor in Mexico City may well think it looks a lot like an "L" stop back home. And they wouldn't be far off. There is an elevated platform, multiple doors to get on and off mass transit vehicles, and routes devoted solely to that mode of transit. But this mode is not a train, but rather a large bus. It's Bus Rapid Transit, or BRT.
"I think it's the most important initiative in the city during the past 20 to 25 years," said Mexico City Mayor Marcelo Ebrard.
Bus Rapid Transit systems like the one in Mexico City are increasingly being created in major metropolitan areas, but are still relatively rare. In most cases, a BRT involves giving priority to buses on city streets by eliminating vehicular lanes and creating bus-only lanes that operate as a sort of surface subway.
In theory, it speeds up bus travel and discourages vehicle traffic in congested urban areas. Mexico City's BRT is called Metrobús and planning for it began in 2002.
The first stretch of the system opened in June 2005. Today, there are three lines up and running, covering 42 miles of the city, and a fourth line is under construction. That's still only a fraction of the more than 200 miles of rail lines covered by the city's extensive subway system. But city officials say Bus Rapid Transit is the mass transit of the 21st century.
Earlier this month, Mayor Ebrard attended a ceremony launching even more articulated and bi-articulated buses into the city's BRT system and praised its benefits.
"The subway used to be much more expensive for the taxpayers in the city, so this is a cheaper way to solve the troubles and mobility in the city. It's cheaper and faster," Ebrard said. "And the impact in the city, its equivalent to subway lines, is exactly, more or less, the same impact. Also, the change of the culture of people because more or less 17 percent of the people who actually use the metros in the city owns a car, but they leave their cars in the home. So it's worked very well."
But the way it works may seem very foreign to Chicagoans. Unlike Chicago, Mexico City's buses are owned and operated by eight private companies. However, the construction and maintenance of the roadways and bus stations is the responsibility of the municipal government. The 60-cent fare is rather high for most Mexicans, but that fare pays 100 percent of the operator's costs, a rarity in the U.S.
The private bus companies are regulated by the city which determines such things as how many kilometers of the system each company can take. City planners also control the system's design which has received some criticism from transit experts. That's why Metrobús has only achieved a silver standard rather than the sought after gold standard. 
"To really reach the world's best BRT quality, you still need some elements that are missing," said Walter Hook, Executive Director of the Institute for Transportation and Development Policy (ITDP), a nonprofit agency that promotes environmentally sustainable transportation policies and projects in the developing world.
"They don't have an operational control system that keeps the buses from all bunching up. They don't have pass lanes at the station so they can't add express buses. They don't have the best bike or pedestrian services in the corridor. But all that being said, silver standard is extremely hard to get and it's a really excellent system. And the standard of quality and designs of the system is really excellent."
Mexico City officials say Metrobús is rapidly and radically changing how residents get around. Ridership on the BRT system has increased an impressive 7 percent every year since it was inaugurated, and now tops 700,000 passengers each day.
While vehicle lanes that were reduced or eliminated on many streets to build the BRT brought complaints from residents and motorists, officials claim that it has reduced car traffic, on top of helping reduce Mexico City's notorious pollution.
"The three lines haven't cost more than $400 million U.S. dollars, and the benefits, I mean, we have like saved 80,000 tons of CO2 every year," said Bernardo Baranda of ITDP Latin America. "Twelve to 15 percent of the users said in a poll that we did, that they used to drive their cars. So it's very exciting too, besides helping the people who are already in public transportation, they need better conditions."
Last October, officials with the Chicago Department of Transportation (CDOT) and the CTA went to get a firsthand look at Mexico City's BRT system, and one thing they found was that the design of this particular line could serve as a model for a BRT, along either or both Ashland Avenue and Western Avenue.
But creating a Mexico city style BRT in Chicago is likely to take a while, although a pilot program is being planned.