For 50 years, readers of Johnson Publishing Company's Ebony and Jet magazines, and fashion fans everywhere, had a front row seat to the Ebony Fashion Fair, an annual touring show featuring cutting-edge work by Europe and America's best couture houses, all chosen with an eye for the African-American consumer.
An exhibition at the Chicago History Museum explores the history of the Chicago company's traveling fashion show. Ebony founder John Johnson and wife, Eunice Johnson, began the fair in 1958 to not only give their community a feeling of inclusion in the best the culture had to offer in sophistication, glamour, and beauty, but also to change the very faces and bodies that were seen wearing the clothes.
Mrs. Johnson became the show's producer, visiting couture houses to buy pieces for the Ebony Fashion Fair. The event toured nationally, and all proceeds were given to charity. Over the years, designers included leading African-American figures of Stephen Burrows, Patrick Kelly and Henry Jackson, as well as designers like Pucci who designed specifically with an eye to what African-American consumers were looking for.
We revisit Inspiring Beauty: 50 Years of Ebony Fashion Fair with exhibition curator Joy Bivins.
---
Below, Virginia Heaven, the consulting costume curator for the Inspiring Beauty exhibit, discusses the arduous task of choosing garments for the exhibit and her favorite ensemble on display.
Tell me about your role as costume curator for this exhibit. How many garments were you choosing from to put the exhibit together?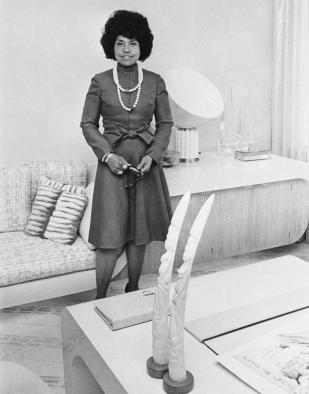 Courtesy of Johnson Publishing Company and The Chicago History Museum I worked very closely with the exhibit curator, Joy Bivins, on this. My standpoint on exhibitions of fashion is that when you're using fashion to illustrate history, it has to have more to it than just pretty clothes. In this case, I was hired to review 3,500 ensembles and worked with the curator to whittle things down. I think a lot of people think it's easy to walk into a room that has thousands of clothes and pick out some outfits. But when you're looking at 3,500 pieces and a thousand are amazing, it's a very hard thing to do.
We wanted the exhibit to show what was important in African-American fashion and in mainstream fashion at the time, so we'd get to a piece that we both loved but that we both knew could be sacrificed for a piece that better represents the historical significance of the fair. We went back and forth over several pieces. [Eunice Johnson's] main agenda was to please her audience. We wanted to represent the showmanship that was so important to her, so it's a very carefully crafted combination.
How would you describe Mrs. Johnson's taste in fashion?
I think she had a very critical eye. She knew what she was looking at, and had a knack for knowing what would be important in the future. One of the things I noticed when I examined the collection was that she had pieces from the beginning of a designer's career and then would track them as they became more well-known. She looked for edgy, interesting, colorful pieces, but she wasn't just somebody who liked nice things and was able to afford them. She understood fashion on a very fundamental level. 
In selecting costumes for the exhibit, what was your goal?
When you start on a project like this, you can't go in with a preconception of what you want to do. What was required was a long discussion with the lead curator about what she was trying to achieve. There was a learning curve: learning about Ebony and Mrs. Johnson's impact on African-American style. Then, we had to decide what story we were going to tell; otherwise it's just like walking through a department store.
Truthfully, there were days that I left the space crying, literally weeping. I was handling some of the most significant fashion of the late 20th century. Most people only get to see this in books, so you have to pull yourself together.
The exhibit is divided into three sections that tell the show's history: Vision, Innovation and Power. How is the show's history told through the costumes included in the different sections?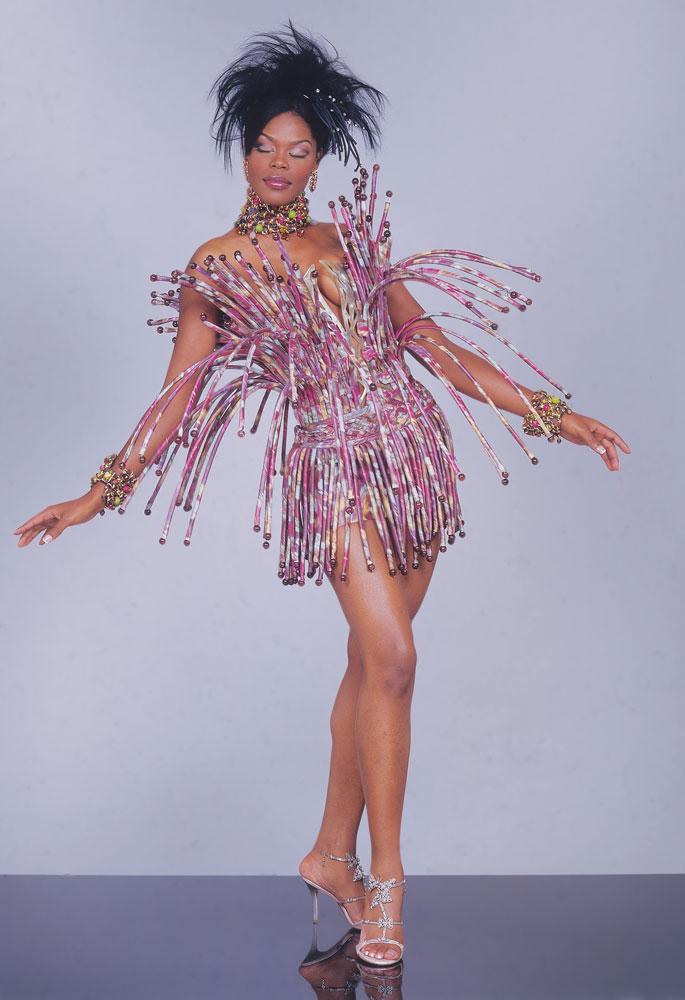 Courtesy of Johnson Publishing Company and The Chicago History Museum Vision is about many things. Most African-American designers didn't get much of a chance to showcase their work. Her vision was to put young, emerging African-American designers on the same runway with fashion royalty. That took a lot of vision and a lot of guts. Some of the fashion houses felt that if black women were wearing these clothes that white women might not want to wear them. It was visionary for her to go into the biggest fashion houses in Europe, to say that "my money is as good as anybody else's and I am going to do this." It was visionary to say that the complete ensemble, that was a staple of African-American style, should be glamorous and a complete look.
Innovation is about always looking for the remarkable, the outstanding, the emerging. She did that throughout her tenure as the producer of the show. She went out seeking what was new and exciting in fashion.
Power is really about it all coming to fruition. Initially, she had the power to do this because they were quite wealthy, but the legacy is all of the millions that they raised [for charity] and her remarkable impact on African-American style.
There are 67 costumes on display at the exhibit but if you had to pick one, do you have a favorite?
I think my favorite is the golden-yellow Emanuel Ungaro piece with the flamenco skirt. To me, it's one of those crucible pieces. It looks backwards with historical references and looks forward in the sense that it was designed at a time when women were breaking through the proverbial glass ceiling. The color, the draping, and the extraordinary pattern cutting … it's all remarkable. It's just a very complete couture piece. But on some level, they're all my favorites.
Interview has been condensed and edited.
Dan Andries and Drew Kann contributed to this report.
---