After one of the wettest Aprils in Chicago history, Eliza Fournier from the Chicago Botanic Garden joins Chicago Tonight at 7:00 pm to offer spring gardening pointers, and explains why now is the perfect time to add mulch and fertilizer to your garden. View a photo gallery and view her gardening tips below.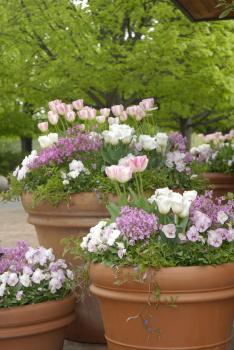 Spring Gardening Tips
 - Wow, that was a lot of water!  "Normal" Aprils only get about 3" of rain.  We got an average of about 6" in just one day, and are now experiencing the third wettest April in history.  Take this opportunity to check where your property holds water…note this and move plants sensitive to soaking (roses, hydrangeas, coneflower, rudbeckia, etc) out of that area, and great water lovers in (blue flag iris, swamp milkweed, serviceberry and other great natives).
 - Cleanup: Replant heaved perennials, cut back perennials and grasses that you didn't get to last fall. Consider putting in markers where you want to plant bulbs in the fall...filling in bare spots.
 - Mulching and fertilizing: This is a great time to add fertilizer and mulch to the garden.  If you use shredded composted leaves like we do at the Chicago Botanical Garden, you can kill two birds with one stone! 
Mulching
When you are mulching, avoid artificially dyed mulches (really bright red or really dark brown) and rocks. 
When mulching plants, avoid the volcano effect (when you mound mulch up around the base of the plant). This can lead to rotting and disease.
Fertilizing
Use organic fertilizer, or at the very least, use fertilizer with no phosphorous (the P in NPK). We have plenty here in the Chicago area and excess will runoff into groundwater and waterways, eventually causing the big green algae bloom at the mouth of the Mississippi.
Use a soil test kit to see what kind of fertilizer you actually need.
Compost
Now is a great time to check out what your compost pile has done over the winter or start a NEW compost bin if you don't have one!
Types of compost systems

-- Black tower: Great for small scale gardens, no need to turn, heats up quickly.

-- Tumbler: Quick results but it takes up a lot of space.

-- Wooden 3x3: Cheap, easy to build, and a great all-around choice. Must turn it to avoid pests!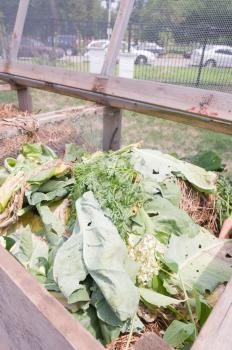 Vermicomposting 
If you have a VERY small scale garden or want to create really rich compost, create a worm bin using: 
Red wigglers
 
5 gallon bucket (with drainage)
 
Newspapers
 
Food (no meat, cheese, or bread)
Cool Season Veggies and Flowers 
The wet weather we've been having is great for germination!  Plant cool season veggies like radish, lettuce, spinach, swiss chard, peas now for a late spring harvest!
Flowers like pansies, sweet peas and diascia can also be planted and are great for adding much needed color!