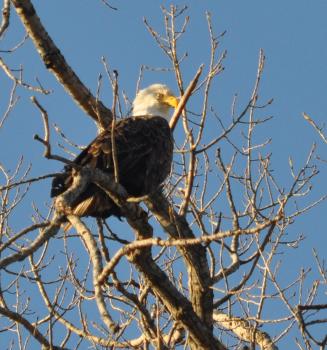 Imagine sitting down for a hot cup of coffee in the morning only to look out of your window to see one of the most awe-inspiring and symbolic animals nature has to offer. That's exactly what one Chicago Tonight viewer told us he's experienced for the last few years. We traveled to his neck of the woods to check it out.
From his second floor balcony in Carpentersville, nature enthusiast and amateur photographer Dave Doss has a bird's eye view of the Fox River. He enjoys watching the flock of birds that call the Fox River Valley home.
"It's right out my window, so there's all kinds of ducks I like to take pictures of all the time," said Doss.
But there's one animal that Doss finds most breathtaking of all.
"All of a sudden, this thing flew into my view and I picked up the camera and I was like, holy cow it's an eagle," said Doss. "And it was the first time I've seen an eagle out this far south by my house. So, I was just in shock and my camera was going crazy."
For the last four years without fail, Doss has come out to photograph the majestic American Bald Eagles that perch high in the treetops just outside of his apartment.
"It's just amazing that you see, like up in that tree up there, I've seen five eagles at one time, so it's just amazing," he said.
Distinguished by a white head and white tail feathers, bald eagles are powerful birds that can weigh up to 14 pounds, and can have wingspans of up to 6 feet in males, and 8 feet in the larger females.
Forty years ago, the emblematic bald eagle was near extinction with only 417 nesting pairs remaining in the United States.
Under federal protection, the American Bald Eagle populations have made a comeback. They were removed from the endangered and threatened wildlife list some five and a half years ago. And fortunately, for birders, they have become frequent visitors along the Fox River.
Bob Andrini is a volunteer in the bird lab at the Field Museum, and President of the Kane County Audubon Society.
"There have always been eagles here in the winter in Illinois, but typically on the Mississippi River," said Andrini. "Where there's open water, you're gonna get eagles. And the water has been open on the Fox River, which is why I think we've got so many now. We also have had nesting pairs of bald eagles, and so these may be the birds that have nested in the Fox Valley area."
Every winter, more than 3,000 bald eagles spend their winters here in Illinois; more than any other state outside of Alaska.
And though they are becoming easier to find, enthusiasts like Dave Doss say spotting the national symbol out in the wild never loses its thrill factor.
Andrini says you can catch a glimpse of up to a hundred eagles congregating together later this month during a weekend of bird viewing at Starved Rock. Visit the links and photo gallery below for more information.