Eliza Fournier from the Chicago Botanic Garden joins us on Chicago Tonight at 7:00 pm with tips to make your fall garden thrive. View a photo gallery and read her tips below.
- Edible: Garlic; there are interesting varieties of bulbs that are edible as well as ornamental
- Indoor/forcing bulbs: Paperwhites; plant less odiferous varieties later in the fall for beautiful and fragrant winter indoor displays.
- Outdoor bulbs: Traditional, like tulip and daffodil. Be careful as you plant not to dig up bulbs from last year. You may want to use a popsicle stick to identify planted patches or muscari bulbs, which send up fall foliage alerting the gardener to their presence.
- Container bulbs: plant outdoor containers now for spring color you can move around the garden. You will need to protect your container-grown bulbs from freezing. They will do best when stored in a location that remains at 32 to 45 degrees Fahrenheit for at least 12 weeks. You may find that you can provide these conditions in an attached garage or unheated basement.
For lots of great variety and high quality bulbs, visit the Chicago Botanic Garden for Bulb Fest this weekend.
Fall Plants:
Fall is a great time to add new plants. Here's why:
- Nurseries are less crowded, so the staff will have more time to answer questions.
- Plants may be marked down: Fall bloomers will be on display, so you can make sure to add them to your 4-season garden. It's not too late to put in fall annuals either.
       - Examples: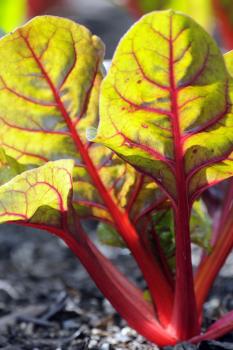 Kale: adds texture and interest to fall gardens way past frost

Swiss chard: another great edible for fall displays
- Time to divide existing plants that bloom in spring.
- Will help with next year's blooms.
- Fills in areas where plants have not made it.
Technique:
- Dig up clumps of plants
- Divide with knife, pruners or spade at the roots
- Replant sections in desired locations
- Make sure to water in well
- Mulch!