Green trees along the North Branch of the Chicago River, Oct. 14, 2021. (Patty Wetli / WTTW News)
'Tis the season for spectacular fall foliage, but someone forgot to tell Chicago's trees. Here we are in mid-October, and green is still the dominant color.
What gives?
Between a prolonged summer drought and continuing warm temperatures, the trees are a week or two behind schedule when it comes to displaying their autumn hues, said certified arborist Pat Etherington of Davey Tree.
But keep in mind, he noted, that "schedule" is relative when it comes to nature.
"I've been doing this for 27 years," Etherington said. "I'm still waiting for 'normal.'"
If the weather cooperates and delivers sunny days and cool nights, expect things to take a major turn for the colorful in the next week or two as the city's elms, maples and oaks reach their peak of blazing yellow, orange, red and bronze.
The colors were actually there all along, they were just masked by domineering chlorophyll. As trees prepare for winter, they break down the chlorophyll and reabsorb nutrients from their leaves, giving other pigments a chance to take center stage.
Whether peak color hits in early October or closer to November, the dazzling show is always worth the wait. What you don't want to see is an early change, Etherington said.
"If you've got trees turning red or yellow in summer, that can be a sign they're stressed," he said. "If you see them turning brown in July or August, they're probably dead. They've given up."
Though trees have reserves they can dip into, the past few years have challenged the resiliency of our deciduous friends.
Successive years of record spring rainfall may seem like a positive but given the poor drainage of the region's clay soil, all that pooling water chokes soil of oxygen.
In 2020, an extremely wet May was followed by an extremely dry summer and fall. Such wild swings can stress trees, leaving them more vulnerable to pests and diminishing their ability to heal from storm damage.
While property owners are quick to soak their lawns during drought, the same consideration isn't often given to trees, Etherington said.
"Trees do need water, but typically not as much," he said. "With turf, you want to water frequently and shallow. With trees, water less frequently but very deeply. Try to put two inches down." 
Native trees — oak, hickory, sugar maple, hybrid elm — don't require as much care, he added, because they're better adapted to Chicago's soil and drought than non-natives.
"Stick with the things that were here," said Etherington.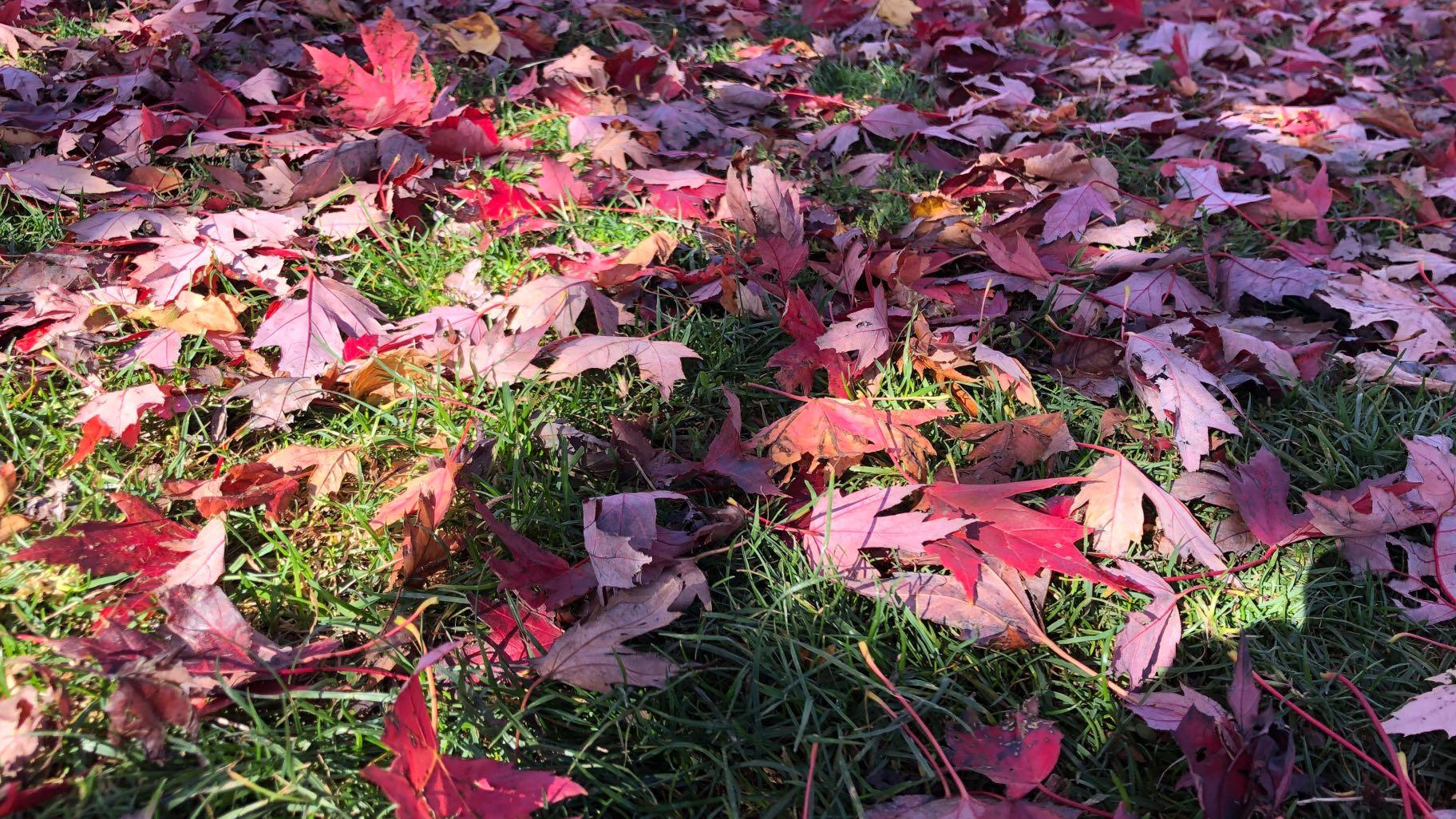 Leaves are an excellent source of nutrition for trees. Don't send this natural, and free, fertilizer to landfill, experts advise. (Patty Wetli / WTTW News)
Fall color almost never disappoints, inspiring awe and amazement year after year, an all-too-brief burst of brilliant, eye-popping color.
And then the leaves are inevitably shed, raining like confetti onto sidewalks and yards. What had, just days prior, been the stuff of #ILoveFall Instagram posts, becomes a nuisance. To people, that is. Trees themselves actually love the detritus.
Trees evolved in the absence of rakes and leaf blowers, their leaves dropping, decomposing and returning to the soil.
"There's a ton of nutrients in leaves," Etherington said. "Trees are able to recycle that. The lawn likes those nutrients too. We pay a fortune to send this to landfill, then we come back with fertilizer."
His advice: leave the leaves. Spread a couple of inches of leaf mulch over a tree's root zone (not piled up at the base); rake it into flower beds, where it insulates soil and holds moisture; and use a mower to mulch into grass, he said.
Contact Patty Wetli: @pattywetli | (773) 509-5623 |  [email protected]
---