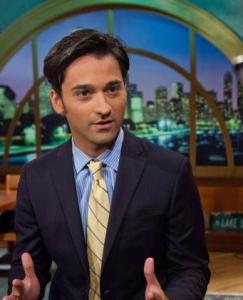 I have always sought out Carol Marin's wisdom on career, politics, and even on relationships. Perhaps she gave me her most important bit of advice when I asked her how I should prepare for the RNC in Tampa.
"Pack a raincoat and umbrella, hun," she said.
This is my first time at the dance, and I am admittedly a bit anxious (especially about the logistics – making sure I get to the convention hall on time, getting my credentials, making sure all goes well for the miniscule five-minute window I have to utilize CNN's satellite feed to broadcast my reports back to WTTW.)
Now, of course, there is the added wrinkle of Tropical Storm Isaac, which, if it doesn't hit Tampa directly, is expected to soak it. If indeed the storm cancels day one of the convention, I will channel my inner-Tom Skilling and give everyone a storm update, although I don't anticipate tying myself to a tree or lamppost ala Dan Rather.
It's a shame the forecast looks so ominous, too, because the Illinois delegation has planned to hold many events right out on the beach at the Sheraton Sand Key Resort. Brunches, dinners, late night parties – the itinerary makes me feel like I'm headed to some sort of political Spring Break (anyone remember Peter Roskam's "Thong" campaign commercial?)
Of course, there is work to do! While the big news is the expected formal nomination of Mitt Romney for President and Paul Ryan as his running mate, I think the political buzz among the Prairie State crowd will focus on the handful of contested congressional races. Most notably: the 8th District between Democrat Tammy Duckworth and incumbent Republican Joe Walsh. (Walsh is expected not to attend.)
Also, there's the hotly contested North Shore 10th District between Republican Robert Dold and Democrat Brad Schneider; and then the 11th District with Republican Judy Biggert facing Democrat Bill Foster. There are about three or so downstate races that also bear very close watching.
I'm hoping we can talk with Republican National Committee Chairman Reince Priebus about the importance of Illinois in his party's efforts to retain and expand control of the House.
I'll also be keeping my eye out for some potential 2014 gubernatorial candidates to continue jockeying for position. There have been overtures from State Treasurer Dan Rutherford (who also serves as Mitt Romney's Illinois Campaign Chairman), former gubernatorial runner-up, State Senator Bill Brady, State Senator Kirk Dillard (who lost out to Bill Brady back in 2010), State Senator Matt Murphy, and Congressman Aaron Schock.
I'm planning to talk to all of them to put them on the hot seat: "Alright, enough with the overtones. Are you running or not?" Let's hope we get some clear answers!
I'm really looking forward to relaying all of this information back to you from sunny (er, soggy) Florida. And of course, I'm really anticipating all of the major addresses: Ann Romney on Monday; New Jersey Governor Chris Christie on Tuesday; our neighbor just to the north, Paul Ryan on Wednesday; and then the nominee, Mitt Romney on Thursday.
So the questions are tantalizing: what will we expect from the speeches? Will Illinois Republicans continue their gains in Congress despite redistricting efforts meant to thwart them? Who is the GOP favorite for Illinois governor in 2014? Will Isaac turn into a Hurricane? We shall see. But I'll tell you this: I'm not afraid of any Hurricane, unless it's called Hurricane Ditka.