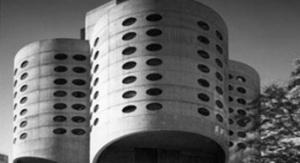 Chicago may be famous for its architecture, but the city also has a long list of distinguished buildings that have been demolished. That was the subject of the best-selling book: Lost Chicago. Now there's a fight over another Chicago building that preservationists say might be in the next edition of Lost Chicago. That building is the now-shuttered Prentice Women's Hospital on East Superior Street downtown. There is an increasingly heated battle over whether the building should be saved or torn down.
When it comes to Chicago's famous architecture, the old Prentice Women's Hospital is unlikely to be on a list of tourist favorites. In part, perhaps, because it's somewhat off the beaten path of downtown architectural tours. But, architecture buffs also say the casual observer may not be aware of what makes the uniquely shaped building so special.
"Architecturally, technologically, socially, there were a lot of innovations at this hospital," said Jonathan Fine, executive director of Preservation Chicago. "Its use of concrete and the use of the cantilever were actually groundbreaking engineering at that time."
The time was 1975. The building's architect was the famed Bertrand Goldberg, who died in 1997 at the age of 84. The old Prentice Women's Hospital is not among his best-known works. But the twin towers of Marina City certainly are, and have become as iconic for Chicago as the Willis Tower or the Daley Plaza Picasso.
But architectural enthusiasts say Goldberg's Prentice Women's Hospital -- which came 10 years after Marina City -- is no less of a masterpiece.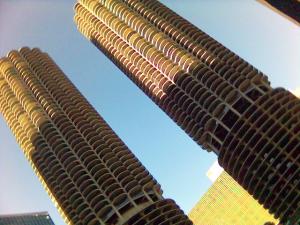 "Bertrand Goldberg was an architectural genius. And it was he who decided that the structural system should be like a tree, and the central core is like the trunk of the tree," said Fine. "And the seven floors of the maternity ward were literally cantilevered off that tree, as if they were tree branches. Now what that did was not only did it make it an incredibly interesting piece of architecture, but it really, literally stretched the boundaries of what you could do with concrete. We have been hard pressed to find other examples of buildings, not just in Chicago, not just in the United States, but throughout the world that have used a similar type of cantilever system, and this is…I mean, we overuse the word unique, but this is truly a unique structure."
The old Prentice served as a maternity hospital for 32 years until 2007. That's when Northwestern Memorial Hospital, which owned it, opened a new facility several blocks away.
Ownership of the Goldberg building was transferred to Northwestern University, whose intentions for it have ignited a major controversy.
"The university has planned all along to demolish that building, and our plans remain the same," said Northwestern University spokesman Alan Cubbage. "We hope to apply for a demolition permit from the City of Chicago, and move forward with the demolition of that structure. Our plan is to build a new, state-of-the-art, medical research facility that will be part of our biomedical research complex here on the Chicago campus."
Northwestern says it has studied whether the Goldberg building can be repurposed as a modern medical research facility. The conclusion?
"The structure, as it now exists, is not useable for medical research. There are problems with the floor plans, simply how it's shaped. There are problems with the ceiling height: it doesn't meet standards for how high the ceilings have to be," said Cubbage. "And it's simply not enough space. We intend to build a larger building on that site, and then do 21st century medical research in that building."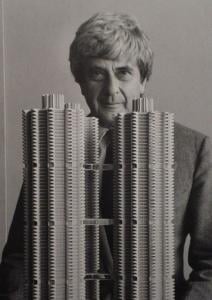 The prospect of demolishing the building has brought an almost unprecedented outpouring of condemnation in the architecture community.
Last week, 60 noted architects from around the world, including Frank Gehry and Chicago's own Jeanne Gang sent Mayor Rahm Emanuel a letter pleading with him to save the old Prentice. Meanwhile, Chicago preservationists have gone into overdrive.
"Literally, there is no other building like this anywhere," said Fine. "We have an obligation and we have a duty to make sure that we don't make a mistake and tear down something that we are going to regret in the coming years, and that is what our mission is."
Landmarks Illinois commissioned its own study of the building, and perhaps not surprisingly, the conclusions of that report contradict the Northwestern study.
"This building was innovative in that it had an open floor plate, which allows it to be highly reusable for current uses. So, we looked at medical research space and found that it would accommodate a 21st century medical lab," said Bonnie McDonald, president of Landmarks Illinois. "We found that it could have office space that would accommodate Northwestern's medical office use, as well as residential. This building has nearly 11-foot ceilings with exposed mechanicals. It could accommodate a modern research use."
Preservationists say Northwestern has other alternatives on where to construct its new facility, including a vacant plot of land just south of the Goldberg structure where the former VA hospital used to be. That property is owned by Northwestern Memorial Hospital, and preservationists say it can do another land-swap with the university, just like it did with the old Prentice building. But the university says no.
"It certainly has been suggested that there are other properties nearby that the university might be able to acquire, but the reality is, we don't own those properties," said Cubbage. "We do own the property on which old Prentice sits, and you can't build a building on land that you don't own."
If Northwestern goes ahead with its plan, it hopes to obtain a demolition permit before the end of the year, tear down the old hospital, and begin construction of the new building in early 2014.
In response to the letter sent to Mayor Emanuel, a spokeswoman for the mayor said he is "still in the process of hearing from all sides."
What are your thoughts about saving the old Prentice Women's Hospital? Post your comments below or sound off on our discussion board!