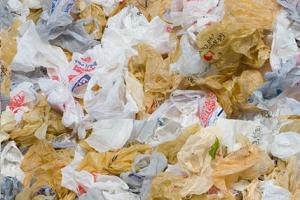 The push to ban plastic shopping bags in Illinois is gaining steam in downstate Champaign, suburban Oak Park and the City of Chicago. But a state bill that slipped through the General Assembly in the waning hours of the spring session now awaits Gov. Pat Quinn's signature.
The bill would stop any municipality that wanted to either tax plastic bags or ban them outright. Leading the resistance to the bill is an 8th-grader from Grayslake who got the attention of someone very significant on Tuesday.
For 12-year-old Abby Goldberg, it started with a summer research project for school and grew into a cause.
"Mine was trying to get the Village of Grayslake to ban plastic bags, but when SB 3442 came out, it would ban my town from being able to do that," said Abby.
With the help of Illinois environmental groups, Abby got 154,000 people to petition the governor to veto Senate Bill 3442, called the Plastic and Film Recycle Act. Today, she was surprised to learn that he'd heard about her cause, and agreed to receive the petitions in person.
"Here we are on the day before the Fourth of July, Independence Day. I'd say Thomas Jefferson, Ben Franklin, if they were here today, they'd be very proud of you," said Gov. Quinn when he met Abby.
All plaudits aside, the governor was mum on what he'd do next.
"We want to do things that are right for the environment. When I review this bill, I review every sentence, top to bottom," said Quinn.
Environmentalists say the bill is backed by big industry groups with the aim of keeping the cheaper and more convenient plastic bags around, rather than promoting more environmentally friendly reusable bags.
"This bill is an effort by those big industry players, which are fairly powerful lobbyists in Springfield, to prevent cities from putting their own laws in place to limit plastic bag waste, to reduce the use of plastic bags, or to set ambitious recycling goals," said Max Muller of Environment Illinois.
Some municipalities have considered banning plastic bags outright. In Chicago, Ald. John Arena (45th) has co-sponsored an ordinance that would impose a tax on them.
"If you use that model, you can 1) discourage their use by putting the extra cost in there, and 2) get a source of revenue that can then be used for education programs on the other side too," said Ald. Arena.
Either way, Chicago would be exempt from the new state law.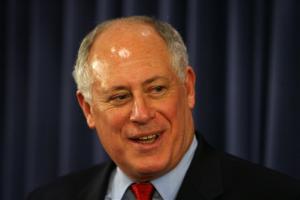 Supporters say that Senate Bill 3442 is indeed environmentally friendly, because it encourages the recycling of plastic bags, rather than taxing them or banning them outright.
Groups like the Illinois Retail Merchants Association say the bill puts the onus on retailers to adopt a statewide standard for recycling plastic bags.
"We want one uniform law that everyone knows how to comply with," said Tanya Triche, senior counsel at Illinois Retail Merchants Association. "We have members in municipalities. They have to find municipality to municipality what the law is. This is a way to get full compliance."
Gov. Quinn, who touts his record as an environmentalist, now has 60 days to decide what to with the bill.
And though Abby has mastered the political process, there's that whole issue of the school project.
"Is it safe to say you're gonna get an A," I asked her.
"Well, I still have to write my paper, so I hope so," she said.
Abby's teacher says she's pretty confident Abby will do just fine on her class project.
Read the full text of the Plastic Bag & Film Recycle Act in the PDF below.
Should the state pass a law that prevents Illinois towns from banning plastic bags? Post your comments below or sound off on our discussion board!