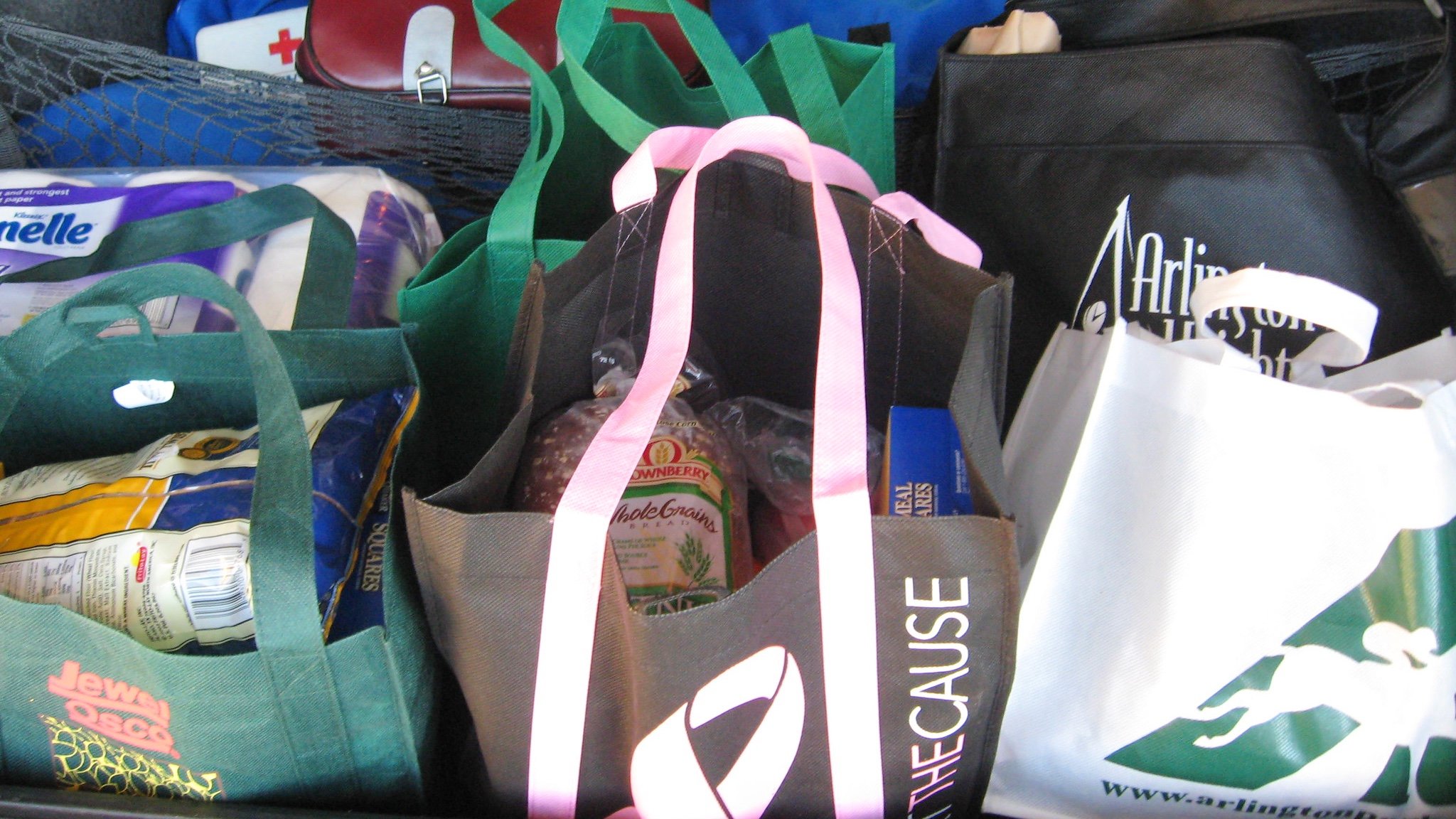 Some grocers are nixing the use of reusable shopping bags out of concern for employees during the COVID-19 pandemic. (Karin Beil / Flickr)
Grocery stores remain one of the few places in Chicago where large numbers of people are still able to mingle, and that — rightfully — has put both employees and customers on edge.
To keep shoppers and store staff safe during the COVID-19 outbreak, Gov. J.B. Pritzker consulted with the Illinois Retail Merchants Association (IRMA) on a list of industry best practices retailers could deploy to set everyone at ease.
Of all the recommendations the governor mentioned at a weekend press conference, the one that received the most attention was to "consider a temporary prohibition on reusable bags."
The suggestion was misinterpreted as a statewide ban on reusable bags, which was not the intention or the reality, said Tanya Triche Dawood, IRMA vice president and general counsel.
Some stores have temporarily forbidden customers from using their own totes out of concern that the bags might be contaminated with the coronavirus, but the governor has not prohibited them, she said. 
"We thought it was a good practice," Dawood said, and so IRMA included it in the list the association provided to the governor.
Other best practices include increased signage emphasizing the 6-feet-of-separation social distance rule; floor markers at checkout lines to space customers out; cashless purchases to speed up the checkout process; shield guards in front of cashiers and/or baggers who may not be 6 feet from customers; and self-checkout, online ordering and curbside pickup to minimize the amount of interaction between employees and customers.
Expect grocers and pharmacies to put any number of these measures into place in the weeks ahead, depending on what meets their operational abilities, said Rob Karr, IRMA president and CEO.
"There's no one good approach for everyone," said Karr.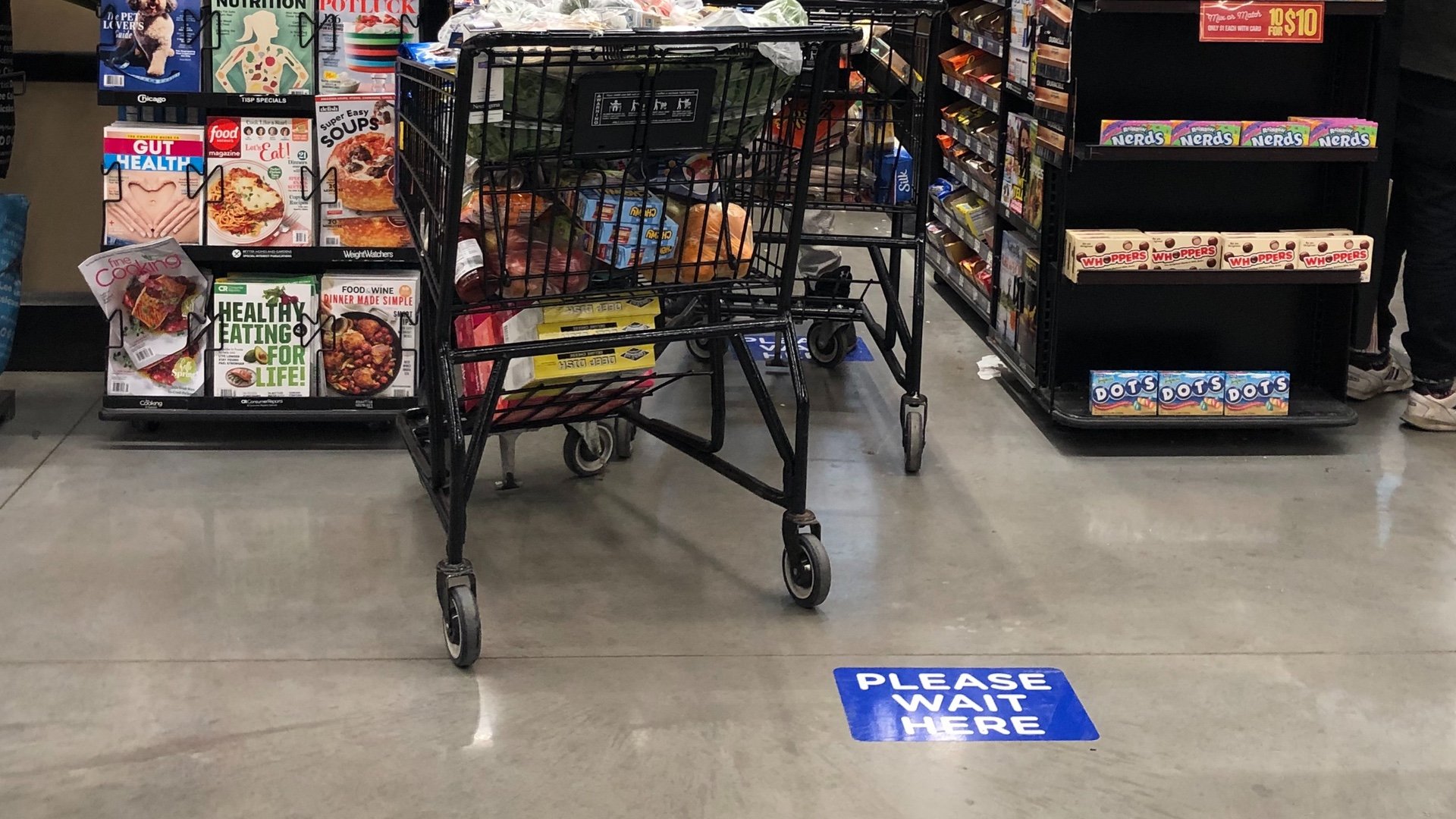 Best practices at grocery stores include social distancing markers in checkout lines. (Patty Wetli / WTTW)
Some suggestions, like signage, are simple enough to implement. Others, like disallowing reusable bags, are trickier, especially in Chicago, in part because of the 7-cent tax on paper and plastic bags, which has been in place since 2017, Dawood said.
Retailers are still compelled, by law, to charge and collect the tax, even if they're the ones insisting that consumers use store-provided bags. "It's not a fee we control," Dawood said. "It's a tough position to be in."
Chicago's finance department has extended the date for remittance of the checkout tax to April 30, according to a statement. (Of the 7 cents, the city receives 5 and the retailer keeps 2.) But waiving the fee would require legislative action, the city has stated.
Where the issue of reusable bags gets even thornier is in the way it pits environmental concerns against public health.
To avoid the surcharge, numerous Chicagoans have become accustomed to shopping with their own reusable bags, a behavior shift that was precisely the goal of the environmental activists who pushed for the tax as a way to reduce the amount of waste generated by single-use plastic and paper bags. Their concern is that a temporary default to plastic will become permanent.
On the other hand, the United Food and Commercial Workers (UFCW) union is pleading with consumers to "just say no to reusable bags" for the duration of the pandemic, in order to protect baggers and cashiers who've inadvertently been placed on the front line of the pandemic.
Add to this mix the revelation that the plastics industry has lobbied the U.S. Department of Health and Human Services to promote single-use plastics as the "safest choice" and to "speak out against bans on these [plastic bag] products as a public safety risk," and the decision to allow or forbid reusable bags becomes fraught with political undertones.
"I'm not working with the chemical companies. That's not my issue," UFCW Local 881 President Steve Powell told the Chicago Sun-Times. The "just say no to reusable" campaign is in response to the fears of clerks and baggers, who are scared, he said. (UFCW did not respond to a request for comment as of press time.)
Jordan Parker, one of the driving forces behind Chicago's bag tax, said there's a middle ground, one that allows consumers to opt out of plastics while still ensuring the safety of store employees.
"I have a lot of empathy for them, and I can see how they don't want to touch the bags," said Parker. 
Her suggestion is to let customers continue to use reusables at self-checkout, and to provide sanitizer for them to wipe down the scanner surface and bag rest area after completing their transaction. In a full-service lane, etiquette should be that customers keep reusable bags in their cart or on their shoulder, rather than placing them on the conveyor belt, and then bag their own groceries. The cashier and bagger would never touch the reusables.
Parker readily acknowledged that we all have bigger things to worry about at the moment than how to safely use our favorite canvas shopping bags.
But when we come out on the other side of this pandemic, we're still going to be living on the same planet that's moving toward irreversible climate change, she said.
And if the answer to the current crisis is "plastic everything," and the crisis persists for more than a few months, Parker said she's worried that "the resurgence of single-use plastic is something we can't come back from."
Contact Patty Wetli: @pattywetli | (773) 509-5623 |  [email protected]
---