Andy White and Adam Guettel bring back to life two of the most sensational news events of the 20th century, in their respective plays, Eastland and Floyd Collins. Hedy Weiss will be joining us on Chicago Tonight at 7:00 pm to review three plays currently on Chicago stages. Learn more about the plays below.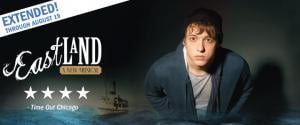 Eastland
Thousands of horrified onlookers witnessed Chicago's most deadly disaster on the morning of July 24, 1915. Known as the "Greyhound of the Lakes," the luxury steamship, the Eastland, slowly settled on its side on the banks of the Chicago River. Though the ship was only in 20 feet of water, 844 of the 2,500 passengers aboard were killed, just a few feet from the wharf. In the spring of 2008, the City of Chicago began construction on an $80 million Chicago Riverwalk development project, entitled At The River's Edge. Serving as a memorial, the exhibit also draws attention to what happened at that same site nearly a century ago. This tragic disaster is also being remembered through Artistic Director Andrew White's new play, Eastland. He resurrects the ghosts of America's forgotten tragedy in the Lookingglass' original musical. "The play seeks to revive the ghosts of those who drowned in this Chicago disaster of 1915, and asks questions about which events linger in our memory and which become lost to history," says White of the play, which has received the Edgerton Foundation New American Play Award. Tickets are $44 and the play runs through July 29.
Lookingglass Theatre Company
821 N. Michigan Ave.
Chicago, IL 60611
Floyd Collins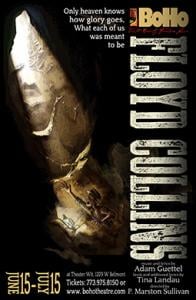 Trapped! The only way to describe the situation that famous spelunker Floyd Collins found himself in while exploring a Kentucky cave. Collins was hoping to turn it into a commercial attraction, but instead became the attraction himself, when a rock fell and wedged his foot 150 feet from the surface. His predicament caused a media frenzy, with reporters racing to the scene where rescue efforts were underway. The ensuing rescue effort and publicity carnival lasted for 18 days. Digging, hacking at the passageway, sinking a new shaft, even sending a surgeon to try and amputate his foot, all turned out to be futile efforts. A passage above Floyd eventually collapsed, cutting him off for the last few days, where he died alone. Adam Guettel's haunting musical tells the transcendent tale of a true American dreamer. BoHo's production of Floyd Collins explores freedom across several realms, from financial freedom which led Collins to the cave, to literal need to escape claustrophobia in the cave, and finally emotional and spiritual freedom found through his inner reflections. The show runs through July 15. Tickets are $22 on Thursday and Sunday, and $28 on Friday and Saturday.
Theater Wit
1229 W. Belmont Ave.
Chicago, IL 60613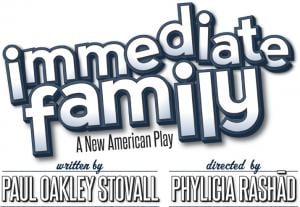 Immediate Family*
No stranger to the sitcom genre, Phylicia Rashad, better known as Clair Huxtable, directs Paul Oakley Stovall's new play, Immediate Family. Set within a 24-hour time frame, the Bryant family is gathering for the first time in over five years for a wedding. Tensions arise when the prodigal son unexpectedly brings home his friend, who turns out to be his boyfriend. Putting a twist on Guess Who's Coming to Dinner?, the play is part sitcom and part dysfunctional family drama, as the siblings try to bridge their differences. The play runs through August 5 and tickets range from $20-$54.
Goodman Theatre
170 N. Dearborn St.
Chicago, IL 60601
*Contains adult themes and strong language. May not be suitable for children under 12.*