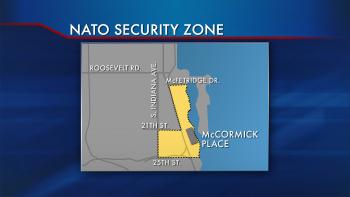 The NATO security perimeter around McCormick Place is disclosed. Does it protect protesters as well as NATO ministers? Carol Marin and her panel have the details on Chicago Tonight at 7:00 pm.
According to Coalition Against NATO/G8 organizer Andy Thayer and ACLU-Illinois legal director Harvey Grossman, the security perimeter around McCormick Place will be bounded by 21st Street, 25th Street, Indiana Avenue and Lake Michigan. East of Lake Shore Drive, the northern boundary will be McFetridge Drive. 
Thayer and Grossman said they met with Secret Service officials Tuesday, who detailed the plan. According to Thayer, this zone would interfere with CAN/G8's planned protest, which would have proceeded from Grant Park to the steps of McCormick Place.
Secret Service officials dispute Thayer and Grossman's description of the NATO security zone.
"That's not our official plan. I don't want to comment on theirs. It's not ours," said Secret Service spokesman George Ogilvie. "We still hold fast to our 2-4 week time frame. I know we're in that window, but it's still being developed."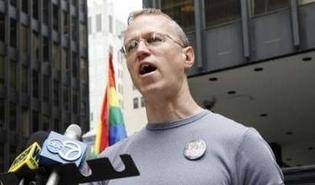 According to Thayer, the northern boundary of the zone may be moved to Roosevelt Road when NATO delegates visit the Museum Campus. Lake Shore Drive between 31st Street and Roosevelt Road, and I-55 from McCormick Place to the Dan Ryan, may also be closed during part of the weekend summit, Thayer said.
Secret Service officials did not disclose what would be required to get inside the security perimeter, Thayer said. "We didn't probe adequately who will be allowed inside this zone."
The entire area will probably not be closed to all visitors, according to Tom Kasza, managing director of Hillard Heintze, a security consulting firm working with the city to prep Chicago businesses for the summit.
Kasza said he had not seen the zone Thayer and Grossman described and did not want to comment on it, but from his experience as a Secret Service agent, people who live inside the zone or want to visit a business, would be allowed inside. Notions that people would be kicked out of their homes for the weekend were overblown, he said.
"There will be a hard checkpoint where you need a credential," he said. "But there might be soft checkpoints, where you say 'I live down the block.' They're not going to eliminate people's right to go to their properties."