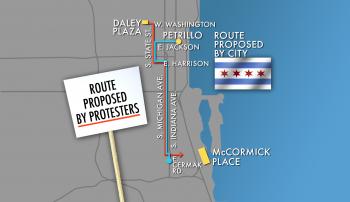 After a series of legal tussles, the city and NATO protest groups agreed to a protest march route for the first day of the international summit, May 20. 
The city issued a permit to the Coalition Against NATO/G8 War & Poverty Agenda for a march starting at the Petrillo bandshell in Grant Park. The march then winds down State Street to McCormick Place, where the summit will be held.
The city originally issued a permit for protesters to march from Daley Plaza on May 19, during the G-8 summit before it was moved to Camp David. A similar route was denied when protesters asked to march on May 20, because the city said the greater number of delegates would be a larger drain on police resources and would create more traffic congestion.
CANG8 appealed the denial and lost. They vowed to appeal again unless the city agreed to put the Petrillo route in writing by Wednesday. 
Another of the protesters' demands -- that the city push back against the Secret Service if the federal agency prevents protesters from marching close to McCormick Place -- was not part of the deal. 
"We didn't expect them to agree," CANG8 leader Andy Thayer told Crain's. "The history of these things has been the feds sweep in at the last minute and lay down a very blankety security perimeter."