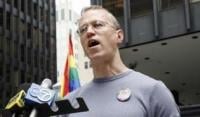 Chicago denies a permit for anti-war protesters planning to march on the upcoming NATO summit. We talk with organizer Andy Thayer about how protesters still plan to take to the streets on Chicago Tonight at 7:00 pm.
Though the permit was denied, the city offered an alternative route starting at the Petrillo Music Shell in Grant Park. Thayer said he would accept the new route "grudgingly," but only if the city put it in writing. 
If Thayer and his group, the Coalition Against NATO/G-8 War & Poverty Agenda, decided to appeal the decision, they'd have to prove the city's new route didn't provide "a reasonable opportunity for the exercise of First Amendment rights," according to University of Chicago Law Professor Geoffrey Stone.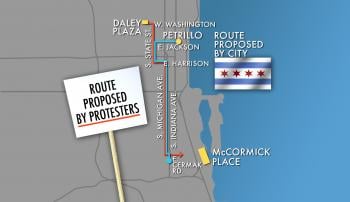 Courts generally interpret what a "reasonable" opportunity would be based on what government has allowed in the past under similar circumstances, Stone said. 
"If someone wants to close Michigan Avenue [for a march], and it's never been done, then the city would probably have been on good ground to say, 'No, you can use Wabash,' he said. "If they have allowed marches in the middle of the day, they have to explain."
Crain's columnist and political reporter Greg Hinz referenced the city-sponsored Blackhawks and Superbowl rallies in a recent column about the NATO protests. While the city says the thousands of protesters would be too much for Daley Plaza, "I seem to recall a Super Bowl victory rally at Daley Plaza a few years ago that surely drew tens of thousands," Hinz wrote. 
Stone said the type of rally or parade matters when the courts decide whether a permit was rightfully denied. The sports parades were citywide events with no political slant.  
"The city can say the Blackhawks parade was a once-in-a-50-year event. We chose to accommodate way beyond what we were required to, but not every Tom, Dick, and Harry can justify that much disruption," Stone said. "If it was a political event of private individuals, then it would be harder to justify [denying CANG8's protest in Daley Plaza]."
View the city's letter denying the protest permit below: