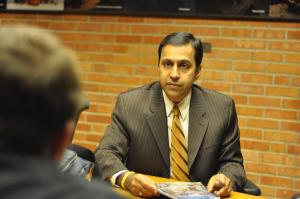 It's no secret that Raja Krishnamoorthi and Tammy Duckworth agree on pretty much everything. The pair, both running in the Democratic primary for the 8th Congressional District, would be "hard-pressed to point to issues on which they differ," the Chicago Tribune's editorial board wrote last month.
Perhaps that's why Krishnamoorthi was looking to distinguish himself from Duckworth, not on policy, but on the detail of their economic plans.
In a conference room before the forum on Chicago Tonight, Krishnamoorthi and his handler Michael Murray were prepping, with Murray playing the roles of Duckworth and forum moderator, Chicago Tonight host Carol Marin.
In response to a question about jobs, Krishnamoorthi pulled a bound, color copy of his economic plan with one hand, and a much thinner handful of papers in the other.
"My plan's 24 pages, but Ms. Duckworth's is less than three," he said, shaking the pages for emphasis. "Do you want substance or do you want sound bites?"
Meanwhile, Duckworth, who had arrived a few minutes before Krishnamoorthi, was down the hall, in a separate conference room with her staff, joking about the bravado of fighter pilots. (Duckworth flew combat helicopters in the Second Gulf War.)
"They always say, 'There I was, just me and the enemy,'" Duckworth said, gesturing to indicate there's usually an entire fleet of fighters.
Once both candidates were done in the makeup room, they entered the studio, where Marin was already sitting. Our technical director, Derrick Young, also a private pilot, took out his iPhone to show Duckworth photos of a high-tech flight simulator he built in his spare time, before it was time to get the cameras rolling.
One of the forum's first questions was about how friendly the two candidates are to each other and how much they both agreed with President Barack Obama's policies. Duckworth used the opportunity to tout her endorsements.
"This is where you're going to see Raja and I are very similar on all the issues," she said. "In fact, that's what the Daily Herald and the Chicago Tribune said when they endorsed me."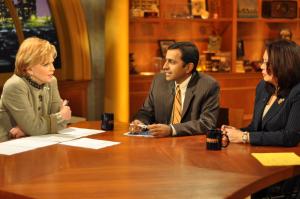 Duckworth mentioned her endorsements twice more during the segment.
Soon enough, the candidates were talking about their economic plans, and as practiced, Krishnamoorthi pulled out both plans, comparing their lengths and calling Duckworth's "sound bites."
The third time he held up the plans for the cameras during the taping, Marin and Krishnamoorthi chuckled.
"OK, put that down," she laughed.
Visit the image gallery below to see behind-the-scenes photos.
Click here to watch the candidates' discussion from our show. Click here to visit Chicago Tonight's 8th Congressional District March Primaries page.