The video cannot be displayed.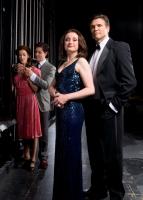 Broadway meets the Bard when a Stephen Sondheim show hits the stage at Chicago Shakespeare Theater, for a big, splashy musical to open the theater's 25th anniversary season.
The innovative songwriting of Sondheim comes to life through November 13th on Navy Pier, in the form of his Tony Award-winning musical, Follies.
We speak with Barbara Gaines, the founder and artistic director of the Chicago Shakespeare Theater, on Chicago Tonight at 7:00 pm. Gaines has directed more than 30 Shakespearean plays at the theater.
Set in the 1970s, Follies tells the story of the reunion of a group of actors and showgirls after many years, as the old theater at which they performed  faces demolition. The players find themselves reminiscing, reprising and regretting the past as their former selves join them on stage, helping them to realize the stark passage of time and come to grips with the present.
For a behind-the-scenes look at production, visit the photo gallery and videos below.
Learn how the choreography came together for the song "The Story of Lucy and Jessie" in the video below:
Watch the choreography in action onstage in a dance number from Follies in the video below: