The Ravinia Festival and Wrigley Field announced their schedule of summer concerts Tuesday, a long-awaited plan to return to in-person events after both venues canceled their 2020 slate of shows.
Live theater is eyeing a return as well, with Oakbrook's Drury Lane and the Chicago Shakespeare Theater planning to get back onstage in the fall.
"Our need to touch the hearts of other human beings just continues to grow," said Barbara Gaines, founder and artistic director of Chicago Shakespeare Theater. "I think we all believe, all of us in the performing arts, that we can sprinkle a bit of salve over the heart of someone who is hurting. And we know so many people are right now."
Actor and musician Robert Cornelius said as vaccinations ramp up and infection rates stay low, "There's cautious optimism because of the way (the coronavirus) is being approached now and dealt with, and so we can see a light at the end of the tunnel – the ghost light in the theater, of course."
Cornelius says much of the caution is driven by the science. "They talk about ventilation systems. A lot of our storefront theaters are in old buildings, so that's a part of it. I want to make sure that there's protocols in place in every theater so that we don't have to feel like we are an experiment. They're doing a lot of work on television sets that's really leading the way," Cornelius said. "But if we get to this vaccine (threshold) then we'll be able to move around a lot freer. If that happens then things will start picking up sooner rather than later, and that's the dream."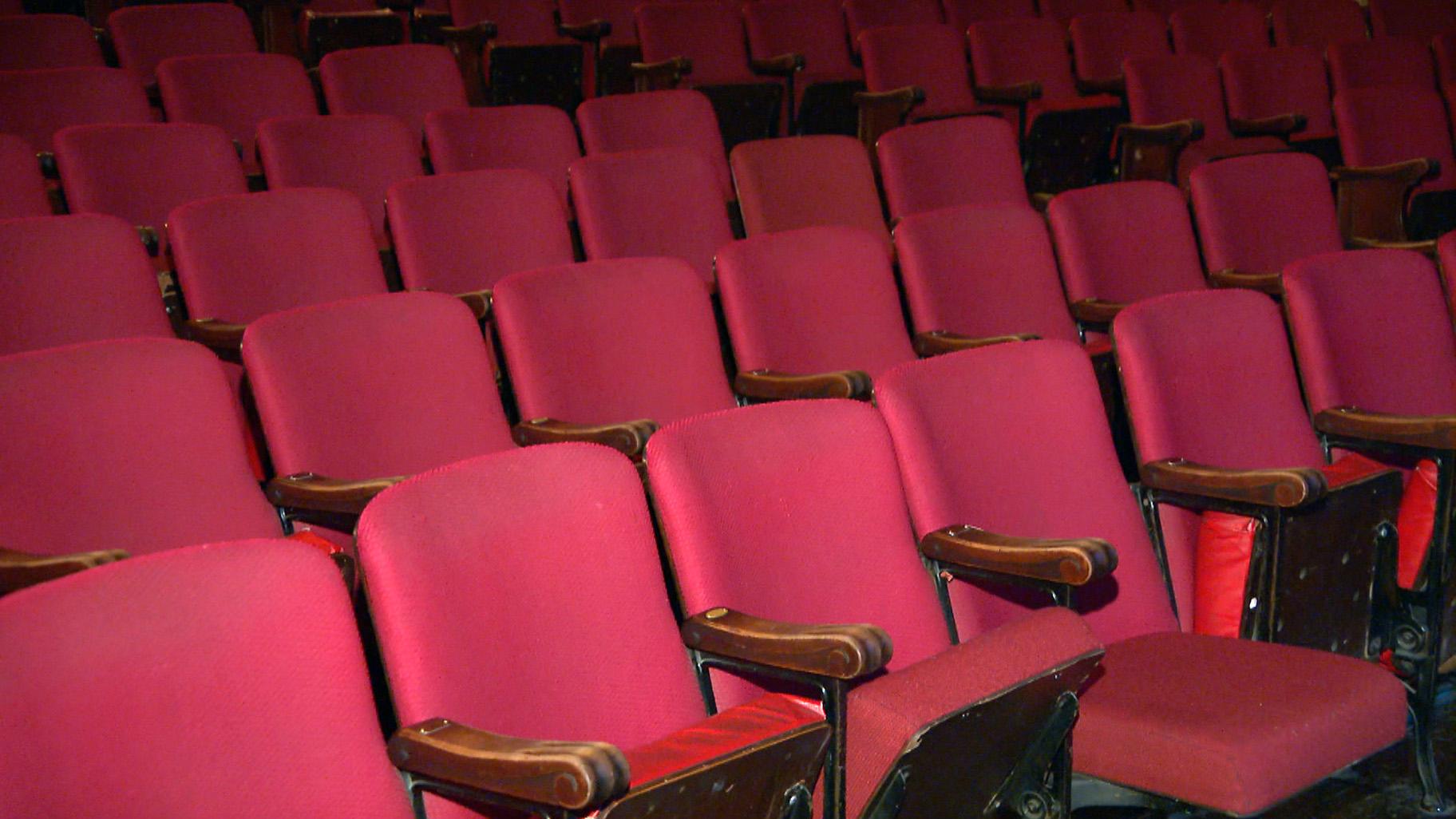 Empty seats await the return of Chicago theatergoers. (WTTW News)
Chicago Tribune chief theater critic Chris Jones says it's likely that the return to live shows many theaters are planning for the fall will be feasible, and that some venues may even come back in the summer. He thinks certain safety protocols like masks and distanced seating are likely to continue, but that much is still up in the air.
"Firstly, you've got the state (and) you've got the city — you can't do anything without those regulations," Jones said. "In some ways a bigger challenge is the union (Actor's Equity Association), which is very strict in terms of demanding safety precautions for its members, and that is going to be a big issue that's yet to be resolved, I think."
Jones also says financial feasibility will be a major factor and may depend upon whether government regulations limit theater capacity based upon a percentage or a figure.
"Theaters struggle to make any money when they're not at full capacity," Jones said. "If you look at, say, the Lyric Opera or the Auditorium Theatre with three, four thousand seats, they could absolutely do a show for 500 people in there and just spread people out. But for a smaller theater, from a footprint point of view that won't be as easy."
There's also the element of anxiety for audiences and artists alike, many of whom have spent the past year avoiding crowds of any size.
"We're human beings like everybody else, and the first priority is that we be healthy and well … that's the same for the front of the house, the back of the house, and people that are coming to the theater," Cornelius said. He spoke with WTTW News in December about how mental health care had helped him cope with the temporary loss of live theater. "It's OK to grieve, it's OK to feel sad about it and go through it. But as a community, we've managed to keep each other up, hold each other up pretty well," he said.
Gaines says the performing artists she works are with are "so full of hope and gratitude, and now we can all see that light at the end of the tunnel – and so they are waiting in the wings, in other words. All we have to do is have the government pull the trigger and we are ready. We've spent a lot of time preparing for the opening moments."
And while Gaines has been glad that Chicago Shakespeare Theater and many of its counterparts have been keeping audiences entertained with streaming shows, podcasts and other digital performances, "There's nothing like live theater, is there? There's just nothing like it. And I think that being together again is our goal, and we know it's going to happen. We're absolutely positive."
---