The video cannot be displayed.
It's Day 26 of the Occupy Chicago demonstrations. Protesters have been camped out in the Financial District, calling for an end to what they call "corporate greed" and "government complicity."
Despite a weekend of arrests in Grant Park, the movement shows no signs of ending the demonstrations.
It's a leader-less movement without a clearly defined structure, and so far, no official set of demands.
The Occupy Wall Street movement in New York has spawned protests around the country and globally, including the Occupy Chicago demonstrations which began here more than three weeks ago.
On LaSalle Street in the heart of Chicago's Financial District, demonstrators say it's about asking yourself one question.
"Are you satisfied with what's going on in the world right now with the economy and everything?" said Alex, a demonstrator.
The answer for all the supporters is a resounding, "No."
Protesters say the resentment and frustration that is fueling the movement is about a system that puts profits before people, and a government that gives corporations bailouts while homeowners are foreclosed upon.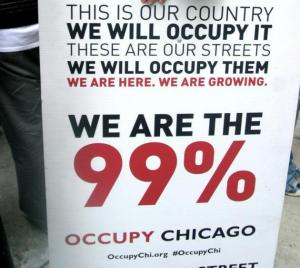 That's why supporters like Tonda Clarke say its time for an awakening.
"We have been bamboozled, hoodwinked, laid off. Banks are being bailed out left and right," Clarke said. "They didn't do what they were supposed to do with the money. I have friends who have lost their homes; I lost my job last year. We can't get an extension on unemployment. You can't find a job. They're lying about the numbers. And as an African-American woman, it's even worse, and a woman over 50, it's even worse. I've been looking for a job since last March!"
Over the weekend, nearly 200 protesters were arrested by Chicago Police in Grant Park after they refused to leave after the park closed. After making bail, some of those arrested - like one man who uses the pseudonym "Kazuna Nakama" said it was time to demonstrate again.
"Basically, when I got out, we were met with, 'Yay!' and cheering," Nakama said. "And that felt really good to actually support after we got out of there."
Organizers say the weekend arrests garnered national and international attention, and have electrified supporters who continue to come out and march forward.
Spending days and nights on the street means finding innovative ways to eat and stay connected.
A makeshift food depository is stocked with snacks and drinks, and a car battery is being used as a portable charging station for cell phones. Something protesters call, "power to the people."
"The movement is about occupying and making a statement, and making sure that the 99 percent know that their voice can be heard again; that we're not beholden to the current moneyed politics that are actually running our democracy," said Micah Philbrook, a demonstrator. "And that message I think still rings true and is really strong. And so, people still come down, even in the face of arrests."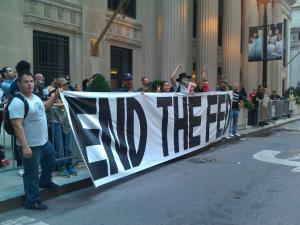 While some are out of work, others with jobs show up on their lunch breaks to support the movement.
Others like Trader Mike Matte say protesters here are barking up the wrong tree.
"They need to be occupying really Washington D.C. That's where the problem is," said Matte. "I mean they can't resolve any issues, it's the extremists of each party. It's the Tea Party-ists versus left wingers and nobody wants to meet in the middle, and that's really what I see."
When asked if the protests were sparking discussions in Washington, Sen. Mark Kirk said, on Monday, the movement lacks a purpose.
"It feels like undisciplined, unfocused, un-intellectual anger," said Kirk.
Others like State Rep. La Shawn Ford say the movement is democracy in action.
"I think they have a clear mission. I think the mission is to show that they're upset with the way that government and businesses are operating," said Ford.
There is some level of organization. Less than a month into its creation, Occupy Chicago has a website, and they are using Facebook and Twitter to post updates and news.
They assemble to provide supporters information, instruction and they even vote on various issues.
"It's a process and it's going to take a while," said Alex. "Revolution doesn't happen overnight and we know that. We know that it might be a year, two years from now, that's fine."
But for now, they say, all they want, specifically, is to be heard.
Today, Mayor Rahm Emanuel defended the Chicago Police Department's decision to remove Occupy Chicago protesters from Grant Park this weekend. He also says he's been in conversations with CPD to ensure the protesters maintain their right to express themselves without breaking the law.
Do you agree with Occupy Chicago's message? Post your comments below or sound off on our discussion board!
For more information on the Occupy Chicago demonstrations, visit the links below.