The video cannot be displayed.
I am standing right below a viaduct at the corner of Marshfield and Bloomingdale on the Near Northwest Side. Above me, I can hear the approaching rumble of… joggers. OK, so it's more like a pitter-patter. Actually, I can't really hear anything. But they're up there. Lots of them. Every day.
It's an elevated path, 2.6 miles long, along Bloomingdale Avenue, through Bucktown, Wicker Park, Humboldt Park and Logan Square. A woman is pushing her baby in a stroller. I sneak up an embankment and flag down James Crilley, a runner with a red shirt and headphones. I don't want to disrupt his workout, so I clumsily run alongside and fling questions at him.
"Do you do this a lot?" I ask.
"Every day," he responds.
"Aren't you afraid of getting caught? Because, technically, this is still private property," I say.
"If they can catch me," he says.
The Canadian Pacific Railway owns the elevated rail right-of-way. But the tracks have been train-free for more than a decade.
Joan Fox, a Bucktown resident whose home is feet from the tracks, remembers watching some strange cargo pass by.
"There was a train that would come down this track that would bring the circus animals to town, so it was cool seeing the slow moving train with all those animals," she said.
These days, she's more likely to see vagrants setting up camp outside her son's room.
"Three feet away, you could hear them snoring," said Fox. "I didn't really want them living right against my house and making music into the wee hours, and going to the bathroom outside my baby's bedroom window."
A variety of goings-on, sometimes nefarious, has become commonplace along the Bloomingdale line. Drinking, graffiti, and other things that perhaps bear not mentioning, have at times been reported.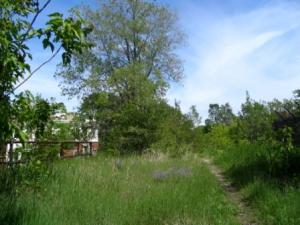 Ben Helphand remembers the Bloomingdale as a popular hangout for the neighborhood's young folk.
"It was a really nice place to hang out and get away from the city," he said.
Helphand heads up the nonprofit Friends of the Bloomingdale Trail. The group has helped facilitate an ambitious project to turn the dilapidated elevated line into a civic jewel. And the city is moving forward full bore.
"The Bloomingdale Trail will be a 2.6-mile long recreational trail and transportation corridor for bicyclists and pedestrians," said Luann Hamilton, who is overseeing the project for the Chicago Department of Transportation. "It will extend from Ashland to the east, to about 3800 west."
A contract was signed with the design firm ARUP – the company that designed the bubbly-looking Water Cube for the Beijing Summer Olympics. The initial planning phase is underway, and will take anywhere from one to two years to complete, according to the Chicago Department of Transportation.
"This is Chicago's next great public park. In fact, I think it'll be one of the finest parks in the nation," said Beth White of the Trust for Public Land, a nonprofit that has helped the city secure funding and acquire land along the tracks for the project.
If this all sounds a bit far-fetched – it's already been done – in New York, with the recently completed "High Line Trail." Paris also has an elevated green space, known as the "Promenade Plantee."
Beth White says Chicago's will be bigger, grander and more functional when it gets completed.
The City and the Trust for Public Land put the total price tag somewhere between $40 and $75 million. But an engineering review of the entire structure might alter that number.
"There are 37 viaducts along this corridor. As part of our plan, we'll be evaluating and making determinations about which viaducts can stay in place and which should be replaced by lighter weight products," Hamilton said.
The money will come from a mixture of public and private money; $7 million has been raised thus far. In the meantime, the property is off limits, according to signs. And trespassers will be taken to task by the Canadian Pacific Railway police service. Although, Joan Fox says they are likely to call the Chicago Police to remove people from the trail, rather than administer any sort of punishment.
I decided to defy the law and take my bike for a spin on the trail. While the current state of things leaves a lot to the imagination, you do get this sense that you are high above the chaotic city. Of course, commuting for nearly three miles without ever having to stop is a rare feeling around these parts.
But what exactly will this whole thing look like? How will people keep from falling off? Will it be paved the entire way? Will there be ample vegetation? Artwork? Answers to these questions will have to wait – and will require the input of aldermen, community groups, and, most importantly, you.
On Thursday, Sept. 8, city residents are invited to take part in a public forum on the Bloomingdale Trail at the Congress Theater at 2135 N. Milwaukee Ave, from 6:00 pm to 8:00 pm. Click here for more information.